Imagine you were planning a wedding and your goal was to host 100 guests at the venue of your choice. Yet, you never researched venue locations, created a guest list, or invited a soul to the event—you just expected everyone to show up…
Ummmm, sounds crazy, no?
Well, that's how we feel when we see businesses with lofty sales and revenue goals executing tactics randomly without a solid marketing strategy or actionable steps on how to achieve said goals.
This is marketing suicide. You can't just post on Facebook, send Google ads, and blast your email list without an understanding of WHY you are doing it, WHAT success looks like, and HOW this will help you reach your targets.
You NEED a framework.
In this series of articles, we are talking about the RACE digital marketing planning framework, a construct introduced by Smart Insights in 2010 to provide some much-needed structure to businesses that are looking to make an actual impact with their marketing strategy.
RACE stands for the following:

Reach
Act (Interact)
Convert
Engage
In Part 1, we talked about the Planning and Reach stages, discussing ways to reach more customers and increase traffic to your online properties.
In this article, we will move on to the next step of the RACE framework, ACT or Interact.
To understand how these stages live and breathe in your marketing strategy, let's look at the customer journey. Each stage of the RACE framework connects to a particular stage of the customer journey (or purchase funnel), which can help you identify the tactics that make sense to execute during that stage.
During the Reach stage, your goal was to simply reach more potential customers. But once you reach more people and drive traffic, what do you do to massage the relationship and get them another step close to becoming a customer?
Your target landed on your website. Now what?
Your target liked your Facebook Page. Now what?
Your target commented on your blog post. Now what?
This is where ACT, the next step in the RACE framework, plays a large role.
Act refers to interaction with your target audience. It's where the conversation flows and the relationships begin to flourish.
This is the time to show your prospects your value proposition and encourage them to interact with you, give you their time, and take the next step in the customer journey.
What does next step look like? It will be different based on your business, but here are some ideas:
Register for your webinar
Fill out your contact form
Offer their phone number for a follow-up
Request more information on your products
Sign up for a free report
Subscribe to your email list
Request a quote
To summarize, the Act stage focuses on how you can interact with your target audience to encourage them to take the next step or become a lead.
NOTE: At this stage, you should know exactly what your top-level marketing strategy goals are. If not, read Part 1 where we talk about the critical planning stage of the RACE framework.
INTERACT – Effective Methods to Interact with Your Target Audience
How do you DOMINATE the Interact stage of the RACE framework?
Focus on lead generation and increased engagement. Keep people on your online properties and prevent them from bouncing so they can interact with your brand and content. This increases your chances of acquiring leads and moving prospects through your purchase funnel.
What methods should you be using? To figure this out, here are some questions to ask:
How can I engage and interact with my site visitors so they hang out longer and learn more about my brand?
How can I provide value to get website visitors better acquainted with my brand?
How can I grab my target's attention on my website?
How can I increase engagement on my social profiles and get users to interact with my brand while sharing our content with others?
Here are some ideas or common practices businesses might leverage during the Act stage:
Content Marketing
Content marketing is a BROAD topic, and we could write 1,000 pages on it and still not scratch the surface. But, we will do our best to condense it since content is vital to executing the Act stage of the RACE framework successfully.
Here are some key components of successful content marketing campaigns to keep visitors engaged and moving closer to becoming leads:
Blogging
High-level content that speaks directly to your target audience, solves their problems, and helps them achieve their goals—this is a WINNING formula for lead generation.
And one of the best methods to accomplish this is high-value blogging.
I am not just talking about thrown-together 300-word articles that look like everything else already on the web. I am talking about highly targeted (have you created your personas?), compelling, emotionally-stirring, transparent blog content. If your content is good enough to elicit a response/action, it will help you generate leads.
How do you write amazing blog content that keeps readers engaged? Here's some more information on that.
So, how do you generate leads with your blog content?
Relevant content upgrades (addendum information to a blog post)
Lead offers (targeted free offer such as an e-book, training, whitepaper, email course, or video class)
Invitations to register for a webinar
Invitations to free software trials
Your blogs should solve your audience's problems (much like this one does) and give enough value so that the reader is compelled to stay engaged and potentially take the next step. What's the next step? Whatever goal you have defined for this stage of your marketing strategy (e.g., contact you, become an email subscriber, etc.).
High-Converting Landing Pages and Website Copy
Your lead offers or free invites may require the construction of a targeted landing page. The purpose of the landing page is to get users to take ONE action.
Here's an example of a landing page from Hubspot that promotes a free guide in exchange for personal information.
Similar to landing pages, your web copy should speak directly to your target audience and keep readers on your website.
If you want to craft high-converting, interactive website copy, follow these tips:
Focus on benefits, not just features.
Don't be wordy. Say what you want to say in as few words as possible.
Include reviews and testimonials.
Add clear calls to action. Tell visitors what you want them to do (contact you, sign up for a free report, visit a particular page, etc.).
Keep it simple. Avoid multiple colors, confusing language, and long blocks of text.
Communicate your value, front and center. Why are you different from your competition?
Make it about your prospect. Your website copy should not tout your amazingness. Focus on your audience's needs and how you can help them.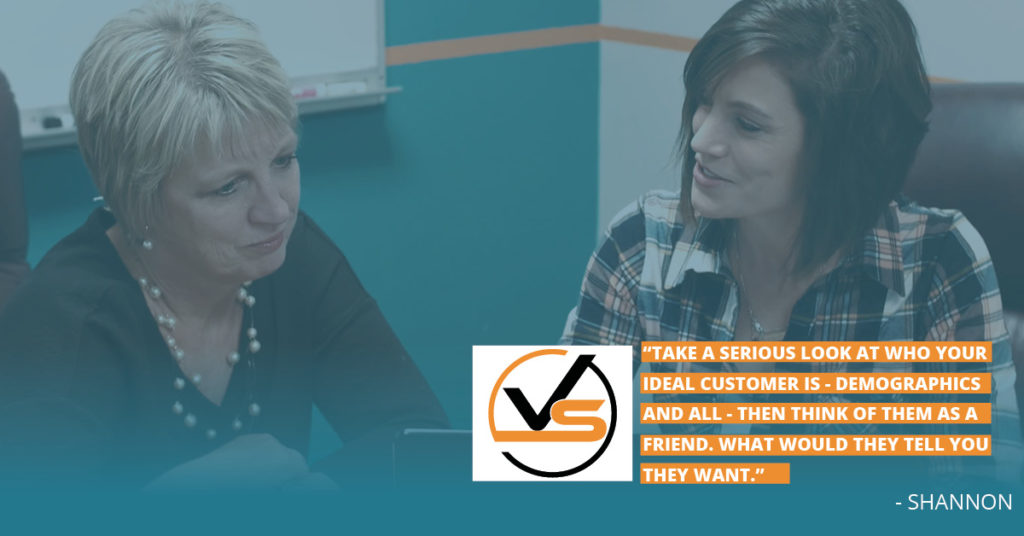 Not a copywriter? We recommend hiring an expert. Copywriting is an art form, and it takes some time to understand how to do it effectively. Check out these resources for more information on how to construct high-converting landing pages and conversion-driven website copy.
Video Marketing
What can you share via a video that will get people talking? A lot. That's why 83% of businesses use video as a marketing tool, up from 78% last year.
Here are 3 types of videos that will help you interact with your target audience and boost lead generation:
Educational content – Showcase your brand as an industry leader. Offer how-to video content and solve your audience's problems.
Behind the scenes – People like to feel connected to the brands they buy from. Humanize your brand with behind-the-scenes content showcasing your team, events, workflow, and company gatherings.
Interviews – Conduct interviews with team members, company leaders, or even industry influencers to become a thought leader in your industry.
Social Media Engagement
You're effectively funneling people to your social profiles, but are they engaging with your content? Is your content helping you interact with your target audience?
If you are not seeing any shares, comments, or interaction, it's time for an overhaul. If you are just starting out with your social media, here are some steps to take:
Define the right social platforms – You don't need to be everywhere. Interact on the platforms where your prospects hang out and leave the rest.


Create engaging social content – Social sharing has little to do with your brand and more to do with capturing your audience's attention and encouraging conversations. Use compelling imagery to evoke a response and get people excited about your content.


Leverage user-generated content – Get your users and customers involved! Use contests, promotions, and limited-time offers to encourage users to post about your brand. Then, repost their content on your feed to increase engagement.


High-quality imagery – Use high-quality imagery, especially if you are on Instagram, since this platform focuses on beautiful visuals. In a sea of millions of competitors, your imagery must stand out to get noticed.


Use hashtags – Here's more information on how to use hashtags to increase engagement.


Stop selling – Social media focuses on building relationships, not selling. The beauty of social media is that it helps connect people to your brand so when it comes time to sell, users are willing and ready to open their wallets because they already feel emotionally tied to you. Eighty percent of your content on social media should be non-salesy and highly engaging.
ACT Stage KPIs – What to Track
As discussed in Part 1 of our RACE digital framework series, executing tactics without KPIs is pointless. Don't get addicted to the high of starting new tactics.
Likely scenario, right? Why not just keep putting more money toward what is working?
Well, what if tactic #1 was the one that was bringing in the additional revenue, but tactics #2-#5 were complete duds? You will waste marketing dollars on low-performing methods instead of reinvesting into new ones. C'mon, we know you are smarter than this.
A little planning and performance tracking is all you need. Create KPIs before you start (for each tactic) so you have an idea of what works and what doesn't. This way, you know exactly when to course correct (instead of wasting money on failed tactics).
Here are some examples of typical KPIs to track during the Act (Interact) stage:
Number of leads
Lead conversion percentage
Bounce rate (Note that you can track this metric for both the Reach and Act stages)
Time on site and/or the number of pages a website visitor frequented before they bounced
Social engagement – Comments, shares
Your unique goals – Your KPI Dashboard will be unique to you. It could also include things such as webinar registrations, form completions, product views, member registrations, newsletter signups, etc., whatever is tied to achieving your organization's unique goals.
We showed this image below in Part 1 of this article series. It comes from Smart Insights, and it displays an example of how to track the volume, quality, and value of your KPIs for each stage:
So, for the Act stage, determining the number of leads points to volume, and the lead conversion percentage defines the quality of each visitor. Then, determining the goal value per visit identifies the value of each new visitor.
Goal tracking is best calculated using a tool such as Google Analytics. Here's some detailed information on how to set up Google Analytics goals.
Interact with Your Target Audience – What You Need to Know to Get More Leads
In this article, we discussed the second stage of the RACE framework, Act, or how to Interact with your target audience to move them along in your purchase funnel.
Interacting involves utilizing practices such as high-value content in the form of compelling blogs, high-converting landing pages, and website copy, along with social media engagement.
In Part 3, we'll talk about the third (and arguably the most exciting) stage of the RACE framework, Convert. We will teach you how to convert your visitors and leads to help you achieve your marketing goals.
If you need assistance with content marketing and/or generating leads (or just need a little more insight into how to interact with your target audience on social media), please get in touch here so we can help you crush your goals.