Your business is booming. Sales are flying. You should be proud of your hard work.
It's great to achieve your sales goals, but don't get too comfortable. If you want to set your business up for long-term growth, your work is just beginning.
Sales are great, but failing to capitalize on repeat purchases makes you a one-hit company, especially when repeat sales are one of the easiest ways to increase revenue. The probability of selling to a new customer is 5-20%, while the probability of selling to an existing customer tops at 60-70%.
So, the bigger question is, how do you retain customers so they purchase from you again (and again and again)?
Increase engagement and start conversations. It's as simple as that.
Engaging an audience is the final stage of the RACE framework for digital marketing. We've been talking about the RACE framework for the past couple of months, and this article is Part 4, the final piece of our series.
As we've explained before, the RACE framework is the gold standard of marketing strategy. It provides a 5-stage plan to keep you accountable and focused on your goals.
As a review, RACE stands for:

Reach
Act (Interact)
Convert
Engage
If you need a review or want to learn more about each stage, visit our previous articles here:
Part 1: How to Reach Potential Customers
Part 2: How to Interact with Your Target Audience
Part 3: How to Convert Visitors into Customers
Each stage of the RACE framework corresponds to a specific customer journey (or purchase funnel) stage, as seen in this diagram below from Smart Insights.
After you've reached out to attract your audience, interacted with them, and converted them into a customer, the next step is to engage with them to make them long-term customers.
Engaging an audience boosts customer lifetime value and encourages repeat purchases. It focuses on building relationships over time that blossom into loyal brand partnerships and die-hard fans.
Think LONG Term
So, we talked about how it's a lot easier to convert an existing customer than it is to acquire a new one. This is great news, but let's be real. This doesn't happen overnight (nothing does). Engaging an audience is a long-term play. It happens over time and slowly builds, getting more powerful at every turn.
Let's put it this way…
It's kind of like making a daily trip to the pet store and playing with one special black-spotted kitty. There are dozens of other kittens that look just like this one, but you are loyal to your special friend and every interaction you have with her draws your heart closer and builds loyalty. Whenever you enter the store, she's the first kitten you go to.
You want your brand to be the first one customers run to, even in the midst of your toughest competitors. This is brand loyalty.
In the kitten example (though simple), you are engaging with that kitten, just like you would engage with your audience. Every communication and interaction with customers builds and builds, just like a relationship does, slowly endearing them to your brand and creating rock-solid loyalty and trust.
This is why we said that engaging an audience is a long-term play. It takes time to build enough trust so that customers recommend your product to their networks. But when they do, you're golden.
Let's talk about what engaging an audience looks like and go into specific tactics you can use to build an army of loyal customers for life.
First Things First: Your Product Can't Be Bad
Before we go on any further, we have to get one thing straight. This may go without saying, but you need a stellar product for customer retention to work. You can engage 24/7, but if your product isn't great, your audience will not recommend it.
If your products don't get your customers excited, you've got some fixing to do. Later in this article, we'll talk about how to find out what your customers think about your product.
It's time to THRILL your customers and encourage them to buy again. Here's how to do it:
Engage an Audience: Tactics to Build Long-Term Customer Advocacy (And Boost Sales)
To implement customer retention tactics, you need DATA.
You should have enough data on your customers to provide them with an exceptional experience. Exceptional experiences lead to connection, which leads to repeat purchases and long-term customer loyalty.
When looking at your customer data, answer the following questions:
How recent was your customers' purchase?
How often do your customers purchase?
How much money do your customers spend per order, on average?
Comb through your data to find your most loyal customers—those who buy regularly and spend the most. These will be your most engaged customers. Use this data to create marketing campaigns that will continue to woo them and also entice new customers to make repeat purchases.
The key here is to figure out what motivates your customers to buy from you and what drives their satisfaction. Use these insights to make tweaks on your website and create relevant messaging for your email campaigns.
To simplify, if your data shows that your female millennial-aged customers are spending more time on your "red shoes" page, test marketing campaigns to other customers in this same segment with content that discusses red shoes or related subject matter.
Let's talk about specific tactics you can use with customer data to engage your audience and encourage repeat purchases and customer loyalty.
Personalization and Email Targeting
You know how that email advertising a 25% discount off the exact furniture you were interested in arrives to your inbox at just the right time? That's the power of personalization. That's a company that takes the time to consider its customers' preferences and serve them up more of what they want, sending relevant messages at just the right time.
One way to personalize your marketing campaigns is to track your customers' behavior and segment them within email lists. Create lists based on behaviors such as purchase recency, purchase amount, products purchased, etc. This way, you can target them with relevant emails that include products/offers they are likely to be interested in.
So, for example, if a customer purchased a bedroom set in the last 30 days, you can send emails that includes bedroom accessories that match the bedroom set and/or are from the same brand.
Now your emails are more relevant and targeted, which increases customer retention and builds closer relationships, which leads to long-term loyalty. This is the positive effect of customer engagement.
Product Recommendations and Discounts
Consider sending product recommendations based on your customers' interests. For example, if a customer purchases diapers every month, consider sending them email product recommendations for wipes, diaper rash cream, or other related products and accessories.
Maybe you also observed this customer searched your website for a car seat but left before checking out. Send an email about their abandoned cart and offer a discount to complete their purchase. Here's an example of an abandoned cart email sent right after I left my cart.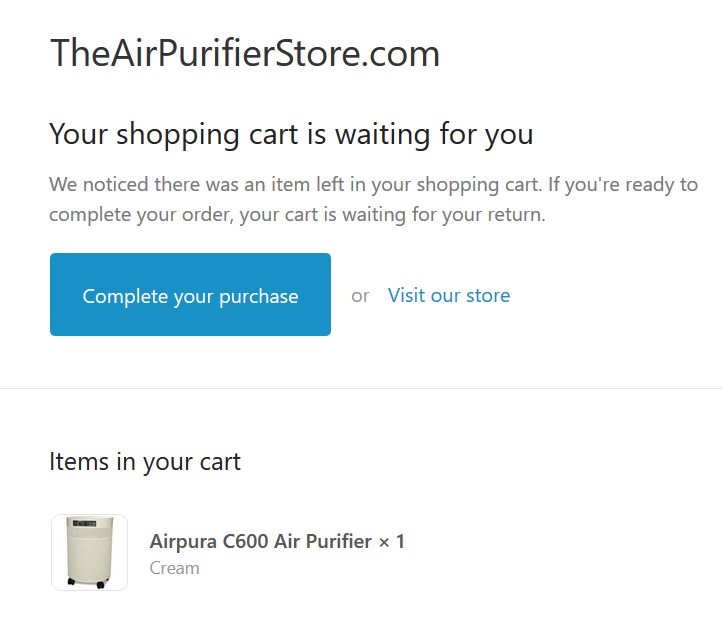 Any way you can personalize your customers' experience and make your messages relevant to their interests and desires will boost customer retention and loyalty.
Need some more examples? Here's some more information on how to run data-driven personalized marketing campaigns.
Customer Feedback and Reviews
How do your customers like your products? What do they like or (gasp) hate? Did your product meet their initial expectations?
If you want to get repeat sales and build an army of loyal, engaged customers, you've got to understand them. How do you do this? By encouraging conversations that include customers' opinions of your brand and products.
Do some qualitative market research to uncover your customers' feelings about your products. Market research is an extensive subject and one that is too broad for this article. To find out more about how to do market research effectively, check out our article here.
Remember: Bad news can be good news. If a bunch of customers inform you of the same product flaw, making improvements can seriously boost sales. That's a MAJOR win. And, customers love it when you ask for their feedback because it shows you're interested in their opinions.
Customer Reviews
What are customers are saying about your products on social media, your website, and anywhere else your audience frequents? Getting some positive feedback (from someone who doesn't work for you) is important for customer retention.
Need some positive reviews?
Encourage happy customers to submit reviews on your website, social profiles, Yelp, or anywhere you set up a profile. Here's an example review request from a Charleston tour company.
QVC uses email to direct people to their website to submit reviews.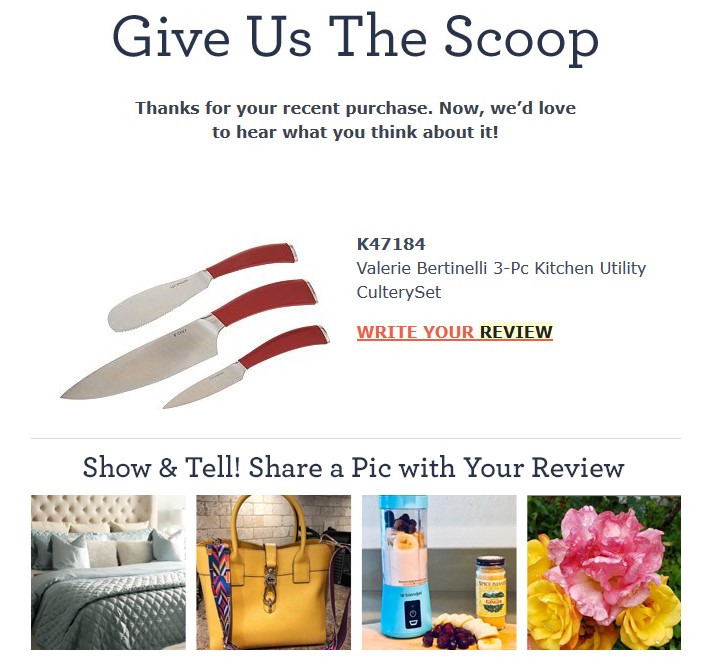 Once you start to gather some positive reviews and mentions, share them with your audience to entice new reviewers to spread the good word. For example, if someone tagged your brand on Instagram, post the mention on your feed and in an Instagram story.
Jeni's Ice Creams frequently shares customers' positive experiences and mentions with its Instagram community via its Stories and Feed:
Here are some more customer retention strategies to increase customer loyalty.
Loyalty Programs
Loyalty programs make customers feel like they are getting the VIP treatment. Use incentives to encourage participation. Things such as…
Special discounts
Rewards points that redeem for discounts and/or cash and product
Store perks (early-bird access to sales, seasonal discounts, etc.)
Sneak peek of new products
Participation can kick in after a customer reaches a spending threshold (50 rewards bucks if you spend $100) or simply completes any purchase.
TIP: Let the reward match the customer input and don't make it too hard to join your loyalty program. For example, higher-priced purchases should qualify a customer to receive greater rewards. Consider creating 3-4 separate reward levels based on the amount a customer spends with you annually. The more they spend with you, the greater the incentive. But, keep in mind that smaller purchases should also carry with it some incentive.
Need an easy way to add loyalty incentives? Try some  automated reward apps.
Engagement Stage KPIs – What to Track
What are you tracking during the Engagement stage?
As we have been discussing in this RACE framework article series, tracking Key Performance Indicators (KPIs) keeps you accountable so you can achieve your marketing strategy goals. They also reveal which tactics aren't working so you can pull away before you waste any more money.
For the Engagement stage of the RACE Framework, your KPIs will focus on repeat sales from various locations and customer satisfaction metrics.
Here are some examples:
Number/percentage of repeat sales (from social, email, website, etc.)
Repeat sales conversions
Percentage of active customers (e.g., email subscribers)
Brand mentions on social
Customer reviews
This image from Smart Insights displays the RACE Framework KPIs based on volume, quality, and value. 
As mentioned in previous articles in this series, track conversions via Google Analytics or a sophisticated CRM. If you need some help setting up tracking, let us know here. We'd be happy to help.
Engage Your Audience – What You Need to Know to Boost Customer Retention
In this post, we looked at how to engage an audience, the fourth and final stage of the RACE marketing strategy framework.
Doing this requires a focus on reviewing your market research customer data and reviewing the takeaways to improve your products and create exceptional customer experiences. Use your data to create personalized marketing campaigns, encourage positive customer reviews, offer product recommendations and relevant messaging, and create standout customer loyalty programs.
Focusing on customer engagement drives long-term GROWTH and expansion by encouraging repeat customers and building a strong army of loyal brand ambassadors. That's the recipe for building a business that lasts a lifetime.