Are you on the hunt for an agency that provides social media marketing services?
Do you want to reach and engage those in your target audience?
Does it help you to know you are not alone? In the digital age, understanding how to encourage real, lasting connections through social media is a must.

But it doesn't take long for most business owners to realize that social media is harder than it looks.
The problem is figuring out how to reach your audience, with the right message, at the right time, and on the right platform.
Remember the first rule of Social Media…
Social Media is Social!
REQUEST AN AUDIT OF MY SOCIAL MEDIA
Social Media Can Be Discouraging
Right now, you're looking for a way to develop a solid social media presence. You should be able to use social media to connect with those your organization seeks to help.
But handling social media on your own can become discouraging. It's not just about applying the right tools but improving interactions across every platform and touchpoint.
The good news is you don't have to feel discouraged any longer. We have a simple, proven solution that works to strengthen the relationships you have with your community!
BUILD STRONGER RELATIONSHIPS WITH SOCIAL MEDIA – START WITH AN AUDIT
We have used so many 'so called' online social media experts and been terribly disappointed at every turn. THEN WE FOUND Viral Solutions and our world changed. This team systematizes everything you need to build your social media audience and drive traffic to your site. Not only that, their content creation team are second to none. From a standing start, we had them writing blog articles for us that required very little if no editing before releasing them to our site. I could not recommend Viral Solutions more strongly to anyone considering social engagement for their audience.

– Sean McDonald
CEO of Mobit.com
BUILD STRONGER RELATIONSHIPS WITH SOCIAL MEDiA – START WITH AN AUDIT
Take Advantage of Social Media Marketing
Services That Work
Our Approach
Getting the help you need to develop a solid social media presence can be simple. It starts with an audit of what you are currently doing. Here is what the process looks like.
Request
Fill out the form below to request an audit of your current use of Social Media.
One of our Obsessed Marketers will get to work to audit your current Social Media presence, content and utilization.
Watch your email! Prior to meeting with us, you will receive a complimentary, comprehensive, analytical review of your website.
Schedule
When you fill out the form below, you will be taken to a scheduling page. Please choose a time that you are able to meet with us to review your Social Media Audit.
Watch your email for confirmation of your appointment. The review is conducted via Zoom.
Execute
Once you have reviewed your audit with one of our obsessed marketers, decide which items to tackle first. They will review with you what changes will make the most impact, as well as how to navigate the ever-changing landscape and platforms.
If you need help, we are here for you!
REQUEST AN AUDIT OF MY SOCIAL MEDIA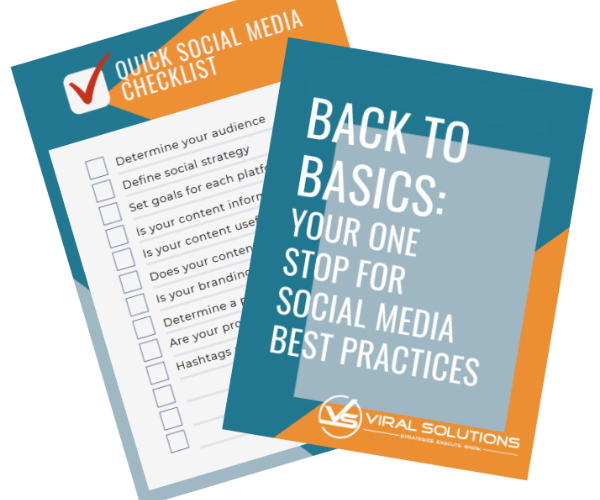 BUILD STRONGER RELATIONSHIPS WITH SOCIAL MEDIA – START WITH AN AUDIT
What You Can Expect
When you have a social media presence that's informed by data, has consistent messaging, and encourages engagement, you're in a better position to grow your community.
The difference between a good Social Media presence, and a great Social Media presence is time, and commitment. Having an obsessed social media marketer on your team doesn't hurt either! If you need help, we are here for you. From designing to deploying – our team will do everything!
Viral Solutions' offers full service social media marketing. Our services include:
Access to a team of talented social media experts, copywriters, graphic designers, and more. Our team becomes your team! We will design, post, review, test, modify and optimize.
One-on-one meetings with a dedicated project manager to plan, review, and discuss feedback.
Quarterly data reports so that you can view the results of your social media investment.
Recommendations on how to further improve your company's online presence.
Our team uses advanced tools and reporting. Depending on your project, you will have access to sophisticated content calendars, to advanced single post attribution metrics.
Stop feeling discouraged that your social media efforts aren't gaining any real traction. Stop worrying that the latest change in Facebook or Instagram will stop your posts from being seen.
Instead, extend your reach, share your story, and get data-backed results alongside a team of marketing experts dedicated to helping you turn customers into raving fans!
In order to assist you with developing stronger relationships with your Social Media, we need to take a look at where you are currently.
To do this we need to conduct an audit of your existing Social Media.
Let's get started! Fill out this form to request an audit of your current Social Media. On the next page, schedule your review.
Not ready for an audit of your Social Media?
Click Here to Request the Social Media Toolkit