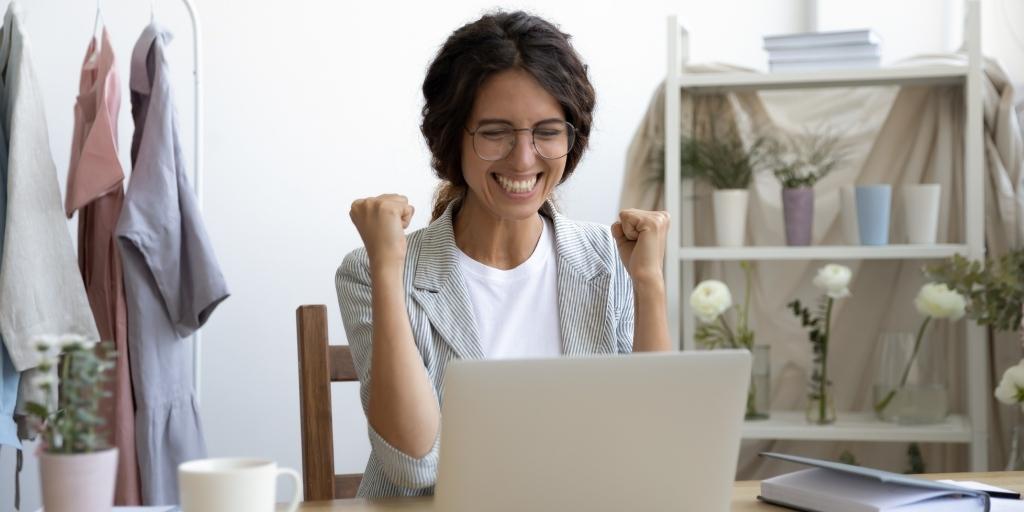 How to Outrank Your Competition (Even Big Sites) in Google
As a business owner, you've likely felt discouraged when efforts to appear in Google's search results for a specific keyword didn't pan out. Even now, you may be wondering how to outrank your competition when large brands often dominate the top spots. It feels close to impossible, right?
There has been a growing trend of smaller businesses getting nudged out of Google's top rankings by larger websites with 700X the monthly traffic. They seem to slide into the top spots without much effort.
When you have a much smaller business, how can you compete? Should you even invest your money into outranking your competition?
Here's the good news: It is possible to outrank some of these larger websites. In fact, you might have a slight advantage. The key is knowing exactly what to do and being willing to invest the time and effort.
The SEO Advantage Small Businesses Have
Larger sites may have more pages, but this doesn't necessarily mean they're better. With the evolution of search technology, the size of a site is becoming increasingly less important.
Google's John Mueller debunked the theory that the more pages Google indexes from a site, the higher the site's authority. The number of indexed website pages does not equate to the level of quality. A website could be small but still very useful and relevant.
Using natural language processing and AI, Google is shifting its algorithms to focus more on website wording and imagery and less on links that can be unreliable and manipulated. This allows small businesses to rank well in the SERPs (search engine results pages), even if large sites have dominated the coveted top spots.
Ultimately, having a smaller site with fewer pages can work to your advantage. It makes it much easier to optimize each page and deliver the highest-quality content possible to searchers. And as a result, you have the potential to outrank your competition.
7 Tips for Outranking Your Competition (No Matter Your Size)

A quick disclaimer: We recommend you avoid trying to outrank websites such as Wikipedia, Amazon, Facebook, YouTube, and, of course, Google. These sites have built up so much authority that they will be impossible to beat, which means you'll waste time and money in the process. But there are still plenty of spoils to reap and larger websites to outrank. Below are seven tips on how to outrank your competition and secure some organic traffic for your website.
1) Research Your Competition
Who are you trying to outrank in the SERPs? The first act of business is to understand your competitors.
Perform competitive analysis on a few of your top competitors and include the following in your research:
Estimated monthly traffic
Number of backlinks
Top keywords they rank for
Pages/content types that rank
Use industry tools such as Ahrefs and Semrush to collect this data and get further insights. Determine where your competitors are faltering and succeeding. Get inspiration from their successes (implement some new tactics) and create a marketing plan around components they could be missing.
For example, you might discover that a competitor's top-ranking content includes many videos for specific keywords. Yet, you also notice that this same competitor doesn't have a lot of links to their top-ranking content.
Suppose you create some video-focused content for those keywords and make your content better than your competitors (is more detailed, answers users' questions, includes branded graphics, is more actionable). Start an outreach campaign to send quality links to those pages, and you might just outrank your competition for those keywords.
2) Optimize Your Website Content

Are your pages well optimized? When you optimize your website content, you give your pages the best chance to rank. Essentially, you're telling Google what your pages are about so they can quickly identify the main topic and position your website in the rankings.
Several on-page factors affect your rankings, and thankfully all of them are under your control. Let's break down some of these factors:
Keywords – Use your focus keywords plus related terms in your content. For some assistance, tools like Clearscope and Semrush can provide insight into top-ranking content pages and help you compare your content to those pages to increase your chances of ranking.
URLs – Use your keyword or a close variation in your URL and separate words with dashes (seo-is-the-best).
Alt tags – Add alt tags to your images that briefly describe what the images are displaying.
Title links – Use a keyword-rich title for your page that fully describes the content. Google's best practices for title links include creating unique, concise, descriptive, and branded labels.
Meta description – The meta description summarizes your content. Creating a compelling description can increase your click-through rate in the search rankings. In a later section, we'll talk more about how to optimize your meta description for clicks.
Pro Tip: Avoid overstuffing your content with keywords. There aren't any exact guidelines for keyword density, as it varies, but remember that you're writing for humans, not robots. Use your focus keyword and related terms often enough to explain what the page is about, but not so frequently that the content reads awkwardly.
3) Improve User Experience
Your pages are optimized, but are your users enjoying their experience on your website? Or are they exiting quickly and returning to Google to find another website to satisfy their search? If the latter is happening, it can negatively affect your site rankings.
Google likes to make users happy. If your website isn't satisfying users, you won't enjoy top rankings.
How does Google evaluate how well you satisfy a user's query? Below are factors Google reviews because they affect user experience. Optimize these factors and enjoy better rankings as a result.
Website Loading Speed
How fast does your website load? If it's slower than three seconds, you might be losing money because 53% of mobile users will abandon a page that takes more than three seconds to load. Plus, Google evaluates page speed when ranking websites—the slower the website, the poorer it will perform in the rankings.
Mobile Optimized
Did you know that mobile devices account for 54.8% of website traffic?
Your website should be mobile-friendly to satisfy your mobile visitors. That means they enjoy an effortless experience and can find what they're looking for without experiencing any friction. Make sure your website is responsive so you can provide a seamless user experience.
Readability
Is your content formatted well? If there's a lot of content in one place without formatting (keyword-focused headings, subheadings, bullets) to break it up, it might overwhelm users.
Internet users have short attention spans. If they can't find what they're looking for quickly, they will bolt off your website. Making readable, well-formatted content will allow them to consume your content quicker and scan it to find what they're looking for so they can get their questions answered.
Look at the example below. The excerpt on the right is not formatted. The content on the left is the same but with formatting added and better subheadings that capture attention. Which one looks more inviting and easier to read?

Internal/External Linking
Does your internal link structure make it easy for visitors to navigate your website? Link between your pages to provide users quick access to relevant information. Internal linking also helps Google determine the authority of your website pages. If one page has many internal links pointing to it, it will have more value in Google's eyes.
Also, link to external resources when users might want more information that isn't available on your website.
4) Write Content People Want to Read
Writing content people want to read means you fully satisfy user queries.
If a user searches Google with the phrase "how to decorate a kid's room," they will expect actionable information, examples, and images that depict what the content illustrates. That includes details on getting started, images and/or videos of kids' rooms already decorated, and maybe some resources where they can purchase items shown in your examples. Anything less, and the user might not hang around your website.
Put yourself in the user's mind and envision what content they would expect when searching for that query. Check the top 10 search results for the keyword and notice what each piece of content includes.
Want to rank higher? Create a better piece of content.
If the top results don't include videos, add some videos. If you notice they only have stock photos, create custom-branded graphics. Go one step further, and Google will reward you.
Another way to find out what content users love is to search your keyword on BuzzSumo. BuzzSumo will list the most shared content for a particular keyword or phrase.
Finally, reread your content and objectively ask yourself, "Am I leaving the user with unanswered questions?" If so, include more detail, or at a minimum, add links to content the reader can access to get more information.

5) Follow the Data
Approaching SEO without data is like telling a novice to bake a cake without a recipe. It's guaranteed to be a disaster and a colossal waste of time.
What data can help you with your SEO campaigns? Develop an SEO strategy by compiling data on your industry keywords and competition.
Focus on High-Performing Pages
Don't target every page of your website with your SEO campaigns unless you have only a few. Focus first on the pages that already have some rankings (if you have some) and well-loved pages by users (i.e., get a lot of shares/comments).
Find out the pages that are ranking well and analyze the keywords that are contributing to these rankings. You will need a tool such as Ahrefs or Semrush to collect this data on your market.
Comb through the keywords and organize them by search volume and competition. Ideally, you want to target keywords with lower competition and higher search volume, especially if you are new to SEO. These keywords will be the easiest to rank for.
Once you have a list of pages, figure out how to improve and optimize them for your chosen keywords using the tips we outline in this article.
So, for example, if your article on "recovering from a headache" ranks for "how to beat a headache," but it's not in the top rankings, look for ways to beef up the content relevant to this keyword. Add more detail, make the content actionable (don't just explain it—instruct how to do it), and add better graphics and related keywords.
The key is to find keywords that can help you rank quickly while you also target more competitive keywords that might take longer to rank for. This two-fold approach can help you achieve some traffic faster while you are also playing the long game.
6) Build Your Brand Authority
Backlinks help you build brand authority, which boosts your rankings. But not all backlinks are created equal, and Google is more concerned about your authority than it is the number of links pointing back to your site.
The key to outranking your competition is to focus on quality links and go after brand mentions to boost your authority in your industry. So, instead of just posting content with links attached on any site you can find, focus on a few key PR plays, and get some high-profile brand mentions.
One way to boost your reputation (if you have a local establishment) is to register your business with Google My Business.
Another way is to leverage influencers and experts. Get expert quotes to add to your content and partner with industry influencers to get your brand on the map.
7) Optimize Your Title and Meta Description for Clicks
While some of the other tips in this article might take some time, here's one that can bring some quick wins.
Optimizing your title and meta description is vital to compel searchers to click on your search listing in the rankings. How do you optimize for clicks? Include a call to action and describe the benefits users can expect to receive if they read your content.
Here's a typical meta description that isn't optimized for clicks:
Search rankings are vital to small business owners. It's important to learn SEO strategy to rank well in search engines.
Here's the same meta description written to encourage clicks:
Do you want your pages to rank higher in Google? Discover 7 tips for boosting your rankings in the SERPs and even outranking the largest of competitors.
How to Outrank Your Competition: What You Need to Know
In this article, we discussed how small businesses could outrank the competition by implementing some proven SEO tactics. Below is a summary of the seven tactics that can help you perform well in Google's SERPs. They provide a foundation from which you can build your SEO campaigns.

Research your competition.
Optimize your website content.
Improve user experience.
Write content people want to read.
Follow the data.
Build your brand authority.
Optimize your title and meta description for clicks.
We realize that SEO can be intimidating and challenging to keep up with. Google constantly changes its algorithms, and you also need to continually improve the user experience to adjust to their shifting needs.
Thankfully, you're not alone. We've been helping small businesses outrank their competition for more than a decade, and we can do the same for you. Learn more about our SEO services and request a FREE marketing audit today!