Why Instagram Is One of the Best Social Media Sites for Marketing
Technology is the so-called great equalizer in the modern era of digital marketing. By leveraging the best social media sites for marketing, smaller brands can compete with the giants without the need to launch big-budget campaigns.
But the benefits offered by marketing through social platforms extend beyond that scope. This powerful tool enables brands to forge connections and relationships with customers, and Instagram is one of the best places to invest your time.
Let's discover how to grow your business and bring in more profits with the right marketing approach on Instagram…
Why Instagram Is One of the Best Social Media Sites for Marketing
According to Statista, there are 3.78 billion users on social media worldwide. From the projected period of 2015 to 2025, it is expected that brands will spend a total of $154 billion on social media ads alone.
With more than 815 million active monthly users by the end of 2019, Instagram is one of the best social media sites for marketing. But what's so great about this social media platform, and why does it deserve your time, effort, and marketing resources?
You Have the Potential to Reach 1 Billion Millennials
As of 2019, 59% of the millennials in the U.S. are on Instagram. Plus, it has already reached 1 billion active monthly users. This social photo-sharing platform has been clocking milestone after milestone, making it the ideal platform for brands to market their products or services.
If your brand is specifically geared for the millennial audience, you can definitely leverage the popularity of this platform to reach a broader market.
But keep in mind, it's not just millennials who are on Instagram. The diverse user demographic on this photo-sharing social media site means you can use it to target other audiences as well.
It's Purely Visual
Instagram is one of the best social media sites for marketing because it is a visual-based platform. Visual marketing is all about the use of compelling images and videos that pique the interest of an audience and help reinforce branding efforts.
The future of Instagram is bright as it has rolled out new features that brands can use to build compelling visual content and imagery. Beautifully curated images and videos on your feed can boost your engagement and differentiate you from your competition.
Instagram Stories Lead to Better Interaction
The Instagram Stories feature is one of the best tools available on this platform, which is another reason why Instagram is one of the best social media sites for marketing. This is especially true if engagement is the goal (and when is it not?).
Here are some reasons why you should use this feature:
It helps your brand stay at the top of your customers' minds.
It facilitates real-time interaction and engagement with your audience.
It is a great platform for running ads.
It can help generate traffic to your website or blog.
It's the Perfect Place to Tell Your Story
Instagram is one of the best social media sites for marketing if you want to connect with your audience through brand storytelling.
According to research by Origin, consumers tend to convert higher when a story is integrated into a post on social media. Storytelling is a tool utilized by expert marketers to connect with the audience and make the buying process an experience in itself.
So, add some personality into your posts—images and captions alike. Social media exists as a place to have fun, and no one wants to follow a boring brand.
The Birds Papaya (@thebirdspapaya) utilizes storytelling in nearly every post!
You Can Use It to Gain Insights & Competitor Analysis
Every good marketer should monitor feedback from their audience about their brand online. When users tag your brand, check it out and see what they have to say about you.
On the flip side, you can also use the same approach with your competitors. Check out what users have to say about their brand. You might even have a look at their profile to see what they're doing that has been effective.
Are they running giveaways?
Do they send out samples to influencers for product reviews or social media mentions?
How often do they post?
Instagram makes it easy to answer these types of questions.
It Lets You Easily Turn Your Posts into Ads
The introduction of several new features certainly helped catapult this platform into one of the best social media sites for marketing—if not the best.
One such example is the addition of Instagram shoppable posts. This feature enables brands to add shoppable links directly into their posts. It eliminates the need to exit the platform for your audience to shop your featured products on the feed. Instead, they can shop right then and there!
This clever tool has transformed the way marketers look at Instagram because it is no longer just a marketing platform; it is also becoming its own e-commerce platform.
You Can Utilize Instagram Influencers to Increase Your Visibility
Influencer marketing is the new buzzword when it comes to Instagram marketing. But contrary to popular belief, influencers on Instagram do not need to have millions of followers. It's something to think about if you plan on using this tactic.
Essentially, influencers are like ambassadors for your brand on social media. Working with them gives you the advantage of being able to choose the right influencer according to your intended audience.
The main formula for success with influencer marketing is to align your brand values with that of the chosen influencer. Think about it: They will be representing your brand online, and if it's a good fit, their audience will love your products or services.
How to Get the Most Out of Your Instagram Marketing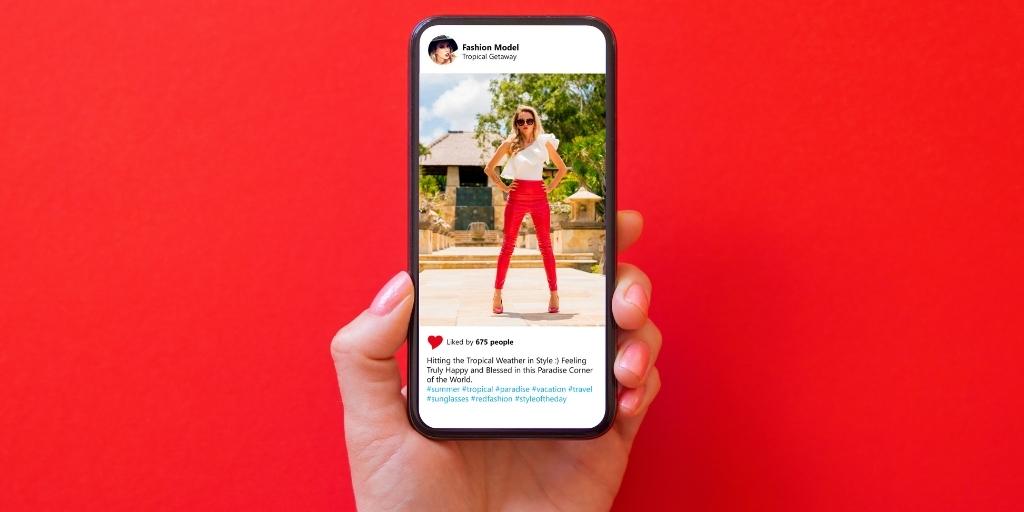 At this point, it's clear that Instagram is one of the best social media sites for marketing. Now, here are some tips on how you can leverage Instagram to achieve your marketing goals…
Be Consistent with Your Branding & Story
To succeed with Instagram, you need to know what your brand stands for. Your brand story is a crucial element that will guide how and what you post to your feed and stories.
A patchwork of random images just won't cut it on Instagram, especially with a sea of other brands vying for your audience's attention. So, pick a theme that is consistent with your brand visuals and pair that with engaging content that appeals to your target audience.
Post to Instagram Stories
Stories are a great way to keep your audience engaged without necessarily flooding their Instagram feed with posts. This can be individual photos or a series of images.
When utilized properly, you can even use the Stories feature to gain valuable feedback from your audience. Then, you can use that to help dictate your content strategy moving forward.
Post Videos, Carousels, and Captions
As Instagram is a visual-based platform, they have made it easy to post visual content, such as videos, carousels, and captions. This is another reason why it's one of the best social media sites for marketing.
One example is the Instagram Reels feature. Video content is now the next big thing on Instagram. This feature is Instagram's response to TikTok, which is one of the fastest-rising social platforms today.
Video content is an excellent tool to attract new followers and keep your existing audience engaged. Use it to show off new products, tutorials, or behind-the-scenes content.
Final Thoughts
Most small businesses can't afford to launch major ad campaigns online, making social media a saving grace as it offers an arena where they can compete.
If you're looking for the best social media sites for marketing, you almost can't go wrong with Instagram. It has clearly proven its worth in helping businesses leverage its popularity for increased reach. In fact, without social media platforms like Instagram, many small businesses would not exist.
Traditional marketing methods are costly and time-consuming, but enlisting the help of marketing experts like Viral Solutions can help grow your reach on Instagram and beyond at an affordable price. Whether you're looking to get the best value for your money or you need help formulating a winning social media strategy, you can count on our team. Request a marketing audit today, and we'll give you some pointers on how to increase engagement!