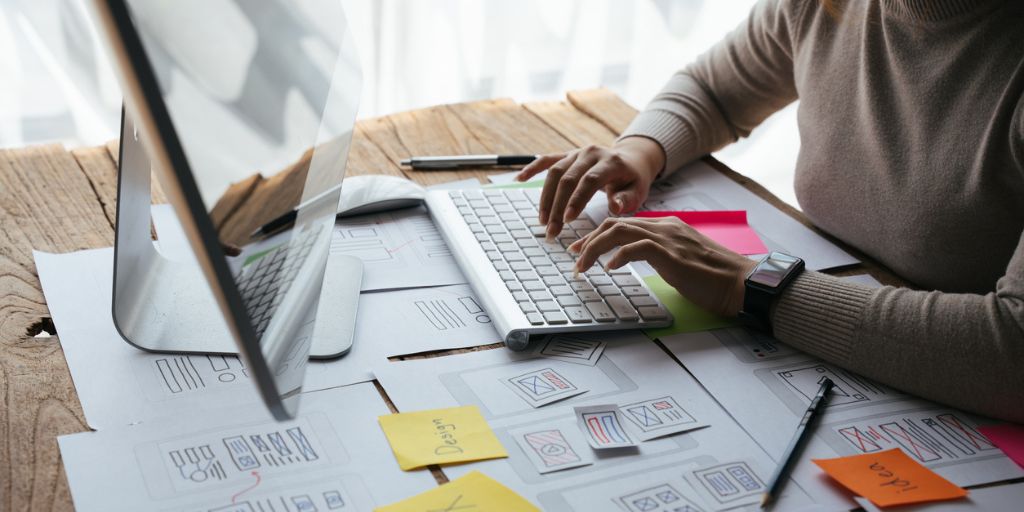 The Principles of Website Usability: Useful Tips to Apply
To say that website usability is important is an understatement. It is not only important, but it is also a necessity for the survival of any successful website. Users expect to be greeted by specific features that make a website easy to navigate and accessible for them. If a website fails to immediately meet their expectations, they will likely make a quick exit.
In fact, this phenomenon is so well-known that there is a term used to describe it. That term is bounce rate. It is the percentage of people leaving a website after clicking on it for a moment or less. To minimize your bounce rate and create a website that people want to stay on and visit frequently, you need to know about the principles of website usability.
What are the 5 Principles of Website Usability? 
Isn't it nice when a key point you need to know is broken down into 5 principles that you can refer back to as necessary? That is what you have when talking about website usability.
The 5 principles are as follows:
Availability
Jesse Eisenberg, playing the role of Mark Zuckerberg, famously said the line "We don't crash ever" in the movie The Social Network. He was referring to the idea that the best way to maintain the credibility of Facebook was to ensure that the website was constantly available to its users. This is one of the most important principles of a useful website. It needs to be available, rarely crash, and be compatible with all types of devices.
Clarity
Users come to a website with a specific goal in mind. They should have a question answered, find a piece of information that helps them, or make a purchase. Whatever their objective is for the website, users must see that the website provides them with clarity in terms of accomplishing all that they need to. If they see right away that they can find the solutions they require, they are likely to stay and return again in the future.
Recognition
Every website requires at least a few minutes of study before it can be utilized. Users need to recognize the website's dynamics, which need to be examined by the website creator before they launch their project.
Credibility
Internet users will tell you that they know if they should trust a website or not from the moment that they sign on to it. Sometimes it is just a feeling that it gives them, and sometimes it is because a safety screening service tells them not to trust a particular website. Whatever the case, a website must focus on credibility to succeed.
Relevance
This might be the most complicated principle of the five. Relevance means creating a website that produces content that is of value to readers. They need to have a reason to come back and visit your material time and time again. This also means updating the content from time to time to ensure that it remains relevant as time goes on.
Every one of these elements must be present for your website to be where one spends a significant amount of time.
How Great Usability Can Increase Conversions
The ultimate goal for all e-Commerce websites is to convert visitors into customers. Superb website usability is the first step in that process. When focusing on the usability of the website, it is critical to look at fixing bugs and glitches that exist in the website as a starting point.
Any bugs in the website that cause it to lag, crash, or create other obstacles for website visitors. Bugs on the website are one thing, but it doesn't stop there. A website creator must also look at all potential annoyances for their visitors. In fact, they should make it a habit to check for any hurdles that visitors may have to complete a purchase from the website. Encouraging visitors to remain on your website is the key to building something sustainable. The average amount of time that a user spends on a given website in 2022 is just between 45 and 54 seconds. You need to do all you can to expand the amount of time users spend on your websites. Additionally, you should work out how to capitalize on the short periods of time that users stay on a given website.
Tips to Improve Your Website Usability
To improve your website's usability, you need to take some specific steps that can make it happen. Fortunately, we have some tips for getting from where you are today to a more usable website in the future.
Focus on Navigation
Users expect to get around your website with ease. Fremont.edu explains why this is such an important concept:
Website navigation plays a large role in determining the "stickiness" of your website (how long visitors stay and explore your site). The navigational structure of your website should be consistent and easily accessible for an optimal user experience.
Guiding from one area of the website to the next with ease is expected by all users. In fact, any website that fails to provide that will likely discover that they are unable to satisfy their visitors.
Consider Smartphone Screen Resolutions 
Every element of your website should also be designed with smartphone screen resolutions in mind. The reason is that 59.5% of all website traffic comes from smartphones as of November 2022. People trust the miniature computer they carry in their pockets to provide them with the information and access to websites they require. If you do not set up your website to handle that kind of traffic, then you will lose out on a large portion of website visitors.
Improve Load Times
Remember how we said users spend only 45 to 54 seconds on a website on average? They will spend even less time than that if your website does not load quickly. They don't want to waste even a few seconds for all of the elements of your website to pop up. If the load time is too lengthy, you can expect them to depart from your website almost immediately. With that in mind, you should prioritize your load speeds for visitors.
Takeaways 
Almost everyone is fickle about the websites they use and spend time with. They don't like to wait around for a website to load. People want to get to the heart of the information that they need from that website right away.
To retain visitors and create the most useful website possible, you might want to focus on conducting UI/UX testing. This way, you can ensure that all elements of your website work as intended. Always think about how the experience of visiting your website feels from the visitor's point of view. Adjust any elements you need to so that experience is as pleasant as possible.
The best websites focus on the five principles of website usability. They work on tweaking their structures when necessary to attract and retain as many visitors as possible. Put those principles into use any time you begin work on a new website project.