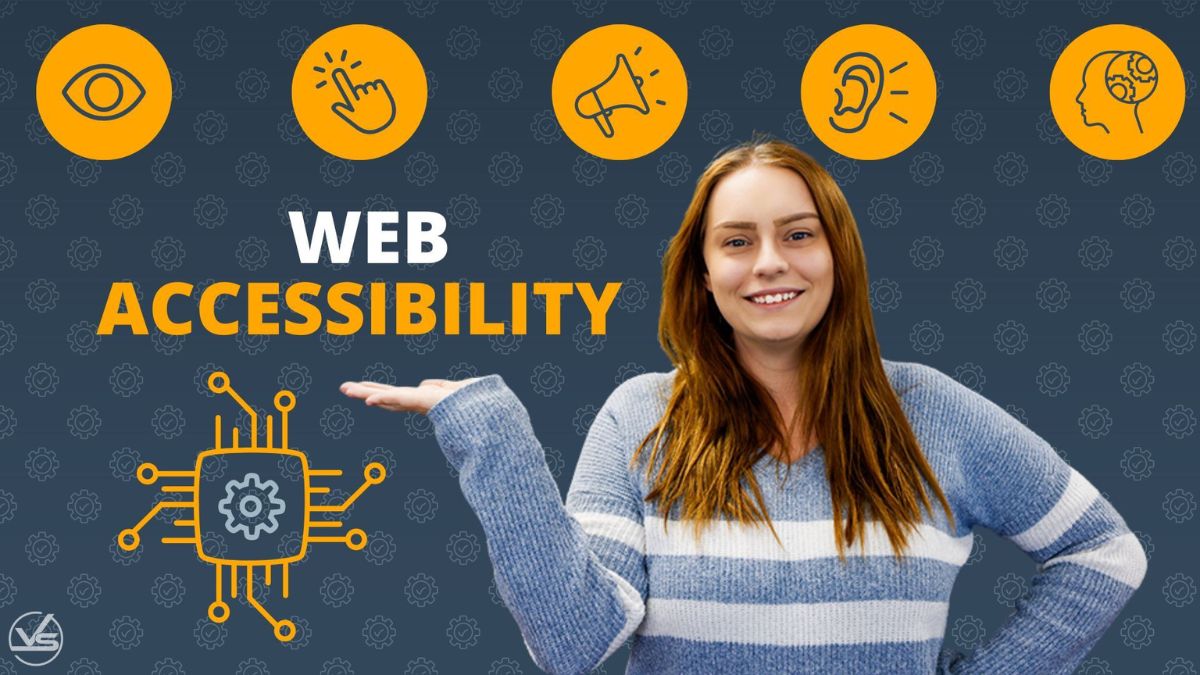 Accessibility in Design – Part 1: What It Is & Why It Matters
The World Bank reports there are over 1 billion people in the world living with a disability. So, it doesn't seem fitting to call them a minority. This number is an important factor to consider when making a case for accessibility in design.
Adopting an accessibility-first approach is a significant step toward fostering inclusion in your user-centric web design efforts.
According to the Interaction Design Foundation, a great user experience is made up of three elements:
Usability
Graphic Design
Accessibility
Let's examine the impact of accessibility and why it matters…
What Is Accessibility in Design?
When used in a design context, accessibility refers to a website's ability to be usable to as many people as possible, including those with disabilities.
Your site's design features and interface must take into account various types of disability, like hearing, vision, cognitive, and mobility issues.
In defining accessibility in design, we can't confuse it with usability. Although these two terms have similarities and overlapping characteristics, accessibility differs because it ensures that your product or website is usable to people with disabilities. The goal is to provide an equivalent user experience for all users.
What Are the Basic Principles of Accessibility?
Improving accessibility in design involves covering the four basic principles of accessibility:
Perceivable
Operable
Understandable
Robust
These principles serve as the foundation for good UX practices. That's why it's worth learning more about each one. In doing so, you can better understand how to use them to build a functional and accessible design for all users.
Perceivable
A perceivable design means the user can identify the elements and content within its interface. It primarily refers to the visual perception of the design elements of a website. But it also has to do with the user's sense of touch or auditory senses.
We can incorporate various solutions into the design to make it perceivable to our web users. Here are some examples:
Use text alternatives for non-textual content that would be hard for those with visual impairments to read, such as adding captions for video content.
Allow your web users to customize text sizes to make them more visible.
Add more descriptive alt text to buttons (e.g., "Click here to download our free ebook Insert Name Here").
"Labeling buttons clearly with descriptive alt text eliminates confusion for visitors without interfering with the design or flow of the page, and it still ensures compliance."
Operable
When a website is operable in terms of accessibility in design, it is easy to navigate or interact with various elements on the page (or pages). Many disabled users rely on assistive devices or technology for this, such as screen readers and voice recognition.
A common problem with inaccessible websites is that people with no or low vision must use a standard mouse or keyboard to execute certain actions on the web page. Even for those who can operate a mouse, it is no good for them if they can't see where to click on the screen.
There are a few solutions that are recommended for this issue, including…
Improving keyboard accessibility
Providing context cues within the web page to facilitate easier navigation and to ensure users can easily find content
Avoiding design elements that can cause seizures
Creating your website to be adaptive so that zooming in on text will adjust the paragraphs accordingly
"By making your website adaptive, you can ensure older and visually impaired people who zoom in on text won't need to scroll from side to side or miss where they left off reading."
Understandable
This principle for building accessibility in design refers to the ability of users to understand the content and remember how to use it. It is critical that you format your web content and information with consistency and predictability and develop usage patterns to make it easier to use.
One of the most common issues limiting the accessibility of a website or page is when links are displayed in varying formats from one page to another. Whenever a user opens a page and sees links, they are formatted differently. As a result, the user has to relearn how to navigate the website as they discover new pages.
The best way to resolve this issue is to maintain patterns in delivering content and displaying links. Keep the text easy to read and the usage pattern easy to predict.
Robust
You must keep your web design robust enough so users can select from a wide range of technologies to promote accessibility. These technologies enable them to interact with your website and its content efficiently.
Here are some common problems that limit a website's robustness:
When users are prompted to use a specific browser to access its pages (This can be an issue if the user does not want to (or cannot) use that browser.)
When a document can't be opened because the user must install a specific version of a document reader to access it
The best way to correct these accessibility issues is to maximize compatibility for all users, regardless of the tools or technologies they use to access your website.
Why Is Accessibility Important in Design?
According to a U.K. study, 71% of disabled users opt to leave a website due to a lack of accessibility features. That percentage is too significant for website owners and companies to overlook. With over a billion people with disabilities, failing to update your site accordingly means you are turning away millions of potential users.
The U.S. is no different either; the US Census Bureau states that nearly 20 million Americans experience difficulty with grasping, which limits their ability to use a mouse or keyboard. Meanwhile, there are over 8 million people with visual problems, such as those who rely on a screen reader or have color blindness.
How does this information translate to accessibility in design?
It highlights the importance of improving accessibility features so that it isn't just a "nice to have" component but is instead a crucial part of the web design process.
Accessible Design Boosts Traffic
Google algorithms now evaluate accessibility as one of its ranking factors for websites. That alone should be enough to consider it a vital part of your web design and development process.
If you offer accessible content on your website, your page could rank higher in search results. That makes it easier for your accessible content and documents to be accessed by individuals with various disabilities.
It Targets More Customers
Accessibility in design means reaching more customers instead of alienating disabled users and driving them from your website. Making your content more accessible to all users gives you a competitive advantage over similar websites that are not accessible.
As a result, you foster a positive customer experience and improve overall customer satisfaction levels.
Inclusion Equals Innovation
Building an accessible website is a proactive approach to supporting accommodation in the future. Instead of being a barrier to innovation, accessibility opens up a whole slew of strategies and technologies that make your website highly usable.
It brings about a few other benefits, such as increased diversity, improved website performance, and a better corporate image.
Institutional & Legal Compliance
Building an accessible website design is also a measure that can protect your organization against litigation. There are federal laws in place that are designed to protect the rights of people with disabilities (e.g., the Americans with Disabilities Act). You can ensure compliance by making accessibility a priority in delivering website content for all users. Check out the most recent web accessibility laws and policies to stay up to date.
Takeaway
People with disabilities make up the world's most significant minority. So, it is essential that you prioritize accessibility in design so that you don't alienate them from your website and services. It's not just a part of your legal and ethical responsibility as a business; it also allows you to maximize the benefits listed above.
Stay tuned for the next blog in this series to learn how to create accessible content!
If you're looking for help improving your site's accessibility or taking your marketing efforts up a notch, request a free consult with Viral Solutions today.