Though going to church was a regular activity decades ago, a number of families no longer prioritize it, which explains why so many places of worship are looking for ways to increase church attendance.
A recent Statista survey found that only 22% of people in the U.S. attend church regularly and 28% never go.
Pew Research Center published findings from a 2018 survey about the reasons why Americans attend church at least once or twice a month:
81% – They want to become closer to God.
69% – They want to provide their children with a moral foundation.
68% – They want to become better people.
66% – They go for comfort during difficult times.
That same survey also highlighted the top 3 reasons why people who only attend a few times a year or less don't go more often:
37% – They practice their faith in other ways.
28% – They aren't believers.
23% – They haven't found a church they like.
But, there's more to it than that. According to Carey Nieuwhof, there are more factors in play here, such as…
There's a larger population of wealthy people with other options to fulfill the needs that would otherwise be filled by a church.
There's a greater family focus on kids' activities.
More people are traveling, taking them away from their hometown churches.
Blended families and single-parent situations lead to reduced attendance due to children being in the care of different parents at different times.
Online ministries and spiritual podcasts are causing a reduction in physical attendance.
People are no longer feeling guilty when they don't attend church.
Many people are choosing self-directed spirituality.
A lot of people no longer see the benefits of attending church week after week.
People aren't engaging but are simply attending every now and then.
A massive cultural shift is taking place that requires a different approach to church.
What's missing from all of that is the sheer fact that the average family is completely time starved these days.
Today's families are stressed to the max with trying to make ends meet and squeeze in all of their responsibilities. There's less time for visiting with loved ones, making home-cooked meals, and (you guessed it) attending church.
One Solution for How to Increase Church Attendance
When we look at all of this information, it's no wonder church attendance is down and so many close. But, we can also see that there is one big way to increase church attendance…
And the answer is engagement. It's the key to addressing your attendance struggles because no one is going to bother to attend something week after week when they aren't engaged in it.
Engagement can come in many forms, and you can't expect every person to engage in the same way.
Reasons Why People Engage
To be part of a community of people they want to be with
To feel inspired and express themselves creatively
To be able to share their talents with others
To be able to give back to a cause they believe in
To serve others and feel the sense of accomplishment that comes with it
To feel good about themselves
To meet new people and develop friendships
To feel valued and useful
To do something that helps them grow
To do something that makes them feel happy, peaceful, loved, etc.
To do something that brings meaning to their lives
To experience something new and exciting
To gain respect or status
To do something they enjoy
To develop themselves spiritually, mentally, emotionally, or physically
To help their children or loved ones overcome their struggles
Ultimately, your members who show up week after week do so because they are gaining some kind of value that goes far beyond just sitting and listening to a sermon. That value makes them engage in your church community in whatever way makes sense for them, and that engagement keeps them coming back.
How to Increase Church Attendance through Engagement
So, the answer of how to increase church attendance comes from answering the question of how to engage your members.
Here are some tips to help you do that…
1) Make the Passion of Your Mission Contagious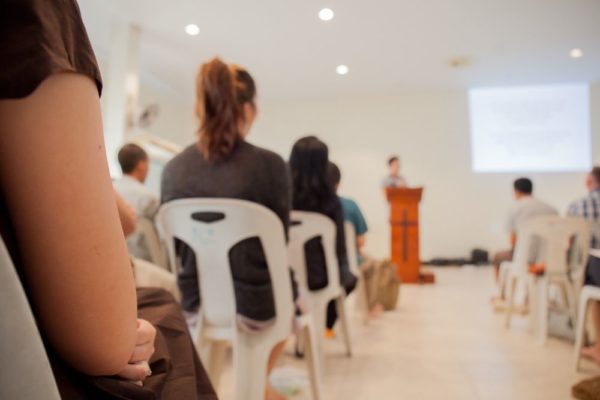 Speak with passion and excitement.
Don't offer volunteer opportunities—challenge them to get engaged.
Make it easy to get involved using clear, simple steps and welcoming leaders.
Use active words instead of passive words. Instead of "volunteer opportunities," try "join the mission" or "come and serve." Instead of "consider bringing a friend," try "bring a friend."
Celebrate and reward those who engage. When you gain 25 new volunteers, celebrate that at the Sunday service with stories and videos of what was accomplished, for example.
Personally thank members who are staying engaged.
2) Cater to What Your Members Want
You can't expect people to engage when you aren't giving them suitable ways to do so.
Survey your parishioners to find out what they want to get out of your church. Ask them questions such as the following: If you found yourself coming to our church every week, what would be the reason?
3) Promote Bring-a-Friend Days
The easiest way to increase church attendance is for your regular members to bring their friends, so host a Bring-a-Friend Day once a month. You'll inspire your members to bring others with them, and you'll make their guests feel more welcome.
4) Offer a Glimpse on Your Website
Since many people feel intimidated about walking into a church for the first time, it's very helpful to give them a glimpse of what they can expect on your website. Upload your favorite clips of sermons and events to your site and also post them on social media.
5) Send Personalized Invitations through Email or Text
Consider using text message invitations or email invitations to not only notify your members and potential members about events and services that are coming up but also invite them personally.
This helps them feel even more welcome.
6) Pique Their Interest
Plan your services in advance, write up short descriptions that make them sound enticing, and share them beforehand.
It's much more likely that your members will attend on a regular basis if they are looking forward to specific sermons instead of just attending blindly without knowing what they are going to be experiencing. Make it all about what they will get out of it and how it will help them or transform their lives.
7) Engage All the Senses
Watching and listening to someone speaking at the front of a room is engaging to some people, but others need more visuals or personal connection. Start to bring more variety into your services. Use video, lighting, music, candles, incense, graphics, and opportunities for interaction and connection among members.
The more elements you can include that are unable to be experienced online, the more you will increase the likelihood of people coming to your services instead of finding something online that will fill their spiritual yearning.
8) Inspire Action between Services
Most churches put out a lot of valuable information, but they miss the mark when it comes to helping their attendees integrate what they learn into their lives.
Assign homework!
When people apply what they learn, they are engaging. So, give them a way to apply it to their lives.
9) Clearly Outline How They Can Engage
Make sure your current and future members know about all the different ways they can engage. Tell them what resources are on your website, what you offer on social media, what clubs and events they can join or attend, and how they can get involved.
In Conclusion
Let us leave you with one final thought: Stop focusing on how to increase church attendance and start focusing on how to get your members engaged.
Remember that there are many ways to engage people, and you'll likely need to try different methods.
Meet your members where they are and try to bring the church to them instead of trying to get them to step outside of their lives to go to church.
When they experience personal value from your church, they'll keep coming back.