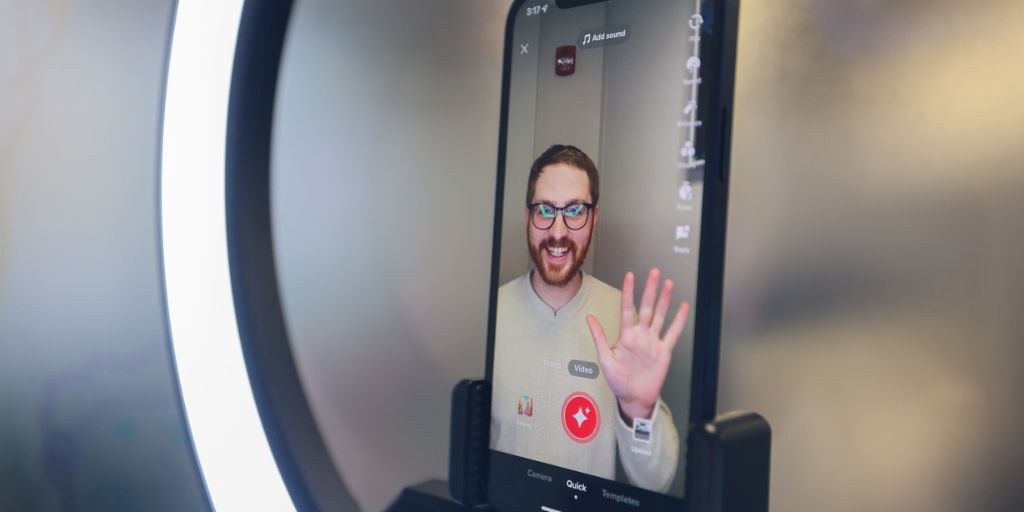 How to Create Videos for Mobile & Why It's Crucial
If you're still retrofitting your website videos for mobile marketing campaigns, your content will struggle for engagement on social media feeds, where you face fierce competition for visibility.
Instead, you have to create marketing videos that provide a mobile experience on your audience's smartphone screen. That means mobile-first videos that immediately grab consumers' attention and then engage them with a short, interactive experience.
Videos for mobile can no longer be an afterthought. Simply cropping your digital copy to fit on a small screen won't provide the engaging experience your audience now craves.
But if you have trained in the art of cinematics and have used the same approach successfully for years, change can seem daunting.
You'll need to let go of some of those ingrained industry assumptions about what makes a great experience for your audience.
Don't worry, though. While adapting to a mobile-first video approach requires learning new techniques, you can build these onto your existing skills.
Why Creating Videos for Mobile Is Crucial
Technology now allows consumers to interact on their smartphones with social media videos at their convenience, when and where they want.
According to a 2022 Statista study, 63% of consumers in the US use their smartphones to watch videos, while 43% watch them on laptops and just 24% on desktop computers.
Also, consider that Meta says 98% of users access their Facebook account on a mobile device, and 80% do so exclusively.
Now add that to the meteoric rise of short-form video social-media platforms, such as TikTok. The relative newcomer had 35.5 million users in the United States in 2019, mushrooming to 86.9 million users in 2021. And the growth is predicted to continue to reach 103.3 million by 2025.
But that is not the only trend driving the importance of mobile-first video.
According to Animoto, using videos to market and advertise your brand and products on social media is exceptionally effective. They found in a 2021 study that:
93% of businesses that shared a video on social media added a new customer.
94% of marketers achieved a positive return on investment from paid video ads.
58% of viewers watched more video ads on social media than on TV.
No business can afford to ignore these glaring statistics. Companies will have to focus their marketing efforts on creating optimized videos for mobile that engage social media users with small screens.
That's if they want to continue to reach this increasingly significant segment of the population, which is heavily represented by younger generations watching short-form videos on TikTok and Instagram.
Simply put…To stay competitive, you must overcome the challenges and focus on creating videos for mobile devices and optimizing content for social media platforms.
Mobile video is the critical way to reach your target audience because you're meeting your customer and community where they are at, anywhere they are at. Noting the statistics above, businesses are growing their customer base by doing so.
How is Creating Videos for Mobile Devices Different?
You'll need to determine what content and format will engage your clients the most. After all, ideally, they will watch your entire video and respond to your CTA before checking out the next content on their feed.
That means you need to look at how your footage will play best on smartphones, with smaller screens held vertically and often without sound.
Competing content on social media feeds has shortened view times and increased the need for more interactive experiences.
It's no longer enough to convert a website video designed for a large horizontal screen. You need to make a mobile-first video instead, rethinking the creative process from the ground up.
Screen Orientation
One of the most significant differences between creating mobile-first and traditional videos is the orientation that your audience will view your content.
Consider where people watch videos on their smartphones, often on the move. People prefer to enjoy viewing them the way they hold their phones. That's vertically. It's harder to relax when holding your phone steady in landscape mode, especially if you only have one hand free.
According to Facebook, 79% of viewers find watching videos vertically more engaging than horizontally.
Length
Another key difference is the video length and how you tell the story. Traditional videos for TV, cinemas, and websites usually follow a classic story arc with a beginning, middle, and end.
There's no such luxury to fully flesh out a story with marketing copy designed for the mobile social media audience. You have to deliver your message fast to compete with the dozens of reels vying for attention on users' feeds.
If you don't grab their attention, they'll move on. And if you take more than a minute or two to get your message across, they won't stay.
Why?
…Because short-form videos are great at driving engagement.
The difference comes with the structure of your videos. Videos created for mobile require authenticity and quick information. A way to overcome the struggle of switching to this format is to simply view and engage with vertical content already out there. Spend some time on TikTok, YouTube Shorts, or Instagram Reels, just as your customers would.
How to Create Mobile-First Videos
When creating videos for mobile devices, aim for informative, entertaining, and inspiring content that grabs the viewer's attention, holds it, and encourages them to engage with your CTA.
Whether for ads or organic content, each social media platform makes recommendations for aspect ratio, length, size, resolution, etc. It's critical to pay attention to these and ensure that your digital copy is optimized for the social media algorithms to rank high in your audience's feeds.
Warning: If you don't follow good practices for creating social media videos for mobile, they won't be as engaging, and you will only make your job harder.

Here are some guidelines to help you optimize organic and ads for mobile.
Format Your Videos for Mobile
People watch videos on their smartphones anywhere that they check their social media, which could be at their desks, walking the dog, commuting, or at the local café. You have to do everything to accommodate their lifestyles, making it easy to watch wherever they are.
Format your videos for mobile first. But always keep the desktop computer users in mind. You don't want to re-create your content for every different medium.
Orientation
For most platforms, your best option is optimizing your videos for vertical viewing. With YouTube, you will likely have more success with a horizontal layout. Square aspect ratios are also gaining favor with some platforms.
While social media platforms will accept landscape videos, as discussed earlier, it won't necessarily be the best experience for most users.
The standard aspect ratios for social media are as follows:
Vertical: 9:16
Horizontal: 16:9
Square: 1:1
Note that we don't recommend creating horizontal videos for TikTok and Instagram Reels because it reduces the available space to make your content stand out.
Bear in mind social media platforms will resize your videos to fit on mobile screens automatically, either re-shaping them or adding padding.
That means you need to watch out that people and objects near the edges may be cut out, whether the platform does it or you are reformatting the footage yourself.
One option is to use a wide-angle lens, keeping the important visuals near the center. This makes it easier to crop without losing visual context.
Bandwidth and Wireless Reception
It's important to consider bandwidth. If users have to wait while watching the preloading wheel spin, they are likely to move on in frustration.
While most people can access broadband at home or work, they'll often have to rely on their cellphone wireless provider when on the move. That frequently means dealing with lower bandwidth and spotty reception. 5G is already a long way from being available to everyone.
So, when making videos for mobile, you'll have to compromise between quality and data usage. That doesn't mean you shouldn't record your video at the highest resolution available. You may need it for desktop computers and perhaps for YouTube.
Some platforms convert your hi-res video to their recommended resolutions automatically. It's best to check with the platform, but here are their basic suggestions:
Facebook and Instagram Stories 1080 x 1920
Facebook and Instagram Feed 1080 x 1350
Facebook and Instagram Ads 1080 x 1080 minimum
TikTok 1080 × 1920
Pinterest 1080 x 1920
Twitter: 1280 x 720, 720 x 1280, 720 x 720
YouTube is again the outlier. It lists computer resolutions from 240p: 426 x 240 to 8K: 7680 x 4320. It automatically adjusts your digital copy to fit the screen. While it doesn't make recommendations for mobile devices on its specs page, 1080p: 1920 x 1080 is often quoted as a safe option.
Oh, and one other thing…record footage at 30 to 60 fps to satisfy most platforms.
Sound
It's not always possible to watch videos with sound on mobile devices. Background noise can make voices and music inaudible, even with earbuds—set at a safe level! And some people just prefer to watch videos with the sound down.
You can use subtitles at the bottom of the screen to transcribe each word or convey the main points with captions and titles.
Get to the Point Quickly
Make sure you get to the point quickly when you make a video for mobile. People will likely come across your video when scrolling through their feeds. Studies show you have 2 to 3 seconds to hook their attention with your central message and compel them to watch your video. If you don't, they'll just keep scrolling.
Create Short Videos
Make your videos for mobile short and sweet. Many platforms recommend keeping videos under a minute and ideally 15 seconds where possible. Although, some videos may need to stretch to a minute or two. But if a video runs much longer, the viewer will likely jump ship.
It's different if you are making content for YouTube, especially when it's a how-to video or it's educational. These could last up to 8 minutes or enough time to provide a complete explanation of the topic without missing a critical step.
If your video feels like it's getting too long, you can always break it up into parts and provide links to other episodes in the series. That way, you'll keep them coming back for more!
Make Mobile-First Videos Interactive
Make sure to make your videos for mobile interactive. It's no secret that a big part of the pleasure that social media offers users is the ability to interact with the content. That's whether it's to subscribe, comment, like, or share the video with a friend.
Providing opportunities to interact with you helps to make it a more inclusive experience. Encourage your viewer to engage by adding a clear call to action (CTA) that tells them what you want them to do.
Encouraging people to interact and engage will help your content rank higher in social media feeds. Furthermore, it can help you to establish a community, which will build long-term support and brand loyalty.
Layout of Videos for Mobile Devices
When making videos for mobile and social media, you may want to add branding, text, emojis, and a CTA. But make sure to place them carefully and don't overcrowd the screen. Here are some tips to help you:
Make sure to lay out the elements logically, so they don't conflict with each other.
You don't want interactive buttons to interfere with navigational elements making it harder to click on just one of them.
Don't let the text, subtitles, and graphics obscure each other or cover important elements of the video itself.
But the CTA must stand out because it is the most important button on the screen or link in the caption. It has to command your audience's attention, so it won't matter if it dominates the screen. And don't position the CTA where it is likely to be covered by the user's hands!
Takeaway
Video streaming technology and social media have transformed the way people consume videos. Most people are no longer confined to watching videos from their couch or desk chair. They can view videos for mobile devices anywhere they take their smartphone.
That is changing the rules of how marketers create videos. In particular, it's raising new challenges for creators accustomed to producing footage for larger desktop screens and then adapting them for mobile phones.
To succeed in a social media market where competition is fierce, marketers must now adapt to a mobile-first video approach. That means they have to create shorter, more interactive videos that grab the consumer's attention on a small screen.
If you are struggling with making engaging marketing videos or your social media strategy is falling short, don't hesitate to reach out to us. Our team of marketers is here to help. Contact Viral Solutions to arrange a free consultation today.