The New Facebook Page Update: What You Need to Know
Facebook changes are relatively frequent, but they can certainly add complications to your marketing efforts. Chances are you just got used to the last round of changes Facebook implemented. And with the impending rollout of the new Facebook Page update, you're likely wondering what it means for your Page or business…
Well, there's not much time left to avoid it, so you may as well be quick to adapt this time around.
This guide will show you exactly what to expect and how you can optimize performance with the new update so you can keep on growing your social media audience.
Let's jump right in!
When Does the New Facebook Page Experience Roll Out?
Big changes are coming to Facebook, especially regarding Pages. In case you missed it, the initial rollout of the new Facebook Page update started in October 2020.
At that time, the changes were available to professionals only on selected categories of Pages. You can see the updated list of the Page categories that may now switch to the new Facebook Page experience here.
It wasn't officially announced by Facebook until January 2021, and they are promising that the changes will be implemented to all business pages within the year.
The Good, The Bad, and The Ugly: What Changes Will You See?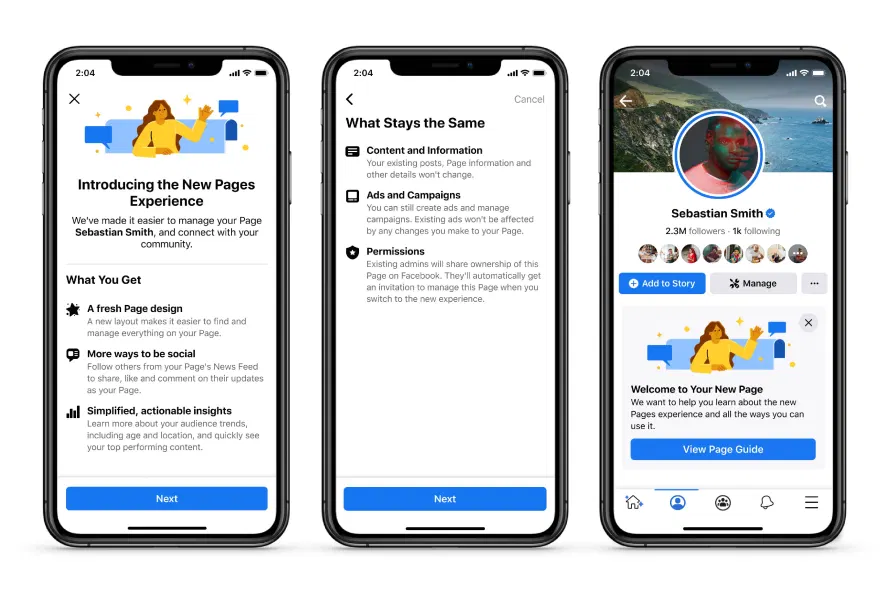 According to Facebook, the rollout of the new Facebook Page update will be available for businesses, public figures, and creators soon.
Their goal for implementing these changes is to aid businesses in achieving their objectives and to build community.
Let's find out if that is indeed the case here by looking at the changes you're going to see…
Say Goodbye to Page Likes
The de-emphasis on Page "likes" is one of the most significant changes expected to happen with the rollout of the new Facebook Page experience.
Prior to this new Facebook Page update, fans had two options to interact with your page:
Liking it
Following it
Moving forward, Facebook plans on eliminating the Page likes completely. Instead, they will only be emphasizing followers for your Page.
A side-by-side comparison of the classic Page and the new Page layout will show you that the like button is missing on the latter. Now, your fans only have the option to follow your page.
The Viral Solutions Facebook Page, which still has the classic look and option to "like" the Page.
Kaitlyn Bristowe's Facebook Page, which has the new Facebook Page look and option to "follow" the Page.
What does this mean?
If someone liked and followed your old Page, they will continue to be a follower once you have updated to the new Facebook Page experience. Instead of counting your Page likes, it will appear as a follower count.
If someone liked your old Page, they will not automatically become a follower on your new Page—so bye-bye to that contact.
If someone follows your old Page, they will automatically transfer as a follower on your new Page.
Once Facebook has finalized the rollout of this new Facebook Page update, the Page likes will no longer be accessible.
The representatives from Facebook are saying that a follower count is a more accurate measure of a Page's fan base. Anyone can "like" a page but choosing to "follow" a page is a more accurate indicator of their interest in that Page and its content.
This is definitely a complete turnaround from what likes meant when they were initially rolled out on this social media platform. And it's bad news for those who have invested a pretty penny in Facebook ads to get likes.
Pages Are Now Profiles
Aside from the changes in the likes/follow format, the new Facebook Page experience will now have a new look—literally speaking.
When you view your Page, it no longer looks like a Page but rather a Profile. And instead of a description listed under the About tab, it has a bio.
The decision to revamp the look of Pages was part of Facebook's commitment to make browsing more intuitive. And it does look cleaner and more streamlined.
Your Page followers are now able to clearly see the information on your Page, such as your bio, posts, and other content. Moreover, it makes it easy to switch between your personal Profile and public Page.
Look Forward to Better Admin Control
The classic Facebook Page has already defined the roles of admins and editors. However, the new Page experience will distinguish those roles more distinctively.
In particular, there are two new permission types for admins:
Partial access
Full control
This is an excellent solution for business Pages with multiple admins. By tweaking admin control, you can assign variable controls to people who have access to your page.
Admins will be able to switch conveniently from their personal Profile to the Page profile within the same Facebook environment, such as in the app or website.
Instead of clumping together these Page roles into one—Admin—they are now more defined. Each role will have a different tier of access to your Page. For example, Editors will not be able to post on the Page or interact as the Page—only Admins can do that now.
Everyone Must Now Use Facebook Business Tools
Another crucial change that you can expect with the new Facebook Page update is losing the option of whether you want to use Facebook Business Tools or not. The social media giant is pushing hard for Page managers to utilize the Business Tools. Unfortunately, Facebook Business Tools are not very efficient or user friendly.
The suite of tools available from Facebook's Business Tools is better geared toward Pages that have a dedicated team of marketing experts. For a small business using Facebook, this can be a disadvantage. Creator Studio is not only confusing but also lacking in terms of user interface.
What's worse is that some features or capabilities are disabled (or may not work properly) upon switching to the new Page format. This includes scheduling posts from external publishing tools, submitting reviews, and doing check-ins.
What If You Don't Want to Conform?
In its announcement, Facebook has indicated that the rollout of the new Facebook Page update will be completed fully within 2021. If you still have the old Page format, brace yourself because it's going to change sometime soon.
The good news is you can always switch back to the classic format even if you've switched to the new Facebook Page experience. But doing so comes with some pretty steep consequences that you need to be aware of:
Any ad campaigns that are active can be stopped without notice when you switch back to the old Facebook Page. You won't be able to restart that campaign even if you revert back to the new Page.
You could potentially lose content you have created from the new Page, including photos, videos, and posts.
You won't be able to access the new features and admin role changes that were implemented in the new Page.
To avoid any significant problems, you can always download a copy of your Facebook Page. That way, you have a record of the content in case you lose some during the switch.
The same goes with your Page insights. You can expect to see inconsistencies with the data insights from the old Page to the new one, so download a copy before switching.
Use this guide to help you download your Facebook page data.
If you have any questions about implementing the new Facebook Page experience to your page, you can learn more about it here.
Final Thoughts
During the initial years of Facebook's success, they were heavily criticized for their constant updates and change implementations. And this time is no different. Small businesses and Page owners are already frustrated when it comes to the new Facebook Page update.
Yes, it's frustrating to have to deal with all of these new changes, and it will definitely take some time to get used to. However, it's inevitable as Facebook itself has said that all Pages will be switched over. So, you might as well embrace these new changes and come in prepared.
In every challenge, there's always an opportunity. The businesses that are able to adapt to these changes are the ones who are bound to succeed.
Whether or not you embrace these new changes wholeheartedly, rolling with the punches can help you leverage the success of Facebook to expand your market reach. With the right strategy, you can even use these new changes to your advantage.