Have you been tasked with finding a company that offers legal marketing services?
Are you concerned about your law firm's stagnant client list?
Do you need assistance generating leads and acquiring referrals?
You're not alone. Countless legal professionals have the same need.
Unfortunately, marketing in the legal sector can be tricky. Even if you hire the top marketing experts, you still may never see a return on your investment. That's because your industry is unique. Therefore, taking a more strategic approach that fits your market is necessary to drive results.
The problem is getting the specialized marketing help you need…
GROW NOW
Legal Marketing Services Can Be Frustrating
You're searching for a company that can provide the legal marketing services you need—one that understands your unique industry and is equipped to support every aspect of your marketing efforts.
But as you've discovered, this can quickly become frustrating. Most consultants and agencies don't know how to market in the legal sphere. Even the rules for legal advertising vary from state to state.
The good news is you don't have to experience this frustration any longer. You can let out a sigh of relief because there is a simple, proven solution to your problem that will allow you to achieve real growth.
GROW NOW
"I have had the chance to work with Viral Solutions for over a year. They are a responsive professional organization who produces results. I would recommend them to anyone looking to take their business to the next level."
-Sam Gaylord
Business Owner and Attorney, GaylordPopp.com
GROW YOUR LAW FIRM NOW
Take Advantage of Legal Marketing Services That Yield Results for Your Firm
Here's What to Do…
Getting the help you need to take your law firm to the next level is easy. All you have to do is follow our 3-step process, which begins with an audit to evaluate where you are now and where you want to go.
Step 1
Request a FREE audit
Step 2
Work with our team
Step 3
Grow your law firm
GROW YOUR LAW FIRM NOW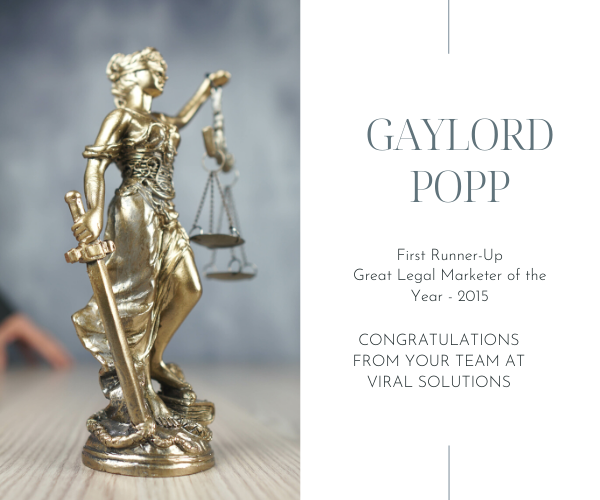 What You Can Expect
Getting the help you need to take your law firm to the next level is easy. All you have to do is follow our 3-step process, which begins with an audit to evaluate where you are now and where you want to go.
By partnering with us on legal marketing services, you can also expect the following:
A PDF report and recording of your initial audit review
Access to a team consisting of skilled copywriters, graphic designers, SEO experts, advertising specialists, business advisors, social media professionals, and a website developer
One-on-one meetings with a dedicated project manager to plan, review, discuss feedback, and receive updates on the status of ongoing projects
Quarterly data reports that show the results of your marketing investment
Recommendations on how to further improve your law firm's online presence
You've spent thousands of hours to get where you are. Your marketing should work as hard as you have.
As a legal marketing company, we're driven by results and committed to helping you reach your marketing goals. We will provide guidance every step of the way and make this a rewarding experience.
Don't let legal marketing challenges keep you from acquiring new clients and achieving higher industry status. Start reaching the right clients in the right location at the right time with the help of a true partner.
GROW YOUR LAW FIRM NOW
In order to assist you with developing your legal marketing strategy, we need to take a look at where you are currently.
To do this we need to conduct an audit of your existing marketing strategy.
To get started, fill out the below form. Filling out the form will do a few things:
It will trigger an automatic audit of your current website, that will be emailed to you in about 1 business day.
It will take you to a page where you can pick an appointment slot to get your Legal Marketing Audit results. Because these results are assessed and compiled by a real person, an appointment with a real person is necessary to deliver the results.
Once you have scheduled that appointment, you will receive a confirmation email, and our team will get to work on your audit.
You will receive an email reminder on the day of the appointment, with instructions to join and Zoom location.
During the appointment, one of our team members will review your audit with you, and answer any questions you might have about the findings. If you need help and want that help from us – we will discuss options on working together.