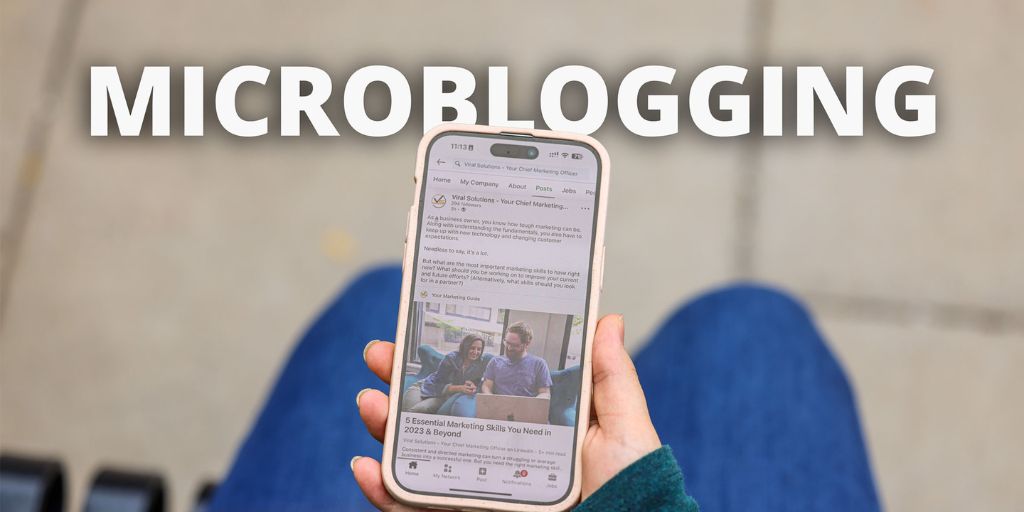 What Is Microblogging & Why Should You Do It?
Microblogging has become an increasingly popular tactic, and it's one worth capitalizing on. If you're asking yourself, "What is microblogging?" it's time to find out. More importantly, it's time to hop on the microblogging train. 
Why?
According to a survey by Contently, 75% of people prefer to read shorter articles (under 1,000 words). They want to learn as much as they can in the least amount of time. Plus, people can feel overwhelmed when confronted with a long-form article.
On the other hand, we have Google, which tends to rank longer content higher in search results. It's not because length is a ranking factor (it's not), but because it's considered more comprehensive. Google's goal is to satisfy users' search intent. They don't want to send their users to thin content that doesn't really address their query…
So, how do we take advantage of the value of content in both regards, keeping our readers and Google happy at the same time?
That's where microblogging comes in.
Let's dig in by answering some of the most common questions about this tactic, including what is microblogging, what are the benefits, what are some best practices, and more.
What Is Microblogging?
Microblogging is the act of creating short-form blog posts, usually for social media. Microblogs themselves are basically long captions with fewer than 300 words. They serve to generate greater interest from an audience because they contain valuable and shareable content.
Not every type of content is suited for microblogging. It works best for teaching about a subject or outlining steps to do something—in a shorter format than blogging on a website.
Caption: An example of a microblog we posted on LinkedIn. Source
Here are some other instances when microblogging can be effective:
The topic isn't searched frequently but still has great potential for going viral.
You want to get interaction from the communities on microblogging platforms.
The post relates to a current or live event.
You want to give a high-level overview of a longer piece.
A Brief Look at the History of Microblogging
Although you may just now be learning about microblogging, it's not a new tactic. In fact, the history of microblogging goes back further than you may realize. This method of content creation has been around for years!
However, microblogging as we know it was introduced in 2006. In March of that year, Facebook launched status updates. Then, just a few months later, Twitter arrived on the scene, with posts limited to just 140 characters.
Since then, dozens of microblogging platforms have come and gone. And those that stood the test of time have found ways to evolve with user preferences. Today, virtually every social media channel allows for short-form content.
How Does Microblogging Differ from Regular Blogging?
When learning about microblogging, it's easy to get confused. Like a lot of business owners, you probably assume length is what makes microblogs unique from regular blogs. However, there are several other differences between the two.
Here are some examples…
| | | |
| --- | --- | --- |
| | Blogs | Microblogs |
| Length | Regular blogs are usually 1,000 words or more. | Microblogs tend to be around 300 words or fewer. |
| Formatting | Blogs are formatted like articles, with multiple headings, paragraphs, bulleted/numbered lists, images, links, and stylized text. | Microblogs may be broken up into multiple paragraphs or lists, include links, and be in video or carousel format, but the formatting is limited by the platform. |
| Placement | Blogs are posted on your business's website (or niche website when guest posting). | Microblogs are posted on your business's social media pages, such as Twitter, LinkedIn, TikTok, Instagram, Facebook, and Pinterest. |
| Frequency | Blogs are generally published weekly or biweekly, though the frequency may vary. | Microblogs are posted multiple times per week or even per day. |
| Time Required | Regular blogs may require several hours to research, write, edit, and publish. | A single microblog may only take minutes to put together and post, and it can typically be repurposed from your longer-form website blog. |
| Purpose | Blogs are designed to bring traffic to your website, educate potential customers, and establish your authority, with the goal of leading people through the funnel. | Microblogs are used to communicate with your social media audience quickly, provide value, and encourage interactions to eventually bring potential customers to your website. |
| Ownership | Since blogs are posted on your website, you own and retain all rights to the content. | Microblogs are posted on your social media pages, and you're given the copyright by default, but the platform may have the right to redistribute and use your content depending on their terms and conditions. |
What Are the Benefits of Microblogging?
Microblogging may seem like just another way of producing and distributing content, but there's a lot to gain from this practice.
Let's take a look…
Microblogs Are Quick & Easy to Create
For the most part, a microblog can be created in minutes. This is especially true if you already have a topic in mind or content you can pull from. A company can churn out dozens of microblogs in the time it takes to create one regular blog.
Because of this, it's easy for companies to stay in touch with their audience on a much more consistent basis. And as you know, frequent posts tend to generate better engagement.
It Builds a Relationship with Your Followers
Microblogging is an easy, fun, and highly engaging way to interact with an audience.
People like to squeeze bite-sized content into their day. When you give prospective customers a fun way to learn about your company, your offerings, or a relevant topic, you draw them in. As a result, you'll build a following that enjoys checking in to see what you have to share with them.
It Allows You to Tell a Better Story
A lot of people don't want to read lengthy blog articles, but they do enjoy the type of easy-to-consume posts that microblogging brings.
Through microblogging, your audience can gain a much better understanding of what your brand is about than they can from reading articles. The main purpose of microblogging is that it keeps users on the social media platform. They're more inclined to read the longer caption because they don't need to leave the app.
It Drives Engagement
Microblogs are much more engaging because they provide value beyond what traditional social media posts offer while still being easy to digest.
People tend to like, share, and comment more on these posts than they do on lengthier blog articles. This makes it a great way to extend your reach and drive engagement.
It Helps You Catch Your Audience Where They Are
Let's face it, it's a rare occasion when people don't have their phones with them. These days, people check their phones every 10 minutes.
Microblogging was built for mobile use. It's incredibly easy to pop on the Instagram app, for example, and check your updates (and people get addicted to doing just that).
What Platforms Are Used for Microblogging?
Microblogging isn't something that should be done on your actual blog because Google will see it as fluff (low value). That's why you should microblog on platforms that are built for this purpose. And chances are, you already have a presence on many of them.
The most common microblogging platforms include the following…
Pinterest
Pinterest is a search engine that allows marketers to post content on boards by theme. This is a good platform for microblogging as it's very visual, and you can add images, videos, and a brief caption.
Instagram
Caption: An example of a microblog we posted on Instagram. Source
Photos and videos take center stage on Instagram, but it's frequently the caption added to the imagery that makes all the difference. That's what makes microblogging on this platform possible.
Research by Fohr has shown that the average caption length on Instagram has been progressively getting longer since 2016—to the point that it has now doubled in size. Now, captions are averaging about 65-70 words (405 characters). However, there are 2,200 total characters to work with.
Start thinking of your Instagram captions as an opportunity to microblog and notice how your posts transform!
Facebook
Facebook offers a great opportunity for microbloggers since the platform allows lengthier posts (up to 63,206 characters). This means you can provide a lot of information in a single post. Plus, it's nice that you can microblog to a Facebook Group.
Facebook Stories can also be utilized as a microblog since you can share multiple graphics in a sequence to share with your current followers. These posts will be viewed like a slideshow, and you can even add special effects such as music.
Twitter/X
Twitter, recently rebranded as "X," is considered the first official microblogging platform. So, it makes sense to use it for this purpose.
You can now share content of up to 280 characters on this platform (formerly only 140 characters), which makes microblogging easier since you have more characters to provide value with. You can add to your microblog by including links, images, GIFs, and videos. However, you can also share longer-form pieces of content if you subscribe to a Pro plan.
Threads
The Instead Threads app is another great platform for microblogging. In fact, it was launched as an alternative to Twitter/X.
Currently, on Threads, you can share posts of up to 500 characters, along with photos, videos, GIFs, and links. As Threads is still new, the focus right now is on creating authentic, organic content for your audience. So, focus on delivering value and really engaging with your audience.
LinkedIn
LinkedIn works well for microblogging, especially in the B2B sphere. And it's a nice place to start if you're new to microblogging because it is so user-friendly.
In addition to creating longer posts of up to 1,300 characters, you can also write an article using LinkedIn's Publishing Platform. Additionally, you can share a PDF as a carousel on LinkedIn and connect with other key opinion leaders (KOLs).
Tumblr
Tumblr was actually designed for microblogging. If your target audience hangs out on this platform, you can create long-copy posts that resonate with them. It's also easy to share posts using the "reblog" feature.
Google Business Profile
Did you know you can also microblog on your Google Business Profile?
A feature included in Google Business Profile is the ability to create posts. And it's one worth taking advantage of because it shows your business is active. Additionally, it can keep potential customers who may not follow you on social media up to date with the latest goings-on.
Posts on your Google Business Profile can be up to 1,500 characters long. However, you'll likely want to keep them on the shorter side. The platform allows you to create three types of posts:
Offers
Updates
Events
Microblogging Best Practices
Now that we've answered "What is microblogging?" and covered the benefits and platforms to use, let's talk about some microblogging tips to help you put out some stellar content…
1) Be Digestible
Microblogging is meant to be concise and lightweight. That goes for the overall length of the text but also for the formatting of the text. Break it up into short sentences and paragraphs, and add bullets, emojis, and anything else you can do to break it up and make it fun and easy to read.
2) Focus on Value
When it comes to microblogs on social media, the posts that gain the most traction are the longer captions that contain valuable information or steps to do something. So, focus on providing real value. In doing so, you'll encourage people to spend more time consuming your content because it'll be worth it.
3) Be Entertaining
The best microblogs get shared and interacted with because they are entertaining and provide value. Use humor when appropriate and in a way that fits your brand. Use graphics, photos, memes, and videos to convey humor in your posts. Being informative and entertaining is what will get people talking about and engaging with your posts.
4) Get Personal
Caption: A microblog posted by Mark de Grasse of DigitalMarketer on his Instagram page. Source
This is the kind of content that can really shine a light on your brand, so don't hold back. Share stories that will help your audience get to know your brand. Let them see a side of you that they might not know about. That's how they're going to fall in love with your brand.
Here are some ideas of how you can do this:
Share an insight that accompanies a graphic to add dimension to the post and interject your personality.
Add some useful or interesting knowledge that demonstrates what you know.
Include behind-the-scenes info in a lengthy caption.
Share a personal story related to your business or how you overcame a struggle in business.
Show off your company values.
Basically, microblogging includes anything you can do to add context to an image (if one is used), add in some personality, and inspire action on the part of your followers.
5) Be Consistent
Engagement increases when you show up over and over again. Don't post a microblog and then disappear for a month (or even a week). Post on a regular basis so that you're microblogging up-to-date happenings or insights related to your company and industry.
Final Thoughts
Now that you have a good understanding of what microblogging is and how to go about it, you might even realize that you've been doing it all along without knowing the "technical" term! All you have to do is think of it from the angle of being a microblogger to gain more success with this tactic. So, go forth and start creating valuable, short-form content for your audience!
Need some help with social media? Download our free Social Media Tool Kit.