How to Encourage Your Congregation to Start Inviting People to Church
If every member of your church invited just one new guest each year, your congregation would grow in leaps and bounds.
Unfortunately, most of your members aren't going to do that.
But, more of them will if you give them a lot of easy and less-intimidating ways to do it. And that's what this article is all about.
The Best Way to Increase Church Attendance
The best way to increase church attendance is to get your congregation to start inviting people to church. It's no secret that personal recommendations are the most effective means to encourage people to do anything. We all want to know that something is worthwhile before we give it a try, and 47% of Americans are open to being invited to church by a friend.
Plus, attending a new church can give a lot of people anxiety. Newcomers will feel more comfortable walking into a new church if they already know someone who attends.
Getting members to help with increasing church attendance is something you should be constantly working to instill and improve. It's what expanding churches are doing well.
How to Motivate Your Members & Help Them with Inviting People to Church
Inviting people to church is not something that comes easily to most people, so simply asking members to invite their friends and family isn't enough. Fears of rejection or of what people will think are common deterrents. Therefore, you need to guide your members and make it easy for them.
Here are some powerful tips to help you inspire your congregation to begin inviting people to church…
Mix It Up
If you ask your members to invite people to your church at every Sunday service at the same time and in the same manner, they will start to block it out. Instead, interject it once or twice a month and find creative ways to do it.
Here are some ideas as to how to mix things up:
Include stories about inviting in your sermons – Stories are one of the best tools for inspiring people to do something because they are relatable. Asking members to invite people is intimidating, but telling stories about how invitations have changed lives, for example, makes an impact on a whole new level.
Show Josh & Steve videos – Josh & Steve (The Invitation Guys) are 2 funny guys who have put together some videos that help churches inspire people to invite new members. They can add another dimension to this process.
Offer different ways for your members to go about inviting people to church – Instead of just asking them to invite people to the Sunday service, encourage members to invite people to a social event your church is hosting. This can be a much easier invite, as well as an easier way for the invitee to accept.
Offer New Attendees & Those Who Invited Them a Special Gift from the Congregation
Incentives are always helpful in getting people to make the extra effort needed for inviting people to church. You can offer a special gift to those who bring a guest to entice them to step out of their comfort zone. Don't forget to present the guest with a gift as well.
Though many churches offer things such as T-shirts as gifts, you can make your gifts extra special.
1) Ask your congregation to donate gift cards or something that is representative of the business they own or work for.
2) Create a welcome/thank-you basket that includes all of these goodies.
This is a wonderful way for members to get to know other members and for congregants to market one another's businesses. It's a gift that doesn't cost your church anything, and it is something that would be desirable to members and guests alike.
Make It a Warm & Welcoming Environment
If your members feel welcomed, as well as personally appreciated and valued, they will want to share that experience with their friends and loved ones. The warmer you can be to your members, the more you can expect them to engage in inviting people to church.
Carry that warmth through into a system that ensures new attendees feel it too. Use these tips to help you:
Create a Welcome Team
Ask your friendliest members to be part of your welcome team. They can be available to answer questions at your welcome desk, greet people as they enter the church, and engage in conversations with newcomers.
Mention Newcomers during Your Sermons
Make a callout to newcomers during your sermons. Instead of making them raise their hands or stand up, which can make some people feel uncomfortable, just say something like, "We welcome everyone who is visiting us today. We are so glad you are here. Please stop by the welcome desk on your way out to learn more about us and to pick up your gift."
Mention Members during Sermons
Although it's important to make mention of your newcomers, it is equally important to show your members how much you appreciate them. Express your gratitude to those who have invited guests or who have volunteered or assisted the congregation in some way.
Follow Up with Visitors
As visitors head to the welcome desk to receive their gift, ask them to fill out a contact card. Then, send them a handwritten note or something that will stand out and demonstrate your warmth even further.
Offer Events for Newcomers
Hold regular events for new members and visitors so that they can visit your church in a less intimidating way than Sunday services. You could hold a welcome lunch or pizza with the pastor, for example.
3 Ways to Help Your Congregation with Inviting People to Church
It is essential that you give your congregation tools and ways to make inviting people to church a breeze. The easier you make it, the more growth your church will experience.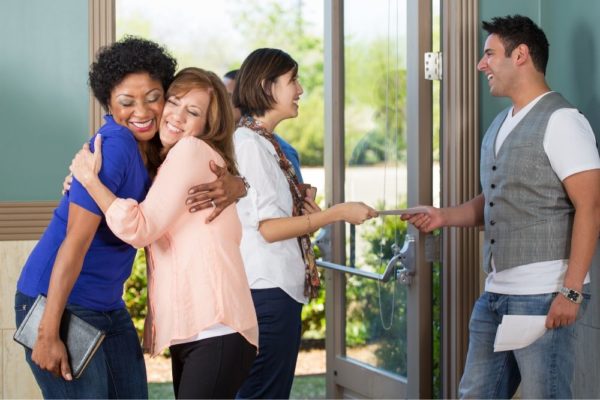 Here are some ways you can do this…
1) Get Your Members Engaged through Social Media
Inviting people to church doesn't always have to be an outright invitation. Social media is a great way for your members to help you get the word out about your church. Encourage your members to "like" and share your social media posts.
And don't make all of your posts directly about your church. Include posts that are helpful for everyone, whether they attend your church or not. These kinds of posts are easier to share and will still get your name out there.
Here are some examples of posts you can make in this regard:
Inspirational quotes
Lists of money-saving deals in the community
An article about how to inspire gratitude in your kids
One of the most effective ways to encourage members to invite people to your church is to ask them to be active on social media during the service. For example, if they hear something that impacts them during your sermon, ask them to Tweet it or make a Facebook post about it and tag your church.
2) Hand Out Invitation Cards
Invitation cards are easy for members to hand out and can take a lot of the pressure off of them. You can pass them around with your donation baskets, place them on tables where members can pick them up, and/or put them in the pews next to the Bibles.
Include the following on your invitation cards:
A tagline that inspires interest
Your contact information and branding elements
Graphics that spark interest
A welcome message
A note about the gift they will receive for attending
3) Add an Invite Page to Your Website
Your website is an easy way to provide your members and nonmembers with everything they could possibly need regarding your church. Having an invite page is just as important as having a donation page.
Provide everything your members need for inviting people to church, such as…
Interesting facts about your church and what sets you apart
Sample social media posts and emails members can use to invite guests
Tips and ideas that will help them make inviting people to church easy
Printable invitation cards
Photos of the gift your members and guests receive
In Summary
The key to getting your members to start inviting people to church lies in your creativity. This is an area that you never want to allow to get stale. Always be on the lookout for fresh ideas and try them out.
When you've got this working like a well-oiled machine, you will experience growth like you've never seen before. Then, you can use these tips to help you increase church giving.