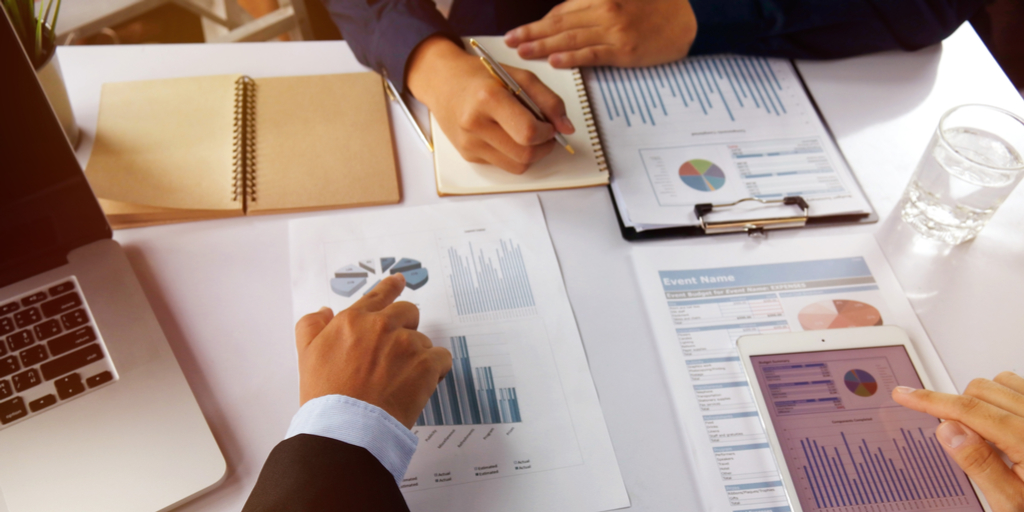 The Importance of Actually Using Marketing Data
You've glanced at your social media insights from time to time.
You've set up your Google Analytics account, and you've linked it to Google Search Console.
You know there's a "Reports" tab in your email marketing software that will show you who opens what emails and so forth.
You know you should dig into all of this data, but seriously…it's too much! Who has the time to weed through all of it and try to turn it into a working marketing strategy that can benefit your company?
We get it, really we do.
Nevertheless, we want to drive home just how important it is to actually use your marketing data.
Why? Because when you apply what you've learned about your customers through marketing data, you'll be able to make adjustments that will strengthen your marketing efforts… BIG TIME.
We mean it when we say "big time." The impact that marketing data has on companies is no small thing. Just take a look at some of the many statistics that prove this point:
A survey of top executives led by Forbes Insights in association with Turn indicated that data-driven marketing leaders report that they've gained a competitive advantage in increasing profitability by 45% and that their customer retention has increased by 74%.
The survey also indicated that almost 75% of leaders report that they are seeing increased customer engagement due to their data-driven marketing efforts.
Furthermore, it stated that about 67% of the leaders are gaining new customers as a result of their data-driven strategies.
Let's look at some of the reasons why data marketing is so powerful.
With Marketing Data, You Can Actually Have a Marketing Strategy
Probably the biggest reason to use your marketing data is that it allows you to create a marketing strategy that is unsurpassed.
All marketers claim to use marketing strategies, but here's the thing: Without the use of data-driven marketing, you're really just guessing, and you can't call it a marketing strategy if you're guessing your way through it.
If you're finding yourself constantly trying random marketing ideas, it's time to realize you don't really have a marketing strategy.
Marketing data allows marketers to create a full-blown marketing strategy that random marketing decisions based on guessing simply can't live up to—not even close.
We're talking about customer transactional and behavioral data that gives you information such as the following:
Where they live
What they like and hate
Where they shop
Their online behavior
Purchase history
Where they engage and interact
As we stated in our article, What Is Data-Driven Marketing and How Can It Increase My Bottom Line?, data can turn a "mediocre marketing strategy into a highly targeted, sales-driving machine."
Your Marketing Data Allows You to Dazzle Your Customers
Customers of today expect to be wowed, amused, and dazzled. They expect that you will personalize their experience and give them exactly what they want.
Almost every company cares about customer service and wants their customers to have an experience that makes them come back over and over again. But too many companies struggle to improve customer experience.
A new Harvard Business Review Analytic Services (HBR-AS) report called Marketing in the Driver's Seat: Using Analytics to Create Customer Value indicated that customer insights are the ticket. In fact, 50% of those surveyed said customer experience is one of the top two differentiators for their business, while only 25% of them said their customer service performance is where it needs to be.
When you put your marketing data to work, your marketing becomes so much more relevant. Relevance leads to personalized marketing because it allows you to give your customers exactly what they want when they want it, and that means higher conversions for you.
According to V12Data, "people receive between 300 and 3000 marketing messages a day, but can only retain a maximum of three." That's why relevant, personalized marketing is essential, and the only way you can accomplish that is with data-driven marketing.
Salesforce states that 52% of consumers (and 65% of B2B buyers) say they want a personalized experience so much that they're likely to switch brands if a company doesn't give them that.
These days, we need to give our customers an experience they'll remember. They want the royal treatment, and we are expected to know and value their needs and interests. To do that, companies need to be tracking user behavior to know what they're clicking on, scrolling over, and hovering over.
If You Don't Use Your Marketing Data, Your Competitors Will Win
The problem with not using marketing data to improve your strategy is that your competitors are doing it. Do you really want to be left in the dust?
Dustin Engel, head of Analytics and Data Activation at PMG Worldwide, said it himself: "If you aren't interested in a more science-based approach to marketing, ponder this: your competitors probably are."
When referring to competition, it's also important to point out that your marketing data gives you a huge advantage because it helps you understand how you stack up against your competitors.
With social media insights, you can see how many likes and shares you receive compared to your competition. Search engine data lets you see which keywords your competitors are ranking for and in what position so you can try to outrank them with better content for those keywords.
Marketing Data Makes You More Productive
The Teradata 2015 Global Data-Driven Marketing Survey found that after accuracy, the second most-cited benefit of data-driven marketing is speed.
The data that we are able to acquire these days is incredible. As long as you are integrating your marketing technologies and not allowing yourself to get bogged down with the data that doesn't matter to your current goals, marketing data will drastically improve your productivity.
Marketing Data Gives You Insight Into the Good, the Bad, and the Ugly
Sometimes the best data is negative data because when you know where you stand, you can react and respond to issues much faster and more effectively. Here are some examples:
You can understand why you lost customers, which is some of the best information you could ever acquire.
When a campaign goes sour, you can quickly figure out why so that you can readjust and stop wasting time and money on what doesn't' work.
You can use real-time data to cool irate customers before their rant goes viral.
You can follow up by sending coupons to customers who abandoned their cart.
You'll be able to know what kind of marketing your customers engage in the most, so you know where to spend your money.
You'll understand what is making you earn new customers so that you can rinse and repeat.
The possibilities as to how you can use marketing data to turn things around are endless.
So, What's Holding You Back?
Although the evidence points to the advantages of the use of marketing data, it's not being utilized as it should. For example, marketing leaders are 56% more likely to use data and analytics software, yet only 19% of marketers track all of their marketing efforts.
Amazingly, 87% of marketers consider data to be their companies' most underutilized asset, as reported by the Teradata 2015 Global Data-Driven Marketing Survey.
Let's look at some of the reasons why this is happening.  
TMI, Baby… TMI
Too much information is overwhelming.
The opportunity we have right now to understand our customers based on data is unprecedented, but perhaps that's the problem. Too much data can cause overwhelm, confusion, and inaction.
It can be challenging to make sense of the piles of data that are available to us and create meaningful plans from it all.
Plus, at first glance, it often seems like a foreign language. Most of us don't even know where to start when we look at it, and it's a learning curve that can feel tedious and time-consuming.
On the contrary, however, it will save you countless hours and dollars. It's a short-term hardship for a long-term gain.
It's Not in the Budget
A study by CMO Council revealed that the biggest reason marketers aren't using data-driven marketing wasn't the feeling of overwhelm that it causes but an inadequate budget.
Nevertheless, over 63% of marketers have reported that they have increased their data-driven marketing spend, with about 20% of their overall budget being allocated to data-driven advertising campaigns.
This goes back to what we said earlier—if you don't do it, your competition will. Better to beat them to it!
Next Steps for Data-Driven Marketing Success
By now, we're assuming you're convinced you need to start actually using your marketing data. You're ready to put an end to random marketing plans and wasted time and money.
But, you probably don't know where to start. We've got you covered! Here are some next steps to take:
1) We already talked about the ins and outs of marketing data in a previous blog series called Data-Driven Marketing for Rapid Business Growth. Read through these articles to get started with a strong foundation:
2) The most important thing to know is that you aren't alone, and you don't have to feel overwhelmed. Contact Us for a free consultation to discuss how we can help you put your marketing data to work.