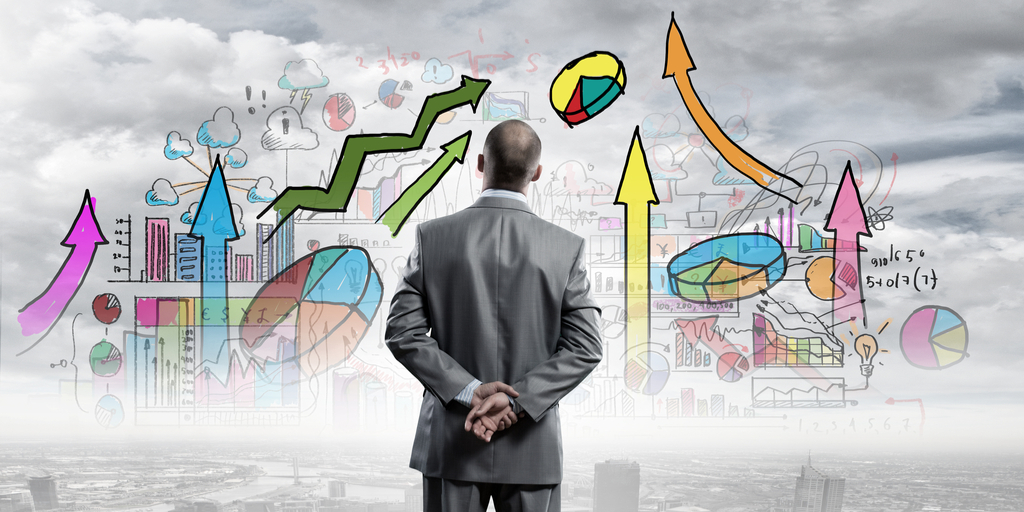 Data-Driven Marketing for Rapid Business Growth: A Best Practices Checklist for Serious Marketers
Welcome to the final article in our data-driven marketing series. Throughout this series, we've talked about…
What data-driven marketing is
How data can help you increase your bottom line
A step-by-step process to getting started with data-driven marketing
Proven profit-boosting personalization marketing strategies
If you haven't read any of our previous content on this topic, click the links below to read more:
Part 1: What Is Data-Driven Marketing and How Can It Increase My Bottom Line?
Part 2: The Step-by-Step Process Model to Getting Started with Data-Driven Marketing
Part 3: The Quick-Start Guide to Launching Profit-Boosting Personalization Marketing Strategies (with Examples)
In our fourth and final article below, you will find a best practices checklist to help you navigate this process and avoid some common stumbling blocks.
Let's get started!
#1 Listen to ALL the Data (Even the Bad Stuff)
Have you ever been in a conversation with a selective listener? They listen to what they want and then lose interest at the exact moment your story is just about to get good.
This is what marketers do with their data. They welcome the good data but once the bad data shows up, their selective listening ears perk up and they would rather disregard it than dig deeper.
Building a successful data-driven marketing strategy requires a review of ALL the data, not just the kind that makes you feel all warm and fuzzy.
Adjusting to the bad news is just as important as celebrating the good news.
Mistakes in testing are inevitable, but making the mistake of neglecting "bad" data could cost you. ALL data (good and not so good) rewards you with the opportunity to learn more about your customers, their preferences and what makes them tick. Poor-performing tests, though they may sting, bring you one step closer to knowing what your customers want (or don't want). Using all of your observations to influence your marketing is key to achieving success.
#2 Don't Rely on Assumptions
So many marketers fall into the trap of relying on past assumptions when using data to inform their campaigns. Sometimes they aren't even aware they are doing it. Even worse, they move forward with assumptions without testing them first.
Here is an example:
Your competitor boasts 4% opt-in rates, or you read somewhere that 4% is an industry standard. You perform some tests and once you achieve 4% conversions, you assume you have "arrived" and you stop testing.
Don't do this. A few small tweaks could improve your conversions even more, and if you your website traffic is significant, this could equate to big gains.
Split test all of your assumptions before you make any of them your marketing "Bible." Better yet, throw out the idea that you will ever "arrive." The market is always changing, and people's tastes and interest go along with it.
How do you avoid falling into the assumptions trap?
Keep asking WHY over and over and over and over again. Be like a strong-willed toddler who wants to know why he can't have a bucket of candy before dinner.
What does this look like in an actual marketing campaign?
Well, let's say that after analyzing some data you discovered that your website visitors were exiting your page before scrolling down to read your blog content. You decide to test the addition of a table of contents to see if that increases their time on the page.
That's a good plan and one you may want to test, but if you don't ask yourself WHY, you may miss out on discovering the real issue.
WHY do you think your visitors are trailing off the page?
Here's some potential answers to keep the investigative process going:
They are disinterested in the content.
(Keep going…) WHY?
Because they are not getting solutions to their problems.
(And one more time…) WHY?
Maybe the referring traffic source led them to believe the content would be different.
Or, maybe the content you are writing does not line up with their interests.
Going through this simple WHY scenario, you now have several deeper answers to what the problem could be. And instead of just adding a table of contents to the blog, you can also do things like:
Send a survey or hold a focus group to find out your customers' needs
Monitor social conversations and competitors' sites to get a better idea of what content your audience is digesting.
Check the referring traffic sources to see if there are any trends. If the traffic is coming from PPC, review the ad copy for a disconnect in messaging between the ad and the landing page.
Re-review your data and re-visit your buyer personas
Review your content to ensure it lines up with your buyer personas
By asking more questions, you will come up with more ideas to test which will lead to more positive outcomes.
#3 Stay Updated with Industry Changes that Could Impact Your Campaigns
Do you remember years ago when the first 4-5 organic Google search results were visible above the fold (what users see without needing to scroll down) and the ads were on the right side of the page?
Google has been slowly pushing organic results further down the page. Then, when Google did away with right-side ads, it pushed the organic results down further.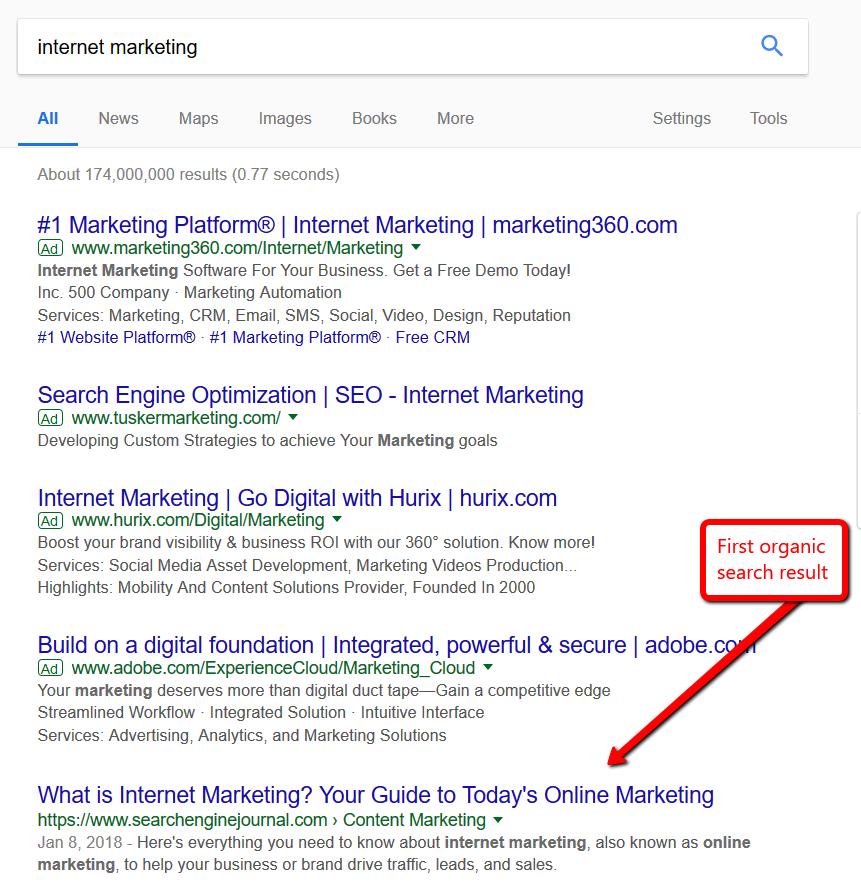 If, prior to this change, you relied on your above-the-fold organic visibility to funnel most of your traffic, and you didn't adjust to the changes, your business would be in trouble right now.
The point is to stay updated with changes that could affect your marketing campaigns because these changes will affect your data. If you work with a good digital marketing agency, they will keep you apprised of industry changes that could affect your campaigns. But, if you work solo, bookmark some industry leaders' sites and get on their newsletters.
#4 Stop the Digging Madness
In this article series, we have been stressing the importance of data and how to use it to inform your marketing decisions. Well, as much as we love data around here, we DON'T love chaos.
There is a point when too much of a good thing is, well…too much of a good thing. And this can happen with too much data.
With so much data coming at you from all directions, you may get confused about where to start, which data to focus on and which data will produce the best returns.
One way to eliminate some chaos is to stay focused on your goals so you only work with the relevant data that feeds your KPIs. In Part 2 of this series, we talked about setting goals for your campaigns. The reason we told you to do that is so you don't get sidetracked or overwhelmed and you get some real results. When sifting through data, ask yourself if using it will directly affect the goals you set for the interim. If not, disregard it.
#5 Integrate Your Data
Your data is likely sitting in silos across multiple platforms. You may have internal and first-party data such as your website and analytics and third-party data on conversions and social engagement. But, this decentralized setup prevents you from fully optimizing your customers' experiences.
It's ideal to integrate your data so you can collect it from every consumer's touch point with your brand and analyze it in one centralized location to create a single customer view.
When you have a single customer view, it simply means that you understand individual customers' needs, interests and behaviors and you can review all of this aggregated data in one place.
Data integration is a pain point for many organizations, big and small, because it can get quite complex and requires the work of data professionals and/or a full-scale platform. If you have any questions about data integration, we'd be happy to help. Just reach out to us here.
#6 Remember: You Are Marketing to People, Not Credit Cards
Behind the conversions, stats and numbers, there are real people who simply want solutions to make their lives better.
Don't get so caught up in the data that you forget you are marketing to humans. Every piece of data is there to help you humanize your brand by improving the experience your prospects and customers have with your company. Data-driven marketing efforts mean nothing if your focus is more on the data than on what the data is there for: connecting with the people you service.
Over to You
Well, that concludes our article series on data-driven marketing. If you haven't read the previous articles in this series, here are the links again:
Part 1: What Is Data-Driven Marketing and How Can It Increase My Bottom Line?
Part 2: The Step-by-Step Process Model to Getting Started with Data-Driven Marketing
Part 3: The Quick-Start Guide to Launching Profit-Boosting Personalization Marketing Strategies (with Examples)
If you have any questions about data-driven marketing or you would like to chat about how we can help your organization with your marketing strategy, our door is always open. Contact us here and we will be in touch.