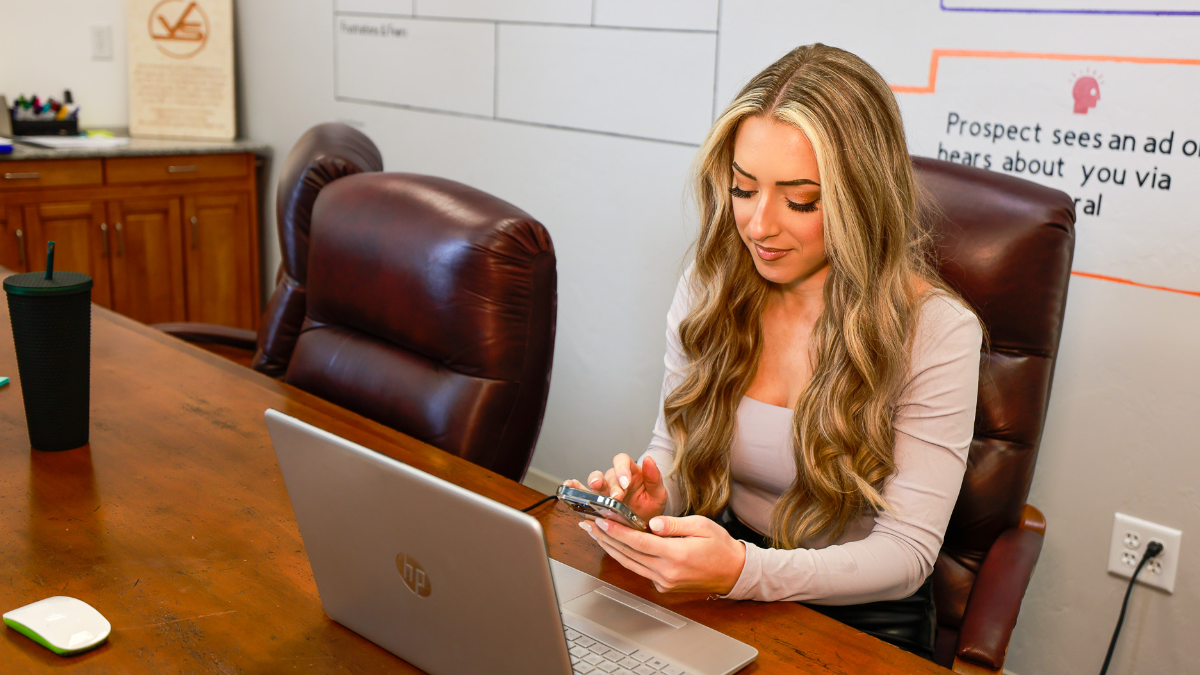 Need Insurance Marketing Ideas? Discover the Most Effective Tactics
The insurance industry is highly competitive, making it hard for your agency to stand out. According to IBISWorld, there are 410,176 agencies and brokers in the U.S. right now. And depending on your location, you may be one of a dozen (or more) trying to write policies for the same type of customers. That's why you need to use the right insurance marketing ideas to your advantage. You need to know which tactics will yield the best results when it comes to…
Reaching your target audience
Building trust
After all, if you want to grow your agency, smart marketing is a must!
6 of the Most Effective Marketing Tactics for Insurance Agencies
There's no shortage of insurance marketing ideas out there. The truth is that there are several ways for your agency to reach and engage potential customers. But to get the most out of your marketing efforts, it's important to focus on the most effective ones.
So, let's look at 6 insurance marketing tactics to help position your agency for success.
1) Referral Programs
There's a reason insurance referral programs are one of the most strongly recommended marketing tactics. Encouraging existing customers to refer their friends and family members is an effective way to generate new business. In fact, consumers are 4x more likely to purchase from or engage with a business when referred by a friend.
Why?
People are often influenced by others' opinions and experiences. When customers refer their friends and family to an insurance agent, they provide social proof that the agent is reputable and trustworthy. As a result, those referred to your agency feel more confident moving forward.
Customers also want their friends and family to get great coverage and save money. And they may appreciate the convenience of having their friends and family work with the same insurance agent. This can make it easier for them to coordinate their insurance needs.
If you provide quality service, personalized attention, and trustworthy advice, you likely have a pool of existing customers willing to refer your agency to others. So, make this work for you!
Create a referral program to incentivize current customers. You need to offer them a gift or discount they'll appreciate. And once it's set up, promote it via email, social media, and other channels.
2) Content Marketing
When it comes to insurance marketing ideas, content marketing is one tactic you shouldn't overlook. Creating high-quality content can help educate potential customers about insurance, build trust, and establish your agency as an industry thought leader. In short, it's a great way to make your agency stand out.
Here are some examples of content worth creating:
Blog posts: Writing blog posts on topics relevant to your target audience can help demonstrate your agency's expertise. For example, you could write posts about choosing the right insurance coverage, tips for reducing insurance costs, or explanations of complex insurance terms. As an added bonus, blogging regularly (and well) can increase your chances of ranking in search results.
E-books: Creating more in-depth educational content such as e-books can also help increase your authority. Additionally, making this content gated and requiring an email to download can bring in new leads. For e-books, it's best to focus on a topic that can be broken down into chapters. And this doesn't have to be entirely new content! You can even compile some of your highest-performing blog posts into one resource.
Webinars: Hosting webinars is another great way to share your knowledge while generating leads and building relationships. You can set up a webinar every month or so, requiring people to sign up to attend. Make sure to offer value during each webinar—don't just pitch your agency. For example, explain an aspect of insurance that many people struggle with, allowing attendees to ask questions.
Infographics: Developing infographics is another method of presenting content in a more visual way. You can include infographics in relevant blog posts or share them on social media. As a result, they can help extend your reach, increase brand awareness of your agency, and even boost your search rankings. The best infographics simplify complex information and make it easy to consume. For example, you can lay out 5 steps for finding an insurance agent or facts about a type of coverage.
Videos: Creating videos that explain insurance concepts or showcase customer success stories can be an effective way to engage your audience and build your agency's brand. For example, you could create a video series that explains the different types of insurance coverage or features customers talking about their positive experiences with your agency.
Don't underestimate the impact of creating valuable, easy-to-consume content for your target audience.
3) Social Media Marketing 
Social media marketing is an effective tactic for insurance agencies because it helps you connect with customers where they are. By developing a presence on the platforms your current and potential customers use, you can build strong relationships that benefit you in the long run. Remember that people need a reason to follow your agency, so strive to deliver value and engage them.
How?
Share blog posts & videos
Promote upcoming webinars
Publish infographics
Create microblogs
Run polls
Foster conversation
Host live Q&As
Tip: Encouraging satisfied customers to leave reviews and testimonials can also strengthen trust. You could feature these reviews on social media to showcase your agency's reputation.
4) Email Marketing 
Email marketing is almost always mentioned among the top insurance marketing ideas, and for a good reason. You can use it to stay in touch with existing customers, promote new services or products, and nurture leads. As it's a form of direct communication, people are more likely to see and engage with it.
Plus, email marketing is generally more cost-effective than other marketing channels, such as print or TV advertising. This makes it a great option when you have a limited marketing budget.
Some best practices for email marketing include the following:
Make it easy to sign up for your email list.
Send a confirmation email to new subscribers.
Segment your list based on age, location, policy type, or interest.
Personalize every message you send.
Create automated campaigns to nurture leads.
Send out a regular newsletter with valuable content.
Alert subscribers to new promotions or discounts.
Email marketing is highly measurable, allowing you to track open, click-through, and conversion rates. This makes it easy to identify what's working and what's not and to adjust accordingly.
Overall, email marketing is an effective tactic for insurance agencies because it allows you to build and strengthen relationships in a targeted, personalized, and cost-effective way.
5) Local SEO
As previously mentioned, there's a lot of competition in the insurance space. Combined with the fact that the policies you sell are likely state-specific, it's best to narrow your focus. And that's where local SEO comes into play.
Local SEO is another effective insurance marketing tactic because it allows you to reach potential customers in the area. By putting effort into your local SEO, you can increase the chances of people finding your agency when they search for local insurance services.
Here are some tips for improving your local SEO:
Optimize your website: Incorporate local keywords throughout your website, including title tags, meta descriptions, and content. This can help search engines understand that your business is relevant to users in your local area. Make your contact information easy to find. You should also consider adding pages for individual cities or service areas.
Claim your Google Business Profile: Claiming and optimizing your Google Business Profile is an important step in improving your local SEO. Make sure that your listing includes accurate and up-to-date information about your agency, such as your contact details, website URL, and business hours. Choose the relevant category and note whether you have a physical office to display. Once you have the basics covered, add images, videos, and customer reviews (encourage current customers to leave reviews on Google).
Add your agency to directories: Submitting your business to directories can also help improve your local SEO. Make sure that you list your agency in relevant directories, such as Yelp, BBB, Yellow Pages, your local Chamber of Commerce, etc.
List your location on social media: We've already touched on best practices for social media. However, it's also important to list your location or service area to connect with potential local customers. Make sure to complete your profiles, including your contact information on each platform.
6) Event Sponsorship
As far as insurance marketing ideas go, this one is a little more traditional but no less effective. In fact, it can yield several benefits for your agency. By implementing a local marketing tactic like event sponsorship, you can increase your agency's visibility and raise brand awareness in the place you operate. As a result, you can reach potential customers who may not have been aware of your agency before. This is particularly valuable for smaller or newer agencies that may not have an established brand presence in the community.
Moreover, it can help you establish a positive reputation in the community. You can be seen as a contributor to local events and community initiatives, which can build goodwill and positive associations. It can provide you with the opportunity to network with other businesses and community leaders. This can lead to new business opportunities or partnerships that can help to grow your agency's customer base.
Here are some examples of events you may want to sponsor:
Charity fundraisers
Festivals
Concerts
Sports teams
School functions
Depending on the type of event being sponsored, you can target specific demographics or market segments. For example, sponsoring a charity event for families can help you reach parents looking for insurance coverage for their children.
Ready to Put These Insurance Marketing Ideas into Practice?
The tactics mentioned above are some of the most effective for insurance agencies, but only if implemented properly. You're probably tempted to take these insurance marketing ideas and run with them. However, you may end up with poor results.
To get the most out of your agency's marketing efforts, you need to be strategic. That means you need to develop a strategy first, then use the appropriate tactics to execute that strategy. So, start by creating an insurance customer profile to learn about your ideal customer and then develop a plan to reach them.
To get the most out of your marketing investment and see greater growth, it helps to have additional support. Learn how Viral Solutions' insurance agency marketing services can benefit you!