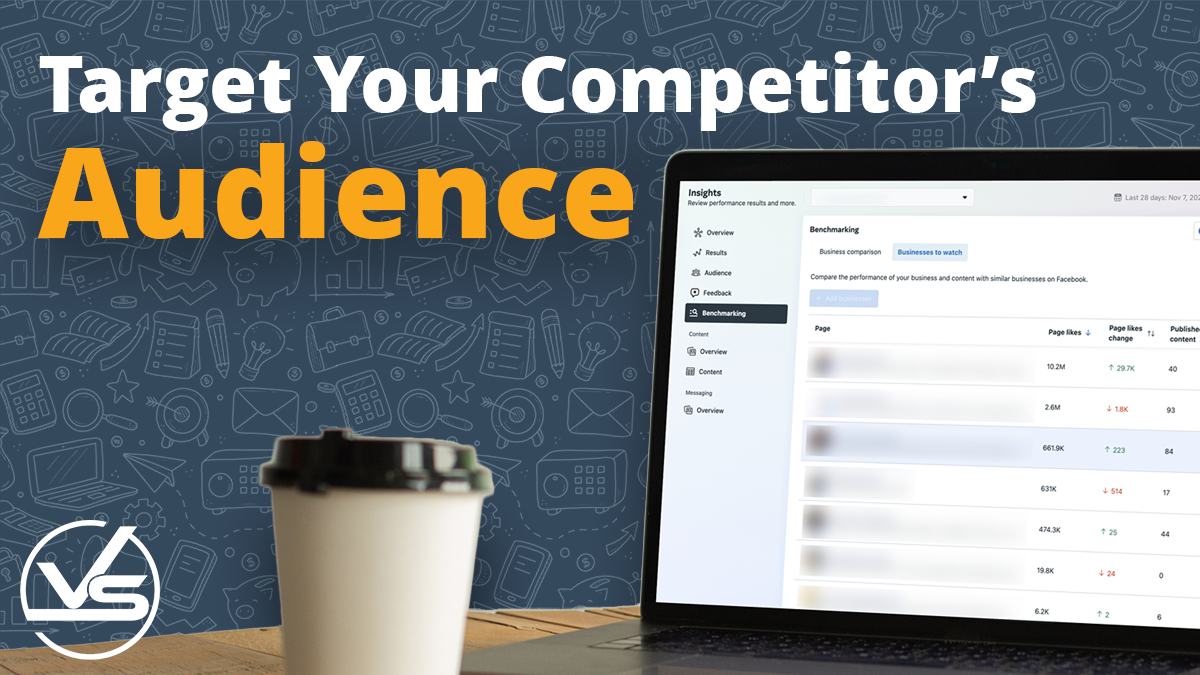 Why & How to Target a Competitor's Audience on Facebook
If you're building a Facebook fan base from the bottom up, it may not be easy to know where to start. Therefore, it makes sense to learn how to target a competitor's audience on Facebook.
But if you were hoping that Facebook would provide you with a list of competitor's fans to target organic content and ads to, you are out of luck.
If only it were that simple….
The problem is that targeting a competitor's audience directly is not possible through Facebook because of increasingly strict privacy policies.
But that doesn't mean you can't target them at all. Instead, you will have to work a little harder.
That means using metadata that Facebook makes available about your competitor's audience, including interests, demographics, and locations. Or you can spend time searching for and mining engagement and profile data from their Pages.
Before we jump into how to target fans of other pages on Facebook, let's look at why you would want to do it in the first place.
Why Target a Competitor's Audience on Facebook?

That said, any social media marketing or ad campaign is only as good as your target audience. If you focus on the wrong people, you'll waste time and money on a campaign that delivers poor engagement and few conversions.
On the flip side, targeting the correct audience with great content that matches their interests will help you achieve the following:
Get more followers
Discover more leads
Win more conversions
Improve your efficiency
Therefore, it's critical to use the most accurate data available.
That's where Facebook's algorithms come in. They are sophisticated and can accurately target account holders most likely to engage with your content. Not only that, but they are also good at identifying micro audiences.
The thing is, though…
Facebook's targeting becomes more effective when you've accumulated a large base of followers. As a result, until you have a fan base to build on, its recommendations will be overly broad and unfocused.
But you need to start somewhere, and this is where your competitors' fan base can help you.
When you know how to target a competitor's audience on Facebook who sells similar products to yours, you'll have a ready-made list of potential customers with proven interest to target.
And you'll be able to build an audience of your own. Like a snowball, once you have started with your core audience, you will quickly accumulate new followers to reach and engage.
Your campaigns will be more cost-effective and deliver far higher returns.
How to Target Fans of Other Pages on Facebook
Ideally, you could target the fans from your competitor's Facebook Page directly using data analytics tools. But since Facebook's privacy policies won't allow you to do that, you will have to use attributes such as interests instead.
1. Find Your Competitors' Pages
Before you look for suitable competitors to target, you will need to define your own target audience and create an ideal customer profile or avatar based on those you want to reach.
This will help you identify the most relevant competitors with similar target audiences to yours.
Not only that but it is essential that you know your ideal customer to convince them that you offer better solutions than your competitors.
You should target a competitor's audience because these are people that already have an active interest in the product/service you are offering. The hardest part about targeting their audiences is convincing them you are the better solution. To do this, you need great messaging that speaks to their pain points, wants, and needs. If you can solve (or speak to) those issues better than your competitor, then there is great potential to convert customers from their audience.
If you have an established audience, you can use the free Audience Insights with the Meta Business Suite to discover who's looking at your Facebook Page. You'll also get insights from engagement data into the type of content they like according to things like age, interests, profession, and so forth.
If you don't have a substantial following, you'll find it much harder to define your target audience. Thankfully, this will get easier, and you'll be able to refine your avatar the more you research your competitor.
Once you know your ideal audience, and assuming you have an idea of what your competitors look like, you can set about finding the most relevant competitors' Facebook Pages. Here are some options you can try and see what works best for you.
Think of brands and influencers in your industry and search for their Pages on Facebook.
Check Facebook Pages you have liked yourself by adding a /likes/ slug to the end of the URL of your Facebook's About page.
Search Facebook using the keywords you would use to find your target audience
Check Related Pages and Pages Liked by competitors and their audiences.
Check the Top Fans, Friends, and Likes of fans on your competitor's Community section.
Use Audience Insights to get a list of business names and categories that have liked the competitor you are interested in. Click the Page Likes tab to see a list of the Facebook Pages of people and organizations with those interests. Be sure to check out the most relevant ones with the highest Affinity scores.
You can use the Insights Benchmarking tool to see competitor's Facebook Page and research their audience. The tool will recommend competitors' Pages close to yours, and you can then click on the links to each one to find out more from their Page.
2. Discover Your Competitor's Fans
Now you have curated a shortlist of businesses that closely match yours, it is time to learn how to target a competitor's audience on Facebook.
Use Potential Audience Insights to Learn About Your Competitor's Fans
You can visit the Potential Audience page in Meta Business Suite's Audience Insights to glean competitive intelligence from businesses with Facebook accounts. And that includes your direct competitors and their fans.
The trick is to select the most relevant data for your audience. To do so, use the filter in the top right corner to select categories of characteristics that best describe your target audience, including the following:
Interests: Categories including industry, type of companies, and professions of users the competitors' fans Liked.
Demographics: Age and gender, lifestyle, education, relationship status, job role, and household size
Location: Where the Facebook Page owners are located
Purchasing activity: Purchase history.
You'll get at-a-glance graphs that break down your chosen characteristics and information, such as estimates of the potential audience size. You can use what you learn for further research and define your audiences.
You'll also see a clickable list of the most liked businesses and the categories according to their type of company, such as retail, internet, news, and media. If any of your competitors show up on the list, you can click the links to visit their Pages to do further research.
Research Individual Pages
Here's another way how to target a competitor's audience on Facebook, but it's not for the faint hearted. You can glean the most accurate and detailed audience information by visiting and analyzing each of the Facebook Pages belonging to your competitor's fans.
But that means you'll need to trawl hundreds of Facebook Pages to build an accurate profile. It's a time-consuming endeavor.
On the upside, you'll be rewarded with the opportunity to select the most promising leads to target.
Start by Liking and Following the pages to receive Facebook's recommendations for Friends and suggested Related Pages you might want to visit.
There are multiple sources of helpful information within a Facebook Page to help you find and analyze a competitor's audience, including checking the following:
Who has liked and followed the competitor's Page
About descriptions
Page links to related sites
Audience sizes
Followers' comments and shares
Communities
This is also an opportunity to look at the competitor's content to identify additional topics about interests and popular products. You can discover what content engages your competitor's audience, helping you craft organic content and ads that resonate with your fans. 
Use Ads Manager to Target Ads at Fans of Other Facebook Pages
The last approach is the most straightforward way you'll find of how to target fans of other pages on Facebook with ads. Once you have created your Ads, you can target them to fans of your competitor's pages using Ads Manager in the Meta Business Suite. Rather than targeting them directly, you do this by creating audience segments from the aggregated audience data collected from your competitor's Pages.
Go to the Ad Set Page in your Ads Manager. Look for Detailed Targeting in the Audience section.
If you strike lucky, you can type the name of your competitor or their website address, and you will see the potential reach, the number of fans, average daily reach, and landing page views for that organization. You can further segment the audience based on interests, behaviors, demographics, location, and so forth.
But that only works for organizations with substantial followings, such as large corporations or famous people.
For most competitors, you will have to try browsing or searching different keywords in the Detailed Targeting window. Use those you've discovered through your research that best define your competitor and their products and audience.
This search will be broader and potentially less accurate, but with Facebook's privacy policies, this may be the best you can hope for.
You could choose just one category and use Meta's automated ad delivery. Still, depending on the size of the reach, you may end up with an overly large and general audience that is hard to make an impression or engagement.
So, to target your ads more accurately, it's better to narrow your audience. To do that, you should add more than just one defining characteristic from the following criteria to better define your competitor's audience. You can try using different combinations until you are satisfied with the result.
Interests: Browse or search for defining Interests to target fans that have Liked or shown interest in your competitor's Page.
Demographics: Select demographics, such as age, gender, etc. For example, if you want to look at people who list your competitor as their employer on Facebook, from Demographics, you can select Work and then Job Titles. You could also choose an industry to target others in that field.
Behavior: To target Facebook Page owners and administrators, click Behavior and scroll down to target Facebook Page Admins.
Location: Add a Location using zip codes to localize your target audience.
You can also use the above categories to exclude fans you don't want to include in your sample audience.
Takeaway
For most marketers, knowing how to target a competitor's Facebook audience is not about reaching out to fans directly. It is more to do with using the social media platform's aggregated data and algorithms to get your organic content and ads into their live feeds.
That doesn't mean you can't create your own list of your competitors' fans on Facebook. Creating that list takes long and painstaking research, though.
But if you take that route and do it right, you will be rewarded with more accurate audience profiles that funnel more of your competitor's fans your Facebook Page.
If you need advice on how to launch an effective Facebook ads campaign, our free guide will walk you through 6 easy steps you need to know. Download The Ultimate Guide to Facebook Ads today!