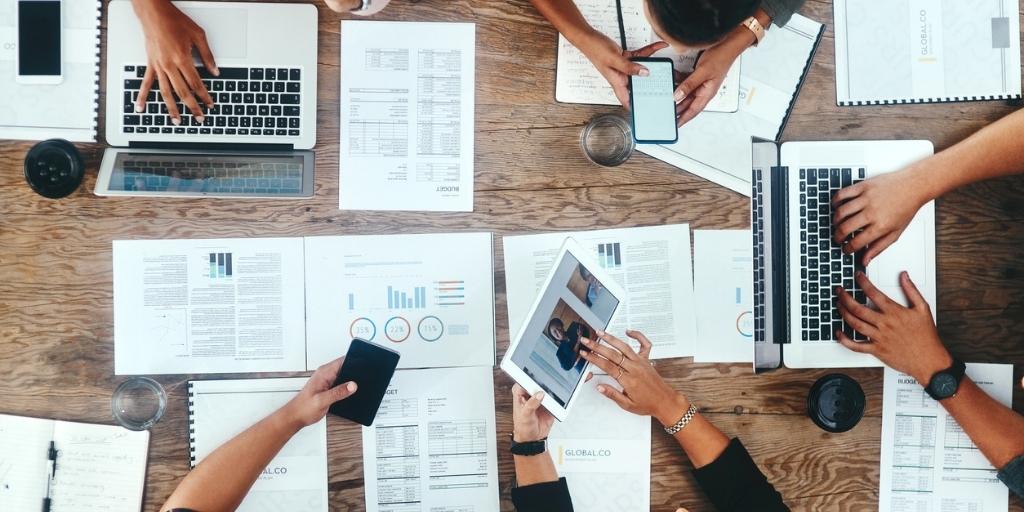 Account-Based Marketing – Part 1: The Account-Based Marketing Basics That Enhance Client Leads and Opportunities
The landscape for digital marketers in the B2B space is more competitive than ever. With new innovative technologies and increasing numbers of marketing solutions thanks to expanding connectivity, the need for a cohesive marketing strategy is critical for teams to ensure their success. One way to tackle this effectively? Use of collaborative tactics in account-based marketing basics that will effectively generate B2B marketing leads.
As an ordinary and necessary focus of drumming up new clients, lead generation is often more oriented towards getting as many leads as possible to maximize the likelihood of conversion. However, account-based marketing is quite the opposite. It relies on more specific targeting, and emphasis on quality leads to achieve success.
Ready to enhance your B2B marketing strategy with tactics for improved competitiveness? Knowing the account-based marketing basics is a good starting point!
Understanding Account-Based Marketing Basics
The first facet of successful account-based marketing is understanding what it is and how it works. Account-based marketing (ABM) integrates sales and marketing to target specific, high-value accounts with personalized experiences.
The team finds accounts that are a good fit and works to turn them into paying customers, rather than targeting a large group of leads and hoping that some are a fit. This is best described as identifying business needs and crafting communication that focuses on just that. The intent is to solve a client's problem with personalized content or buying experiences to attract them to your business.
How is this different from typical inbound marketing? Inbound marketing focuses more heavily on using valuable, organic marketing content to attract potential clients through a 360 Degree marketing strategy. It provides a more generalized approach to lead generation than ABM. However, inbound marketing also requires a clear understanding of the target demographic to ensure that the marketing content is timely and relevant. Therefore, inbound marketing material is often a foundation from which account-based marketing is built. It has more personalization and customization added per the needs of the specific account. Inbound marketing is also great for acquainting you with potential clients. Meanwhile, ABM allows you to provide exceptional client-oriented solutions and show why they should work with you.
What are the Different Types of ABM?
As with any type of marketing, there are multiple ways to tackle account-based marketing. Generally speaking, the types of ABM will focus on how many accounts the company intends to target and how personalized their solutions will be. Moreover, you can use these different ABM types interchangeably or in concert, depending on the needs of your marketing team.
One-to-One ABM
The most highly personalized of the ABM types. Naturally, it focuses on the fewest accounts, usually from 5-10 large and lucrative opportunities. Marketing teams will focus on highly intentional content intended to speak directly to the account in order to catch their attention. Again, this type of ABM wants to acquire the fewest accounts with the highest potential.
One-to-Few ABM
One-to-Few is the middle road tactic when it comes to ABM. It focuses on more accounts than one-to-one with 50-100 but still uses personalization to target similar accounts. This usually involves segmentation by industry, location, or another common trait to ensure that messaging can be leveraged across all potential accounts. It focuses on less lucrative accounts. However, it is also advantageous because it can be scaled much more quickly than one-to-one, giving it more significant potential for landing customers.
One-to-Many ABM
The output intends to be much more like traditional lead generation. Thus, the targeted content is less personalized than other ABM types. The number of accounts is also significantly higher (usually 100-1000). This is an opportunity to create awareness and engagement for potential customers, from which more targeted ABM can be used if so desired.
What are the Benefits of ABM?
As can be seen with the different types of ABM, there is a notable versatility to using this type of marketing. In addition to providing options for targeting groups of various sizes, there are several benefits for B2B marketers that make this a powerful means of attracting new business. Here are some of the critical benefits of ABM.
Increased ROI.
This is one of the most fundamental components of ABM. Per the experience of many marketers, it consistently drives better ROI than other tactics. In fact, the Alterra Group reported that 97% of marketers achieved higher ROI with ABM than with any other initiatives.
Improved Marketing and Sales Efficiencies.
There is immense value in collaboration between sales and marketing, particularly relative to ABM. Many aspects of this process rely on creating efficiencies. This includes orienting on the acquisition of specific accounts, streamlining the marketing and sales cycle to align internally, and even reusing content on similar accounts. Likewise, shared goals and improved communication between sales and marketing allow for natural efficiencies to become a byproduct of this process.
Deeper Client Relationships.
By orienting on specific client problems and attempting to solve them, ABM is a natural means to deepen relationships with your clients. Unlike traditional inbound marketing, the focus on personalized attention and solutions helps to engender trust in the relationship from the start. Likewise, it enables the marketing team to display expertise on a given problem. It also eliminates client leads unfit for an ongoing relationship.
Conclusion
Account-based marketing is a powerful tactic for enhancing any B2B marketing strategy, particularly in nurturing quality leads. Additionally, a major strength of ABM lies in its alignment of sales and marketing functions that focus fully on the needs of the client prospect. There are different ways to tackle ABM. Some consistently attributed results of this marketing tactic include improved ROI, better efficiencies, and deeper client relationships. The most important takeaway of ABM is the emphasis on quality over quantity as it relates to clients. This will enable your organization to remain competitive and relevant.
Learn how to create ABM campaigns in part 2 of this series.
Need help with your marketing? Request a FREE 50-Point Marketing Audit today.