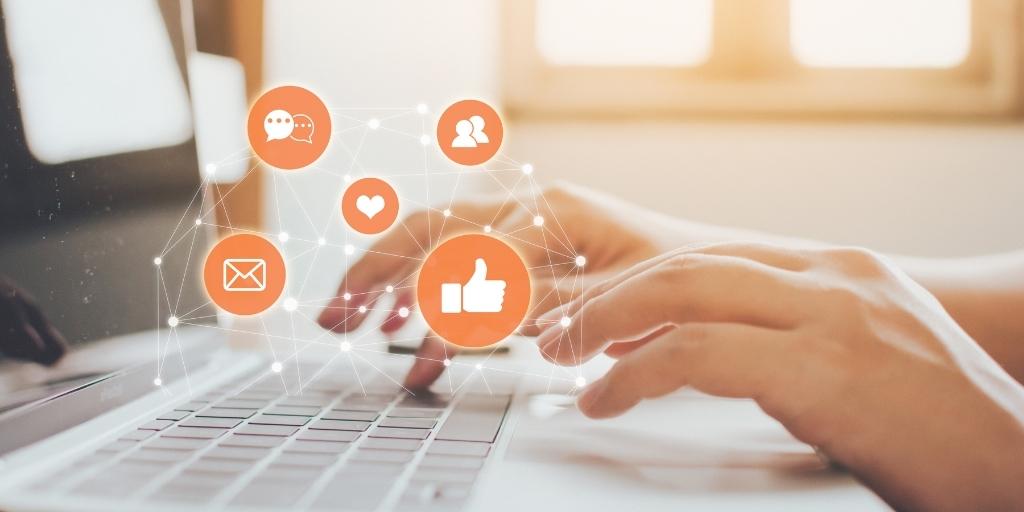 What Social Media Skills Are Necessary for Success?
In the past, you might have gotten away with letting anyone on your team handle your social media accounts. However, that's no longer the case. Advanced social media skills are more important than ever if you want your business to compete in a world of social-media-savvy consumers.
9 Social Media Skills You Need to Succeed
What does it take to be an effective social media manager?
Businesses looking for someone to fill this role find themselves asking this question. And it's not an easy one to answer, especially with the fact that social media is constantly evolving. It's important to hire someone who can keep a pulse on the changing trends and develop the most effective social media strategy.
Let's discover the essential skills and traits required before you hire someone for the role…
1) Copywriting
Copywriting is a fundamental skill that makes good social media managers great. They have this natural ability to deliver copy that reflects the brand voice, identifies trends, and sparks conversations on social media around those trends.
Since the ultimate goal of social media is to drive more clicks and traffic to your website, the ability to write great copy is one of the social media skills to have. You might even say it's non-negotiable.
And the ability to adapt copy to suit various digital channels and social media platforms is also key. Your social media manager must be able to craft witty tweets, engaging Facebook posts, and eye-catching Instagram stories and posts. It's easier said than done!
2) Graphic Design
Social media managers are not just tasked to write copy for social media profiles. These days, they need to know their way around graphic design tools too.
Boring text-based posts are out, and visual content is in. That's why effective social media copy goes far beyond just written content. According to a Hubspot report, 43% of consumers respond to social media copy with images and videos, and the world of social media is becoming more visual as a result.
Those in charge of social can utilize free graphic design tools like Canva and Figma to create visually engaging content. Most of these tools use a drag-and-drop approach, allowing individuals to create appealing designs even without graphic design experience. That said, having someone on your team with a design background can give you an advantage.
3) Organization & Post Management
Did you know that 90% of millennials are active on social media every day? That's according to an eMarketer report. However, it's not just millennials. Generation X and baby boomers are active on social media, too.
What this tells us is that social media is a 24/7 business. This is especially true for online businesses that target a global market.
Efficient management, i.e., organizing your posts, is one of the top social media skills your manager needs to possess. Thankfully, many social media tools are now available to make it easier to plan and schedule content ahead of time and determine the best times during the day to post for higher engagement.
4) Community Management
Community engagement is at the forefront of an excellent social media management strategy.
After all, the word social takes center stage in the term social media.
That's why it's so important to foster the relationship you have with your target audience. The person in charge of your social media should do this by asking questions, responding to inquiries, and maintaining engagement with your posts. Good community management is also essential when tackling social media bullying and other negative backlash toward your brand.
Your community on social media is too important not to nurture. Don't waste this golden opportunity to make connections. Make sure to enlist the help of someone who understands how to do just that.
5) Data Analysis
This aspect of social media management is hardly discussed, but it's critical for determining success and performance.
You know the drill—measuring data and end-of-month reporting. The best social media managers must be able to analyze and interpret this data.
Good social media managers are constantly crunching numbers—likes, follower counts, and engagement. In fact, some would say they are obsessed with data. They must be able to create benchmarks for social media performance and analyze data to get an understanding of where they're at in their marketing strategy and what can be improved.
6) Public Speaking & On-Camera Presence
Live videos are becoming the hot new trend on social media. Prior to that, regular videos were considered the new king of social media content.
Engagement is a premium on social media, and there is nothing more engaging than a video, especially a live one! That's why the ability to speak in front of a camera with confidence (and/or help others do the same) is one of the most valuable social media skills to have.
If you want to boost your reach and engagement, creating live videos is a no-brainer. According to Livestream, 80% of consumers prefer watching live videos to reading blogs.
Needless to say, video is easier to consume, and your ability to tap into this live video trend can help you to better connect with your audience.
And for non-live videos, your ability to use video-editing tools can go a long way in creating compelling videos that your audience will want to watch and share.
7) Behavioral Psychology
There's more to social media than meets the eye. Too often, social media managers want to understand what type of posts their audience wants to see. But it's important to delve into the why as well.
Answering the why question enables you to repeat past successes. It provides you with an in-depth look at why your audience responds the way they do to your posts.
Knowing the psychology behind trends is one of the most vital social media skills to have. It helps the manager not only jump on trends but also pick out the ones that are sustainable and will fit your brand ideals.
8) Creativity
Social media is a highly saturated platform. Your ability to differentiate your brand will prove critical when it comes to expanding your social media reach and engaging with your audience.
One of the most useful social media skills a professional can have is the ability to think outside the box. A good social media manager needs to consistently develop engaging ideas for content that are buzzworthy and have the potential to go viral.
The person in charge of your social media must be open to taking risks when developing social campaigns. They need to take into account every creative element of a post—from images and videos to copy and colors, as well as how that message is delivered to your audience.
9) Adaptability
The social media landscape moves rapidly, so the best social media managers are not set in their ways. Rather, they are quick to adapt when a new trend or opportunity comes up.
This also means they are willing to learn (and even unlearn) quickly. Maintaining a dynamic and flexible approach to social media planning is crucial to success because, let's face it, your tactics can become obsolete in a matter of months.
Final Thoughts
After having reviewed these skills, we need to point out the saying, "Jack of all trades, master of none." After all, you can't expect to hire a social media manager who possesses all these social media skills and is an expert at every single one of them.
And as we've pointed out, the social media industry is constantly evolving. New skills must be learned and trained all the time to ensure that you can get the results you are seeking.
The good news is that you can skip the hassle of training and retraining your social media manager by outsourcing to an agency with an entire team of social media experts. Then, you can stick to what you do best and gain the advantage of working with marketers who can help you win the social media game! Start by requesting a FREE audit today.