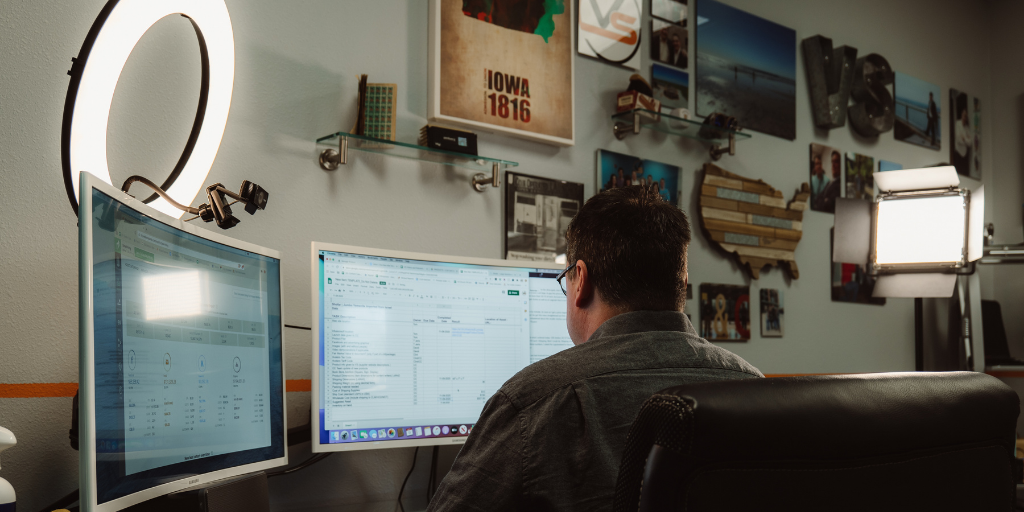 2021 Technology Trends: What IT Companies Should Keep in Mind
Want to be sure your IT company starts the new year off strong? Discover the 2021 technology trends that are shaping the market now and will continue to do so.
Although the world is slowly becoming more stable, the events of 2020 will no doubt have a lasting impact. The economy never forgets its wounds. And as a result, businesses fear the challenges ahead, wondering how to accommodate and serve their customers who look entirely different than they did before the pandemic.
Going backward is not an option, unfortunately, especially in the fast-moving IT industry. This "new normal" has forced the technology industry to morph into something a little different than it has known before. If you're part of an IT company weathering this storm, creativity and optimism will be necessary to stay on top of the shifting market so you can continue to serve clients in their time of need.
So, how can IT companies survive and thrive in 2021 and beyond?
Let's talk about the 2021 technology trends that can help you beat the odds and continue to grow in the coming months and years…
Marry Stability with Flexibility
If the pandemic of 2020 has taught us anything, it's that flexibility is critical. Taking it a step further, marrying flexibility with stability is the perfect union. It keeps technology unwavering but ample enough to meet out-of-the-box demands. Balance is everything.
To prepare for a more stable (yet flexible) 2021, focus on building robust infrastructures and workflows that also allow flexibility so you can adapt in the future. Finding the balance between structure and flexibility will be essential.
To navigate this journey successfully, review what worked and what didn't in 2020.
Were operations affected?
Were you able to meet all client demands?
Were you forced to let go of clients?
Wherever you fall short, plug up the holes and build workflows that allow you to adapt without sacrificing stability and quality. This will make you more resilient to changes (or pandemics) in the future.
For example, if you had to cut back on your budget because you lost some clients, consider expanding your services to bring in additional revenue. Businesses of all types can use consulting to help them weather this downtime and maintain their technology infrastructures. Consult on automation technology and show them how to reduce manual processes, speed up workflows, and save time and money in the process. Additionally, you can consult on digital practices and how to transition workers to a remote environment safely.
Create webinars on how to ensure you are working safely at home and automate tasks while working from home. Offer security services to help clients implement what you teach them. Many MSPs also offer remote support to companies whose workforce has abruptly transitioned to work from home.

Greater Emphasis on Cybersecurity
Cybersecurity has always been top of mind for IT companies, but 2020 has prompted the industry to add cybersecurity skills to their arsenal of services to meet ongoing customer demands. Make no mistake—a greater emphasis on cybersecurity is one of the top 2021 technology trends to take note of…
As more employees do their jobs from home, the need for amped-up security increases. Potential clients might consider this a priority when selecting MSPs to partner with.
In recent years, MSPs have amped up their cybersecurity skills and even redefined themselves as MSSPs (managed security service providers). This trend will continue as consumers realize the critical nature of securing their systems, especially for their remote workforce.

Adopting the Internet of Behavior (IoB)
As employees return to work after being away due to the COVID-19 pandemic, things might look a lot different from when they left.
You've probably already experienced updated technology when you go to your dentist appointment or schedule a service. You park in an assigned stall, and upon check-in, you immediately get a notification that guides you through the next steps. You wait to get notified until it's safe to enter—when the business knows you can safely distance yourself from other people. When entering, they may scan your temperature and make sure you're following safety protocols.
Businesses are adopting technology that gathers behavioral data on employees to promote health and safety. Electronic temperature scanners and RFID tags might be but a few solutions to help businesses adopt proper safety protocols and ensure compliance.
The gathering and use of this behavioral data are referred to as the Internet of Behavior. Businesses use data to drive behavior, and in this case, the behavior is adhering to safety protocols amid a pandemic. Behavioral data collection and usage will become much more widespread in 2021.

2021 Technology Trends: How to Market New Solutions and Services
It's going to be more important than ever to adapt your marketing to meet consumer demands, which, as mentioned before, has changed a lot in 2020. The good news is that 2021 brings with it new opportunities to attract qualified leads and expand your client base.
The bad news?
Your competition is also capitalizing on these opportunities…
How can you stay ahead and outperform your competition? How can you position your company as an industry leader?
Here are a few ways to dominate your industry and get front of mind with prospects.
Adapt to Target Audience Pain Points
Meeting these new client demands discussed above and generating ongoing leads will require understanding your target audience at a deeper level. The quicker you can understand your ideal customer's changing needs and incorporate this new market data, the quicker you can adapt and reap the spoils of 2021.
The pandemic of 2020 likely unearthed new target audience pain points, desires, and needs. And that means you need to perform additional market research to attract them. Not doing so can stifle your lead stream and keep your business stagnant.
Understanding your target audience requires in-depth market research. Yes, this will require more than a quick Google search, but it's not as daunting as it may seem.
The key is to avoid relying on your instincts and hunches when making decisions about your targets. Rely only on data you glean directly from your target market to ensure you can execute an ROI-boosting marketing strategy.
Here are some pointers on how to perform successful market research on your ideal customer:
What Types of Market Research You Should Be Conducting (and When)
How to Do Market Research: A Guide for Beginners
Market Orientation & Research: Leaving the Darkness and Stepping into the Light – Part 1
Market Orientation & Research: Leaving the Darkness and Stepping into the Light – Part 2
Research Your Competition
Chances are your competitors will be adapting their marketing along with you. Researching how they adapt and adjust to their customers' needs can reveal tactics you may not have thought of.
Are we telling you to copy your competitors? Not at all. In fact, we suggest you perform your own market research and let that be your marketing bible. But, digging into your competition can inspire you to think outside of the box and get creative with your marketing.
Market New Solutions and Services
Let's say you adopted some of the 2021 technology trends we discussed in this article. That's great, but how will you let prospects know? How do you ensure your prospects are aware of the value-adds that will enhance their partnership with you?
Answering this question in detail would require an entire book, but we'll do our best to break down a couple of tactics that can tip the scales in your favor as you market into 2021.
Consider PR and influencer marketing
IT companies seldom delve into influencer marketing because they think it solely focuses on B2C verticals. But, this is far from the truth. Influencers are not just fashion and cosmetics gurus publishing YouTube videos. They are scholars, industry experts, and influential teachers who write books, speak publicly, and are admired by peers. Whether spoken or in a publication, one brand mention from an IT influencer can bring fresh new leads to your door.
Engage current clients
It's not uncommon for IT companies to focus almost 100% on the thrill of new business. Yet, your existing customers are integral to your bottom line, and it costs less to retain customers than to acquire new ones.
Client retention often goes overlooked, yet it is an essential component of high-performing marketing strategies. Existing customers don't just keep you in business. The best ones are prime candidates for new products or services/add-ons that can generate even more revenue.
How can you retain clients and build business?
Encourage referrals: Offer an incentive when a referral signs on as a new client.
Connect on social media: Show your clients you care and want to establish a stronger professional connection.
Keep them top of mind: Send occasional newsletters and company happenings to keep clients engaged with your company and show them you are active. Send industry expertise and tips to showcase your expertise.
What You Need to Know About 2021 Technology Trends
In this blog, we touched on some technology trends for 2021—many spurred on by the pandemic. Marketing moves fast, but it moves even quicker during historical events like those of 2020. Sometimes faster than businesses can catch up with…
Staying on the pulse of where your customers and the industry are going, and starting strong with a well-developed marketing strategy in 2021, is critical to staying alive and thriving.
In the article, we talked about these 2021 technology trends:
Marrying stability with flexibility
Greater emphasis on cybersecurity
Adopting the Internet of Behavior
2021 marketing trends for the IT industry

Adapt to new target audience pain points
Research your competition
Market new products and services
We discussed how to market updated technology solutions, which will be critical as you move into 2021. Some of these tactics involve researching your competition, engaging current customers, and getting acquainted with PR and IT influencer marketing.
Here at Viral Solutions, we help IT companies generate ongoing leads by adapting to market trends. We have seasoned marketers who understand the speed at which IT moves and exactly how to market to your prospects in this industry. If you want to learn more about how we can provide the support you need to grow your business, click here.