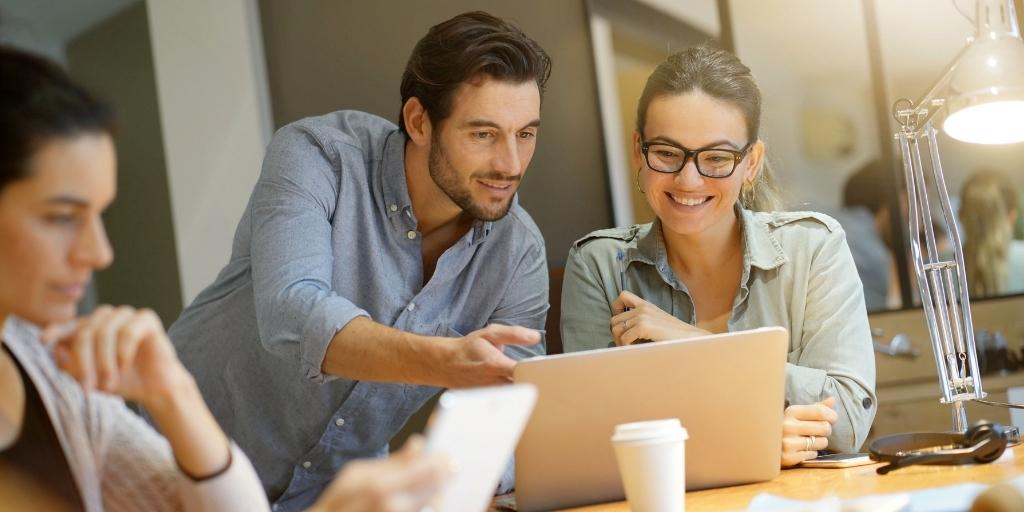 Practical Tips to Evaluate Your Marketing Partner's Performance
---
Are you happy with your marketing partner?
It's a loaded question, but one many business owners ask themselves when partnering with an outside agency. The problem is that it's not easy to answer. There's a lot at stake and multiple factors to consider when evaluating your marketing partner.

A marketing partner is your ally and an integral member of your team. They also provide an outside perspective and have your best interests at heart. If your agency doesn't align with these traits, or there's a question in your mind (even if it's a small check), it might be time to reevaluate your partnership.
In this article, we'll guide you on how to evaluate your marketing partner and grade them on their performance. We also provide a 10-point questionnaire to help you ask the right questions and get the right answers.
Why You Need to Evaluate Your Marketing Partner Regularly
When you sign on the dotted line, it doesn't mean you're stuck with an agency forever. It's okay to continually evaluate your marketing partner to ensure you're getting the best service.
Here's why…
Your Goals Change (So Do Theirs)
Your goals: Maybe you're working with a content marketing agency, but you've expanded since you started working with them, so you need a full-service marketing partner. You could have outgrown them.
Their goals: Your agency partner is bringing on more graphic design clients and shifting its offerings as a result. But they told you they are still servicing their existing clients. Are you still getting the service you paid for? Is the agency still aggressively scoping out new marketing trends and staying a leader in your market? Chances are, if the agency is transitioning into another discipline, they won't be dedicating enough time to the disciplines that will help you grow.
The Markets Change and Your Marketing Partner Doesn't
If you know anything about marketing, you know that the industry changes—and rapidly. Your agency partner should keep up with new trends and constantly test on their own properties so they can pivot when required and bring the results to their clients.
For example, Google changes its algorithm regularly, directly affecting your results if you're running SEO campaigns. Does your agency shift its marketing strategy and tactics to comply with Google updates? Or do they rely on outdated information? If they do the latter, you will lose steam the longer you remain with the agency.
You're Not Achieving Business Growth
You can't hide a poor ROI behind shiny branded reports and vanity deliverables. If your business has not grown and you're not achieving promised results, it might be time to reevaluate your contract and determine if it makes sense to continue.
Evaluating Marketing Partner Performance: 8 Factors to Assess and Grade
We know we've thrown a lot at you already, so we'll break it all down in this section. We'll walk through eight factors to assess when evaluating your marketing agency. Then, we'll provide a 10-point questionnaire for a quick evaluation exercise.
1) Deliverables vs. ROI
Deliverables are different from goal achievements and ROI. Your agency might have promised you 10 articles. But if those same articles are supposed to help you generate leads, and you're not receiving expected results, it might be time to reevaluate your marketing partner.
Now, it's important to note that results are not immediate. And a good agency will explain to you what to expect in the beginning. All brands, industries, and keywords are not the same either, so some flexibility with the process is expected.
But, depending on the business goal, you should see some progress in roughly three months.
If you're running ads, you should see an ROI after an initial testing phase.
If you are running an SEO campaign, it will take longer to see results (three to six months or more).
A good marketing partner will evaluate your results according to their initial contract promises. They will also communicate how your campaigns perform based on their initial expectations. If your results are on a constant downward trajectory, this could signal a problem. It's not uncommon to have a few bad weeks, but overall, your growth should be tracking upward.
2) Regular Communication
Your marketing partner should be in constant communication with you. At a minimum, you should be able to get a hold of your contact as needed, as long as it's within normal boundaries. Your marketing partner should hold regular meetings to discuss your campaign results, answer your questions, and make any requested adjustments and feedback.
Is your marketing partner responsive? How long does it take your contact to respond to your query? You should expect a response within 24-48 hours, during the agency's hours of operation.
How often should you meet? It depends on your specific needs. But generally, once a month or more should suffice. However, you should also be able to access data and resources without contacting your partner.
3) Transparency in Communication
How transparent is your marketing partner?
Are you getting the complete picture of your campaign results?
Are they telling you the truth about marketing, even if it might hurt?
If you feel like your agency treats you like a number rather than a partner, you might not be getting the services you deserve.
Here are some more transparency red flags:
They changed passwords to your assets without telling you.
They do not provide reporting for all the data you initially agreed on.
They seem secretive and hide past failures and mistakes.
You're paying additional fees that were not in the original contract.
If any of the above occurs, talk to your agency, and consider stepping away. Your marketing partner is not just an expert but also an ally. The engagement should feel like a valuable partnership that helps your business expand and reach new heights.
4) Meeting Deadlines and Sending Deliverables on Time
Meeting deadlines is pretty much a requirement when engaging with a marketing partner. Without deliverables, you're not meeting your goals and keeping up with your results—exactly what you pay your agency for.
A couple of missed deadlines due to unexpected circumstances is generally not a red flag. But if you notice the behavior becoming more consistent, it could point to a lack of commitment.
You can't expect results without deliverables. Your marketing partner should provide what was promised in your contract and continue to meet set deadlines throughout the engagement.
5) Clearly Defined Scope and Goals
Are you clear on your objectives and what your partner promises to deliver?
Before and during the engagement, you should know…
The tasks your marketing partner will complete for you
The level of interaction throughout the engagement (meetings, reporting, etc.)
Your short and long-term objectives (goals, KPIs)
Expected results and timelines
Point of contact (marketing account lead)
Method of communication (email, phone, Slack, etc.)

If any of the above is unclear, reach out to your agency for clarification. If you don't get the answers you expect, consider moving on and looking for another partner.
6) Getting Ahead of Industry Changes and Pivoting
If you're familiar with this industry, you'll know that it can move at lightning speed. Between Google algorithm updates, iOS privacy changes, and many more changes that impact businesses, staying up to date with the changes is necessary to remain ahead of the competition.
Your marketing partner should be on top of (and ideally ahead of) all industry changes and be able to communicate how to pivot to stay competitive.

7) Basing Marketing Decisions on Data
One of the most critical factors when engaging with marketing partners is data, but data-focused marketing partners are not as prevalent as we would like.
Some agencies focus on vanity metrics or rely on past campaign successes from other clients to inform future campaigns. They may even make educated guesses that seem valuable coming from an expert. But the reality is that your marketing decisions and tactics should come from market research.
Your marketing partner should also have a powerful digital marketing team that collects data to back up every decision. When reviewing your strategy with your partner, discuss what data they used to inform your campaign strategy and tactics.
8) Delivering Results
This is why you're working with a marketing partner, right? You're looking for results!
When you sign a contract with an agency, they promise you results based on their expertise and how they've helped similar clients in the past.
Are the results always guaranteed 100% of the time? No, as there are a lot of complexities with digital marketing, and sometimes unexpected issues arise. But the results should be close enough to what they promised that you feel comfortable working with the agency and achieving your business goals.
Getting better-than-expected results is excellent, and we can often deliver these results to our clients. If your marketing partner delivers what they promised and hopefully exceeds these promises, you're in a good place.
10-Question Quiz to Evaluate Your Marketing Partner
Want a simple way to evaluate your marketing partner's performance? Run through these questions below and record your answers, whether yes or no.

Do they understand your business goals and objectives?
Are they flexible with your requests if they don't fall outside your initial agreement?
Are they clear and detailed with their scope and goals for your campaigns?
Do you communicate regularly (1-2x a month minimum) and discuss campaign results?
Are they transparent with their communication?
Do you like your partner and enjoy working with them? Do they have the qualities of a good marketer?
Do they keep up with industry changes and pivot accordingly?
Do they meet deadlines and provide comprehensive reporting?
Do they base marketing decisions on actual data and not guesswork?
Are you getting expected results?

If you answered yes to all these questions, your marketing partner is likely focused on your goals, and you have a good working relationship. If you answered no to one or more, it might make sense to reevaluate the relationship.
Are You Struggling to Achieve Scalable Growth?
FREE Marketing Audit: Take advantage of our Free 50-Point Marketing Audit to learn what's really holding your business back from growth. Get a complimentary PDF report of our findings on your branding, messaging, lead generation, performance, and more!