A Guide to Native Advertising – Part 2: How to Create a Solid Native Advertising Strategy
Make no mistake—having a solid native advertising strategy is key if you want your ads to be seen by potential customers.
Here's the thing…
Nearly 30% of internet users will never see your display ads, and this number is growing year over year. Unfortunately, there's not much you can do about it. Users install ad blockers on their computers and devices to avoid seeing advertisements.
The good news, however, is that native ads receive 52% more views than traditional banner ads. Consumers pay more attention to native ads because they appear trustworthy and don't come across as actual advertisements.
In the first part of this 2-part article series on native advertising, we talked about what native ads are, why they are beneficial, why they can be controversial, and how to disclose them properly. Once you understand these basics, you're ready to learn how to launch successful campaigns.
Executing a successful native advertising strategy means following the right steps (we list them below) and not rushing through them.
Ready? Then let's dive in…
1) Start with Specific Campaign Goals
Would you set out on a weekend road trip without a destination, a map, or an idea of how much gas you need to get to your next stop? Even if this sounds like a fun idea, launching a new marketing tactic without an end goal is a recipe for marketing failure.
How would you know if your native advertising strategy is working or not? How would you determine whether your marketing dollars are producing results?
Before you even launch one native ad, determine the goal for your campaigns—and be specific. Here are some examples:
Get 250 new sign-ups for our upcoming event in the next month
Increase leads 25% for your company by the end of the third quarter
Increase website traffic 30% by the end of the year
2) Know Your Target Audience and the Content They Consume
Defining your target audience is another topic we talk about regularly. That's because it's critical—we said critical—to marketing success. It's a one-two punch that will all but guarantee a successful native advertising strategy when executed correctly.
Please don't skip this step, as we would hate to see you waste marketing spend because of a poorly targeted audience.
Some of your native ads might target current customers and leads. But many will target people who have not heard of your brand, so it's important to know, in as much detail as possible, who they are and what their buying behaviors are.
How do you define your target audience? To get a complete picture, you must create a customer avatar. And that means learning about your ideal customer's…
Physical demographics (gender, education, family size, marital status, career, etc.)
Lifestyle interests
Emotional triggers
Purchasing behaviors
Purchasing triggers
Buyer intent
Values
This requires a fair amount of market research. And if it's not something you've done before, it may seem overwhelming at first. Fortunately, we have several resources to help you along the way.
Once you dial into your target audience and whom you want to target with your native ads, consider the type of content they want to consume. At which stage of the funnel or step in the customer journey do you want to target these individuals?
First, the content should educate and solve a problem for readers, regardless of which stage they're in.
Top-of-funnel (TOFU) content attracts people who are not yet aware of your brand. This content should focus on connecting with those in your target audience and demonstrating your expertise.
Your content should be…
Educational – Are your readers learning something they didn't know? Share all the good stuff.
Relevant – Does your content relate to your audience's behaviors and interests? Does it solve a specific problem? If you did your target market research well, you should know several of your target audience's problems.
Informative – Don't regurgitate content you can find on the web with a simple Google search. Publish something new or give it an updated spin to make it more exciting. Give readers a reason to consume your content.
Native ads that are geared toward middle of funnel (MOFU) and bottom of funnel (BOFU) will still provide valuable information and help solve problems. But they might include more calls to action and sales elements (CTA to buy, case studies, testimonials, etc.).
TIP: If you are promoting a blog article or other piece of content, choose your most popular pieces for your native ads. If you aren't sure, test several pieces of content first by posting them on organic channels such as social media or adding them to email newsletters.
Understand which content resonates more with your readers and prompts them to act before randomly selecting content for a native advertising campaign. If you are already optimizing your content for the search engines and have some highly ranked pieces that convert well, you are already one step ahead.
3) Apply Targeting Information to Ensure the Best Ad Placement
A great piece of content is a waste if it's featured on the wrong site. So, how do you determine where to put your native ads?
In most cases, it's a joint effort between you and the platform you use for running your native ads (e.g., AdRoll). You select the behavioral, interest, and/or demographic targeting you want. Then, the platform will automatically show your ads on the sites in their network that match your audience. Some platforms let you choose specific sites, but most only allow you to block sites on which you don't want the ads to run.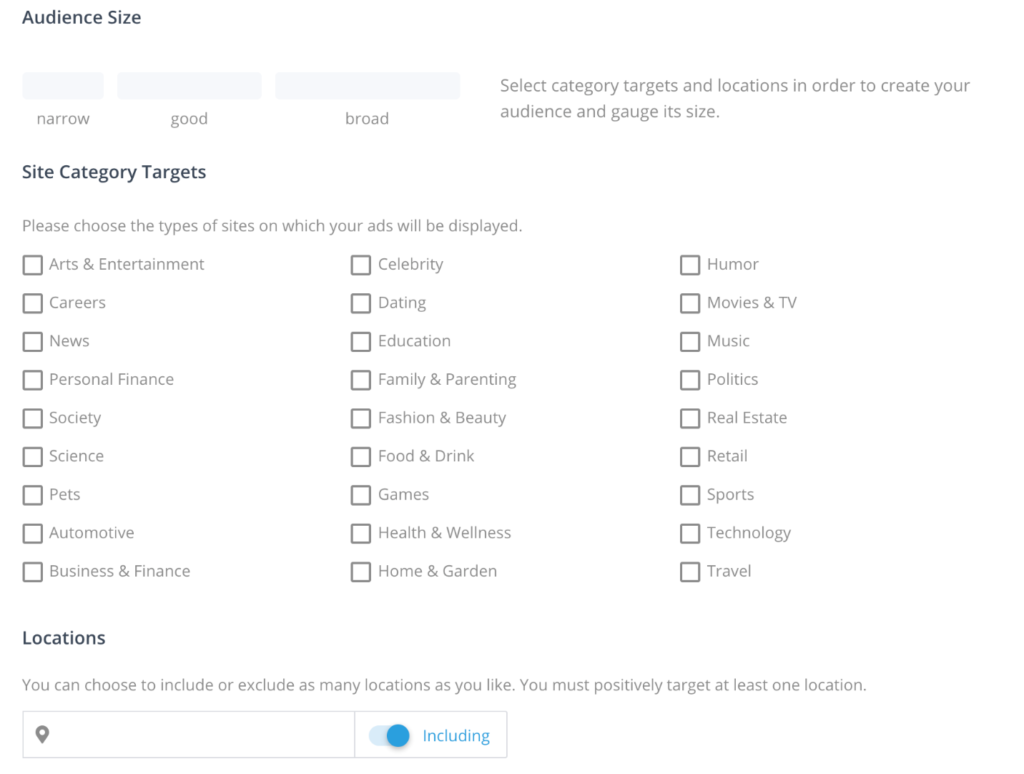 An example of how AdRoll allows you to choose the types of sites on which your ads will be displayed.
Native advertising platforms help businesses choose the best outlets for their content and connect to more prominent media outlets. Below are some of the other top players:
4) Choose a Creative That Resonates but Does NOT Stand Out
What should your creative look like? For one, it should relate to the message of the ad. But, above all else, it should NOT stand out.
Sure, it sounds counter to everything you might have learned about advertising, but in contrast to native ads, traditional display ads are supposed to be intrusive and stand out from the medium on which they are published.
Let's look at two native advertising examples…
Patrón Tequila promoted a fun and engaging piece of content on Twitter to celebrate International Margarita Day. People on Twitter regularly celebrate obscure holidays and label their images with related hashtags. Since Twitter is a social platform, the brand published engaging, social-focused content to match the site. And as you can see, the ad doesn't stand out too much from the other content.
Forbes published this Audi A-6 native ad in between all of its organic content. If you didn't see that small "Advertisement" label at the bottom of the content section, you wouldn't even realize it was an ad. The ad blends in with the website and is similar to the rest of the articles on the site.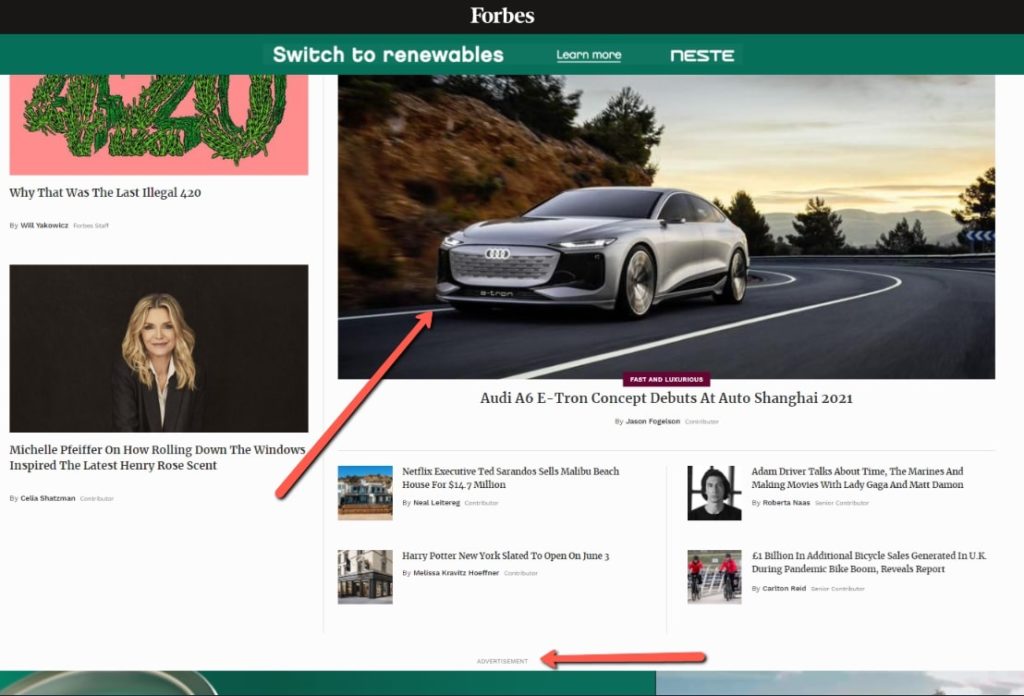 TIP: A highly relevant, engaging creative will win every time—but not without some testing. You can't expect to run one ad and strike it rich. It's rare for this to happen, even if you know your target audience inside and out. Testing reveals which creative and written content your target responds to. In addition, think about testing different copy combinations to see which one resonates most with your audience.
5) Track Your Progress and Adjust Your Campaigns
The last step is to track your results, tweak the ads to make them better, and republish. Remember the section about business goals? If you don't have a goal or any KPIs (key performance indicators), you won't know which ads are working and which ones are draining your budget.
Review data daily and adjust as you go. If a campaign isn't meeting your KPIs, consider pausing it and trying a different creative or copy. Suppose all of your ads aren't performing. In that case, it might mean your target audience isn't responding to your message, which could indicate a need to revisit your research and content selections.
Creating a Solid Native Advertising Strategy – What You Need to Know
We realize there is a lot to unpack for this topic, and we did our best to provide an overview so that you have a jumping-off point to start your native advertising campaigns.
In this article, we discussed the steps you must take to create and execute a successful native advertising strategy. To recap, you should…
Start with specific campaign goals
Know your target audience and the content they consume
Choose the best publisher by relevance, demographics, and audience size
Choose a creative that resonates but doesn't stand out
Track your progress and adjust your campaigns
Still find yourself struggling to put together a powerful native advertising strategy? We get it. It can take time to learn this on your own, and testing campaigns out for the first time often results in wasted marketing dollars due to avoidable mistakes.
If you want to work with advertising experts who know how to get the most out of your marketing budget, contact us here. Let's discuss your goals and vision for your business growth.