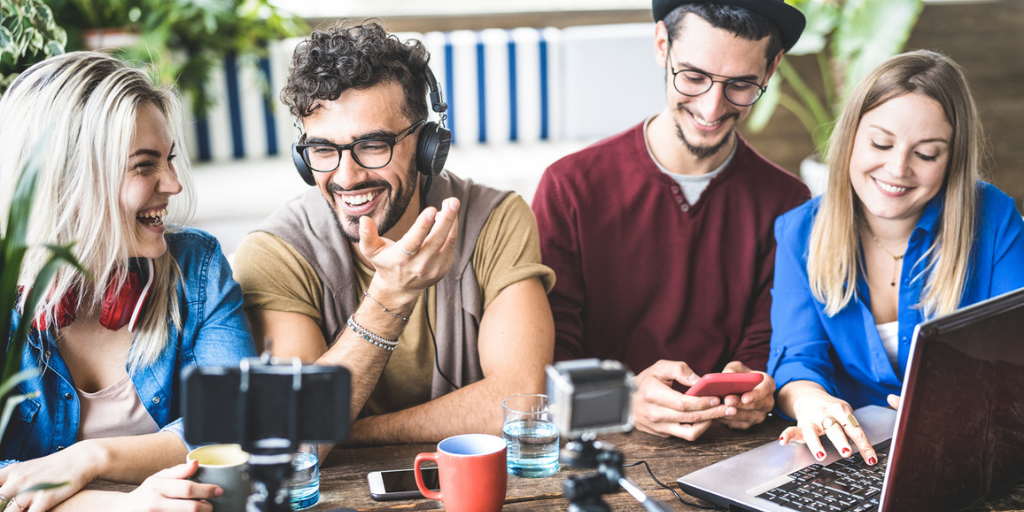 7 Powerful Tips for Creating a Content Marketing Calendar Based on Data
If you own a business, you probably want to produce content that engages your customers and improves your on-page conversion rates. Creating content (and creating a content marketing calendar) is an effective way to improve your organic reach online. It helps you to reach new customers and improve your conversion rates.

A content marketing calendar can help you track the content you produce. Data-driven content calendars can even help businesses gain higher conversion and online sales.

In this guide, you'll learn how to use data to strengthen your content marketing calendar.
What's the Difference Between a Content Marketing Calendar and Editorial Calendar?
Some professionals use the terms content marketing calendar and editorial calendar interchangeably, but there are slight differences between the two concepts.

A content marketing calendar is a tool that tracks each piece of content you produce for different platforms. It displays the articles you create and publish for a specific day or week. This calendar may also include published lists, issues, and dates. It controls all content that appears on different platforms.

An editorial calendar is a high-level marketing plan that focuses on large-scale content. It provides a monthly or yearly view of planned content. This calendar highlights general themes rather than specific details. Additionally, it may overview themes, plans, and opportunities.

Sales teams use editorial calendars to tell advertisers about upcoming issues, publications, and book advertisements.

If possible, integrate your content marketing and editorial calendars with your marketing plan. It will help you get the highest investment on your return.

4 Benefits of Creating a Content Marketing Calendar
Creating a content marketing calendar based on data can help your company successfully engage its customers. This calendar can provide the following 4 benefits to your business.
It allows your business to maintain the same message across your digital platforms. This calendar enables your company to coordinate content on all platforms, including blogs and social media campaigns.
It helps your company to optimize its content production. Your content marketing calendar can help you position your pieces so they'll get the most engagement on your platforms. This calendar can include Search Engine Optimization information, targeted keywords, and suggested titles.
It enables your employees to stay on the same page. When you keep a content marketing calendar, it helps your whole team become familiar with the plan. Additionally, it allows your marketing professionals, writers, managers, and other staff members to coordinate their efforts.
It cultivates topics for future content. This calendar provides a larger view of recurring themes within your content. It also enables you to understand your brand's story and the best way to communicate it to your audience.
How to Develop Your Content Marketing Strategy
Your calendar's success will depend on the content marketing strategy your company develops to achieve your goals. You should develop a content plan that actively addresses your short-term and long-term business goals and sales targets.
Write down clear objectives. This process crystallizes them and gives you concrete goals to achieve. Do you want to sell more products or services? Are you trying to reach a specific demographic? Using data can help you to identify which content types your customers prefer. The most common content types include videos, blogs, articles, podcasts, email campaigns, and white papers.
Research different content types to see which ones that audience segments prefer by demographics. Your business can also use original research data gathered from surveys and opinion polls to discover which formats your customers enjoy. There are 3 questions you can use to start developing content:
How much content do you plan to produce?
What is the size of your staff?
How often do you plan to post?
After you know your goals, it is time to develop your plan for your content marketing calendar. Your comprehensive strategy should help you achieve all your business goals. Your plan should contain the following information:
The target audience for your content
The purpose of each article (information, sales, etc.)
How your content will differ from other rivals
Your publication dates
The metrics for your campaign's success
Pay attention to your content quality. It usually takes a team of copywriters, artists, video editors, and photographers to produce great posts. Don't rush the process. Your content shouldn't be sales-focused or shoddy. Consider how your content will affect your brand and engage your audience.
An effective content marketing calendar can help you allocate your employees, digital assets, and resources more effectively. These plans allow you to develop a vision that's consistent with your marketing goals. It also gives your team enough space to produce high-quality work.
Content Marketing Calendar Tools
Every marketer needs the right tools for not only creating a content marketing calendar but also running it well. Download calendar platforms that can help you get the work done before you start. Here are several types of electronic calendar platforms you can consider.
Traditional Calendars – These tools can help you plan out your content for a specific time period. Electronic calendars, like Google Calendar, are preferable to paper-based ones. Not only do they provide notifications about upcoming deadlines, but they are also shareable.
Spreadsheets – These worksheets are files you can use to arrange data. Your marketing department can use popular programs like Excel or Google Sheets to schedule your content. You can also integrate categories such as the theme, date, type, audience, etc. When your content marketing calendar is online, you can make the spreadsheet editable. It helps clarify the assignments each team member has.
Project/Work Management Platforms – These tools help project managers effectively communicate with their teams. They have features that can help you plan projects, create charts, share documents, track budgets, and allocate resources. They also help teams manage, plan and streamline content marketing campaigns. Your business can also incorporate calendars, set up automatic notifications, and print out charts. Popular platforms include Asana, Basecamp, Monday.com, Trello, and Wrike.
Content Management Platforms– They allow marketing organizations to centralize their marketing campaign from start to finish. Your business can use these platforms to plan, finish, and strategize with your team. Each one has a different purpose.
7 Ways That Data Can Improve Your Content Marketing Calendar
Research data can ensure your content marketing calendar is a powerful force that reaches your clients. In this section, you'll earn 7 ways that data can improve the effectiveness of your content marketing calendar.

1. Use Data to Identify Your Audience
Your business should understand the core groups it serves when producing content. This knowledge will help you identify your customers' passions, pain points, and problems. It will also help you develop content that answers basic questions and offer solutions for their problems.
Your business should consider creating audience personas or avatars. These profiles are fictional representations of your core customers. Data is critical at this stage. You can ask your sales or marketing departments for demographic information about the customers your business serves. Once you gather this information, you can create data-driven, fictional profiles about each audience segment.
Each persona or avatar should contain:
Demographic Information – This data should include the target audience's age, gender, marital status, location, and other details.
Content Formats – These are content types your consumers enjoy. Certain groups may prefer different content over other ones. They include print articles, pictures, audio, blogs, videos, podcasts.
Platforms – These are your primary content channels, including your social media, website, and printed materials.
Consumption Behavior – This data tracks the behavior of your audience. It records the date and time your audience will consume data and the length of each article.
2. Metadata Can Help You Track Your Content's Performance
You can use metadata to organize your content and track how your content performs according to its category. It can also enable your business to keep tallies of the amount of material you produce. Content marketing calendars should include basic information, such as:
Author
Audience (or Buyer Stage)
Channel
Category
Format
Topic/Headline
Owner
Persona
Publish Date
Status
Submission Date
Other metrics you can use: language, translations in progress, and country/region of origin. Content ID and CMS ID can track your content through all iterations and changes.
3. Data Can Help You Develop Content Based on Your Customer's Motivations
Your data can help you identify which content your readers prefer to read. The content you provide should fall into one of the 3 categories of the buyer's journey. You should organize your content so that it accomplishes the following goals:
Educates your audience – It provides top-funnel content to individuals who are learning about certain products and services.
Provides a solution – Your content should provide a solution for your customers' problems. It also allows them to compare your product to those of competitors.
Provides a way to purchase – This content provides information to people who are ready to buy a product or service.
4. Data Can Help Your Business Determine When You Release Articles
Research can also help select the optimal times to publish articles or post content to social media feeds. Some studies show that there are better hours to publish your email communications. These are periods when your contacts will be most likely to open your mail and improve your click-through rates.

You can also use analytic information to learn when to post content based on specific metrics, like their location, preferences, and engagement history. When developing your calendar, use this information to time the data for each item you post.
5. Use Analytics to Track Your Performance
You can use historical or real-time data to track how each article does. For instance, you can use analytic data to study whether certain content has higher engagement rates. It will improve your engagement and conversion rates on your site, which should be your primary goal for your content marketing calendar.

Your marketing team should be able to easily access the data within your calendar in a simple-to-read format. It will allow your team to learn from campaigns that miss the mark.
6. Research Keywords for Your Campaign
You should analyze data to find out where your content does well. You can then use this data to select keywords. These terms can help you improve the organic visibility of your content.

According to Search Engine Journal, companies must establish authority by covering topical groups of intent-based short and long-tail keywords and phrases. Additionally, you can develop a pillar piece of content. After you create it, develop shared topics and other subtopics around this content.

7. Data Can Help You Manage Content and Resources
Your business can use the data you gather from your content calendar to get a centralized view of all the material your team produces. It can also help you to address any gaps your organization has in content coverage. The data you collect from your audience personas can also help you manage and sort through your calendar. You'll also manage your resources more effectively.
Conclusion
Content is critical and powerful when it comes to marketing. Creating a content marketing calendar keeps your team organized and allows you to hit multiple platforms in a strategic way.
These tips will help you get started and increase your marketing efforts.
(Want to know how your website is doing in terms of SEO and more? Click HERE to request a FREE website audit!)