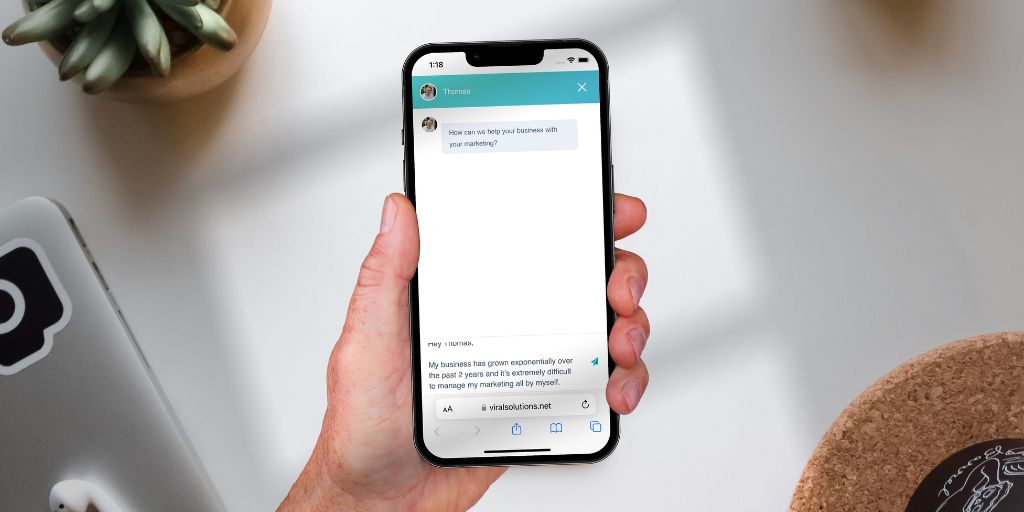 9 Chatbot Use Cases & Recommendations Worth Adopting
Chatbots have evolved considerably since their first introduction to digital marketing. At first, chatbots were simple. They were just a few sets of phrases and responses in a database. However, as algorithms and AI grew, the potential for chatbot use cases has grown enormously.
Today, they can mimic real human interactions in an almost believable way. Most importantly, they can fulfill many important yet routine online customer service functions.
Today's customer service expectations are responsive and vast. It would take a floor of chat techs for every business, big or small, to be on the clock and available to answer questions 24/7. Chatbots can help them all.
Modern chatbots are highly capable and, applied correctly, can save any business thousands of hours and dollars through efficient, tireless, endless, and exact customer service.
Chatbots never go off-script; they always know when to call a superior (aka a human) and are the perfect vessel for conversational marketing.
Let's take a closer look at nine of the best chatbot use cases worth adopting to your business model.
9 Chatbot Use Cases Worth Adopting
1) 24/7 Live Support Chat
Live chat support is the current leading favorite for customers and businesses regarding quick questions and resolutions.
However, your live support does not always have to be live.
That's why for the first of the chatbot use cases we suggest using them for 24/7 live support.
Chatbots never sleep, so they can always be available to greet guests, direct searches, and accept messages. The latest chatbots can book appointments, answer complex questions, and take surveys.
This leaves your customers and leads feeling tended to, even when their question is after-hours, and only the bot is awake.
2) FAQ-Bot Question Answering Support
As the second chatbot use case shows, one of the best ways to use a chatbot is as a conversational FAQ.
Your Frequently Asked Questions page typically contains answers to questions customers ask the most. It also includes answers that your brand wants customers to have.
This information is easy to load up into your chatbot so that they can answer questions about: shipping policies, customization options, or size charts without calling on human assistance.
In this way, they are just making it easy for customers to find the answers they need in a friendly, attentive manner.
An advanced FAQ bot can connect to dynamic answers like schedule availability, inventory supply, order tracking, and the latest business hours.
3) Concierge Personal Shopping Assistant & Online Orders
For some eCommerce brands, a personal shopper chatbot is a perfect fit. This unique application applies the friendly chatbot model to a shopper's assistant script.
The chatbot will ask the user's size, color preference, and favorite styles (make, model, package, and mods) and then can use an existing algorithm to suggest products that the customer might like best and that would already fit them.
A personal shopper bot is useful for any brand where each shopper is only shopping for a specific size/style/brand/model that rules out all other inventory.
4) Conversational Order Tracking and Management
Modern internet users are getting used to conversational and voice commands. They ask smart homes to turn on the light and track alarms.
Conversational order tracking can also be a quick, easy, and customer-satisfying way to provide updates. All you require is customer authentication and a chatbot that can check a customer's order tracking information.
By asking the chatbot about their order online, in the app, or even in your smart home skill, they can get quick and affirmative answers through an order tracking chatbot.
5) Chatbot Account Management Assistant
In the same vein, you can use a chatbot to help customers track and manage their accounts.
Checking on account balances, license assignments, and session history – whatever your account management provides has the potential to be managed through a chatbot.
Customers may quickly adapt to getting quick answers and changing essential settings – like away messages – through chatbot interactions.
6) Schedule Demos, Book Appointments, & Make Reservations
As our next chatbot use case shows, these virtual assistants are also excellent at schedule-keeping secretarial duties. With modern scheduling apps, a chatbot can easily offer clients a selection of timeslots and add their requested appointment to a digital calendar.
It can then send a video chat invitation to both parties. An integrated chatbot typically only needs to handle the conversation with the client, confirm their appointment, and let your scheduling platform do the rest.
7) Plan-Bot Conversational Walkthroughs
Of course, you can also get more creative. Chatbots today have far more conversational depth than they used to.
One thing they can do now is to walk clients through essential processes. A chatbot can walk clients through the process of customizing a product, building an order, or even starting their first project on creation software.
Chatbots are growing into the mentor potential that "Clippy" only dreamed of.
If there is a customization process on your website, a chatbot might be the perfect solution to walk leads and clients through it. Alternatively, a chatbot can at least prepare a set of on-point suggestions based on a quick survey.
8) Social Media Manager Chatbot
Chatbots are also uniquely capable of handling multi-channel social media customer service without losing their minds.
Customers reach out for support through so many channels today. Some send a social media message, some leave a bad review, and some rate a location on Google.
A chatbot can monitor all of these channels and then run a prepared script of responses to each – along with appropriate reports for human escalation.
9) App Interactivity Bot
The last example of chatbot use cases that we are covering is how they can enhance your app. Conversational apps provide interactivity and functions by chatting with the app's service persona. This is a chatbot that embodies the app and conveys its features. It also gives your app a friendly personality, a unique "voice," and a way for users to access both features and support through the interface instantly.
Additional Ways to Use Chatbots to Your Advantage
Multiply Customer Service with Chatbot Screening: Chatbots minimize your need for human customer service when issues are truly unique or demanding. FAQ and concierge bots can provide much of the routine support online customers need.
Omni-Channel Customer Support Management: Chatbots can handle monitoring every channel at all times.
Morale Buffer: Chatbots also protect your team from abuse. Contacts who are rude to the chatbot can be screened out without affecting a single feeling being. Chatbots don't lose morale when cursed at; your staff will appreciate not answering those calls.
Internal Chatbot Help Desk: Chatbot support is helpful for internal efficiency as well. Connect your team member handbook, policies, calendar, and support ticket system to a chatbot and enjoy its ability to answer routine questions. In fact, your team might become more informed when questions are asked to a co-worker who can't be inconvenienced or bothered by inquiries.
Final Thoughts: Where Can Chatbots Streamline Your Business Model?
Customers appreciate good service, but always being available isn't easy. With chatbots, businesses can give customers the attention they need. What other capabilities do these bots have?
As our list of chatbot use cases shows, these virtual assistants have grown into an essential tool in the modern business model. They minimize your need for chat support so that your valued human staff handles only the most important issues.
Chatbots can answer questions quickly, at any time of day or night. They can take an infinite number of customers at once. They never sleep, can't be upset by irate customers, and can provide any service with an existing algorithm – like personal shopping suggestions based on survey questions or booking appointments with a scheduling tool. In other words, there are many places where chatbots could streamline your business model. Contact us today to determine the best places to make a conversational interface upgrade.